What Washington Truly Fears
Submitted by

gjohnsit

on Thu, 02/15/2018 - 6:19pm
Last week the Trump Administration announced that it was boosting the Marine Corps Expeditionary Units in East Asia to counter Chinese aggression.
What aggression was that? To find the answer to that you would have to look in the financial section of the newspaper.

In a move that could upend the pricing and trading of one of the world's most actively traded commodities, China plans to finally launch its long-awaited and delayed yuan-denominated oil futures contract on March 26, Reuters reported on Friday, quoting two sources familiar with the latest developments.
OK. I have no proof that Trump's move, that came about 12 hours after China's announcement, was related.
Nor do I have proof that Saddam Hussein's decision to leave the petrodollar led directly to an American invasion and his gruesome death six years later.
Nor do I have proof that Gaddafi's decision to leave the petrodollar led directly to American bombing and his gruesome death shortly after.
Iran started selling oil in Euros two years ago.
I'm sure that it's just a coincidence that some in Washington are pushing for war with Iran.
These are all just coincidences that repeatedly happen. Sort of like someone who works at the lottery repeatedly winning the lottery.
Which brings us to the primary threat to the petrodollar today - Russia.
Russia has gone waayyyy past the "crimes" of Iraq, Libya, and Iran.

I was informed at a White House meeting that U.S. diplomats had let Saudi Arabia and other Arab countries know that they could charge as much as they wanted for their oil, but that the United States would treat it as an act of war not to keep their oil proceeds in U.S. dollar assets.
This was the point at which the international financial system became explicitly extractive. But it took until 2009, for the first attempt to withdraw from this system to occur. A conference was convened at Yekaterinburg, Russia, by the Shanghai Cooperation Organization (SCO). The alliance comprised Russia, China, Kazakhstan, Tajikistan, Kirghizstan and Uzbekistan, with observer status for Iran, India, Pakistan and Mongolia. U.S. officials asked to attend as observers, but their request was rejected.
The U.S. response has been to extend the new Cold War into the financial sector, rewriting the rules of international finance to benefit the United States and its satellites – and to deter countries from seeking to break free from America's financial free ride.
...The U.S. plan was to hurt Russia's economy so much that it would be ripe for regime change ("color revolution"). But the effect was to drive it eastward, away from Western Europe to consolidate its long-term relations with China and Central Asia.
Repeated rounds of international sanctions have failed to cow Russia, and the reason is China.

In a symbolic blow to U.S. global financial hegemony, Russia and China took a small step toward undercutting the domination of the U.S. dollar as the international reserve currency on Tuesday when Russia's second biggest financial institution, VTB, signed a deal with the Bank of China to bypass the dollar and pay each other in domestic currencies.
We didn't arrive at this point suddenly in 2014 or 2016.
Russia began making plans to be independent of the combined power of Washington and Wall Street years before we started hitting them with sanctions. They've spent the past decade cutting non-dollar trade and financial deals with China, India, and Iran.
China has been busy too. Russia, Iraq, Indonesia and other countries have joined in non-dollar trades.

When the White House suspended US aid to Pakistan, Islamabad announced that the Chinese yuan can be used for bilateral trade and investment activities.
Two days ago Russia announced they had a parallel system to SWIFT.
Put all that dry timber together, and then add a spark - the 2016 election - and you have the real reason for the Russia hysteria.

The petrodollar has lasted for over 41 years, and has been the driving force behind America's economic, political and military power. It would be ironic, indeed, were the tensions with Russia inadvertently to become the driver of America finally losing its petrodollar card.
But I'm getting ahead of myself.
Does any of this even matter? Is there any evidence that this is causing any harm to the US dollar?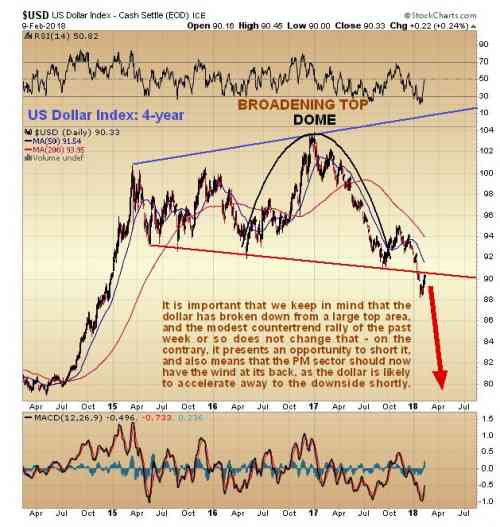 People are so infatuated with the stock market, which is the domain of the 1%, that they've forgotten to watch the MUCH more important currency and bond markets.
Speaking of bond markets.


If you don't need dollars to buy oil, then you don't need to buy treasuries (note: treasuries = dollars in finance).

The yield on the benchmark 10-year Treasury note TMUBMUSD10Y, +0.00% has an effect on all parts of the economy, as it influences everything from borrowing costs for the smallest and biggest companies, to rates for fixed and adjustable mortgages, car loans and credit cards. For three decades, one thing everyone could count on was if you were patient enough, rates would eventually be lower.

Not anymore.

The yield broke above the downtrend line last week, and extended gains to close at 2.91% on Feb. 14, up from 2.40% at the end of 2017, according to U.S. Treasury data.
China and Russia aren't exactly selling Treasuries yet, but it's doubtful that sending troops to their borders will inspire them to resume buying.
For now the petrodollar is not in danger. Less than 2% of cross-border payments processed in December were denominated in yuan. China has a very long ways to go before its currency is a threat.
OTOH, since China is the biggest importer of oil in the world, cross-border payments in Yuan should jump next month. Plus the Yuan doesn't need to go to 100%, or even 50%, to bring an end to dollar hegemony.