The Weekly Watch
Submitted by

Lookout

on Sun, 10/14/2018 - 8:19am
A Day Late and a Dollar Short
Much of this week's news cycle makes it plain that as a species we react, but we're not very good at acting today for a better tomorrow. Give me mine NOW! It isn't just the hurricane and UN climate report that drive this lesson home to me but also the WaPo journalist slaughtered in Turkey by the Saudis - where has the outrage been about the Yemeni children whose blood is on our hands too. And how about the so called correction (crash) of the market this week "caused by the tariffs"...while ignoring the over valuation caused by corporations using their tax cuts to buy their own stock (which used to be illegal). So humans seem pretty good at jumping after they've been burned, but not so good at avoiding setting the woods on fire in the first place.
Hurricane Michael certainly added some punch to the UN Climate report issued this week. My friends near Quincy FL are still without power. It was a powerful storm...a record breaker -
Michael, with sustained winds of 155mph (135 knots), is the first category 4 hurricane to make landfall on Florida's Panhandle and the fourth strongest storm ever to strike the United States....
Last Sunday morning, Michael was a badly organized system of rain clouds "meandering off the east coast of the Yucatan peninsula", according to the National Hurricane Center. It powered up quickly into a tropical storm by Sunday night then sprinted north across the Gulf of Mexico, leaping from a category 2 to 4 hurricane in just hours on Tuesday night, a record-setting pace.
https://www.theguardian.com/us-news/2018/oct/11/hurricane-michael-explai...
Infrastructure is an issue with these super-storms
https://www.youtube.com/watch?v=ZjRWC3qcqiU (2.7 min)
It hasn't just been bad weather in the US, A weakened hurricane Leslie slammed into the coast of Portugal, leaving 27 people injured as it uprooted trees, brought down power lines and smashed store windows with gusting winds and heavy rain.
https://www.truthdig.com/articles/cyclone-leslie-slams-into-portugal-lea...
https://www.hurricanezone.net/
As the atmosphere and oceans warm we can expect stronger and more frequent storms, as well as longer and more profound droughts. It will be our future. Yet people continue to purchase shoreline properties. That's what I'm saying about our tendency to react rather than be proactive.
NASA Climate scientist and educator JAMES HANSEN:
Yeah. Well, you know, the difficulty is the delayed response of the climate system and the fact that it includes amplifying feedback, so the public doesn't see that much going on. The public does realize that climate is beginning to change, but it doesn't have a good picture of the ultimate consequences of that, because And we need to begin to move on a path of decreasing emissions very rapidly if we're going to preserve the same planet that we've enjoyed, for our children and grandchildren. And that just has not been clear enough, I think, in the prior—in the public's mind.
https://www.democracynow.org/2018/10/10/ex_nasa_scientist_dr_james_hansen
(video or text)
Kevin Anderson, Zennström professor in climate change leadership at the Centre for Environment and Development Studies at Uppsala University and chair of energy and climate change at the Tyndall Centre for Climate Change Research at the University of Manchester in Britain. He says that the IPCC report fails to hold the world's highest emitters accountable, and argues a "Marshall Plan" for climate change is necessary to save the planet from destruction. "About 70 percent of global emissions of carbon dioxide come from about 20 percent of the world population. … When we try to address climate change and reduce our emissions by focusing on all 7.5 billion people, I think it misunderstands where the actual responsibility of emissions resides," Anderson says. "We're not developing policies that need to be tailored to that particular 20 percent."
https://www.democracynow.org/2018/10/9/climate_scientist_as_un_warns_of
(video or text)
The IPCC's new report is groundbreaking, but it misses crucial points on climate tipping points and feedbacks that could make the crisis even more urgent, says Durwood Zaelke of the Institute for Governance & Sustainable Development -
...the weakest link in the chain of climate protection is the link that we trip over with self-reinforcing feedbacks, where initial warming feeds upon itself without any other climate emissions to cause still more warming. And when that warming accelerates, we can end up tipping over a series of dominoes, ending up with a cascade of further feedbacks and other tipping points that become irreversible, except perhaps in a geological time scale.... So these all interact, and once they get beyond a certain point, they'll be out of human control.
https://therealnews.com/stories/climate-crisis-is-even-more-dire-than-th... (video or text)
Some people are more optimistic. The IPCC's new report says we could face irreversible consequences of climate change by as soon as 2030, but a coordinating lead author of the report says policymakers, businesses, and individuals can still make big changes to protect our future. (Video or text)
https://therealnews.com/stories/author-of-new-ipcc-report-says-she-still...
But even Michael Mann, who often low balls the speed of warming, suggests the report doesn't go far enough...(video or text)
https://therealnews.com/stories/michael-mann-we-are-even-closer-to-clima...
https://www.youtube.com/watch?v=wXwa6wjFDdM (12 min)
And many others agree with Dr. Mann
https://www.commondreams.org/news/2018/10/09/whats-not-latest-terrifying...

The Economy...
There is no doubt we are headed toward an ecosystem disaster. Seems we are seeing the beginning of an economic collapse as well.
Here's a great discussion with Jimmy Dore and Stephanie Kelton on the basics of our economy. They ask the question how can a country that prints its own money find any program unaffordable? All you have to do is print more money.
https://www.youtube.com/watch?v=5baKgv7Zl5g (34 min)
Richard Wolff explains this weeks economic news
https://www.youtube.com/watch?v=RElsL1RKDnU (1st 12 min)
...to understand the new unemployment figures, and unemployment figures in general, we need to really look at the bigger picture of the economy in our society. What we found when we put together the Souls of Poor Folk audit is that there are 140 million people who are either poor or low income in the United States.
https://therealnews.com/stories/what-does-low-unemployment-rate-mean-whe...
Liza Featherstone in Divining Desire: Focus Groups & the Culture of Consultation shares with journalist Chris Hedges how advertising techniques developed by early Viennese intellectual elites were adapted and coopted by US elites to control politics, consumption and opinion. https://www.youtube.com/watch?v=hv---Ihmza4 (27 min)
Lee Camp discusses public banking with Josh Androsky
https://www.youtube.com/watch?v=ZfPZEb618Tk (1st 15 min)
Lee is back to explain how the new NAFTA is worse than the old NAFTA (plus more)
https://www.youtube.com/watch?v=NSgw6PGFX6k (intro to the 29 min show)
The Trump Justice Department has approved a $69 billion merger between CVS, the nation's largest drugstore chain, and insurance giant Aetna. It's the largest health insurance deal in history.
https://www.truthdig.com/articles/robert-reich-were-living-in-a-new-gild...
Naomi Klein: we've entered a frightening new era of capitalism—one in which the 1 percent so dominate our institutions that they consider political power to be their natural birthright. In her latest essay for The Intercept, she dubs it the "Age of the Pampered Princeling" https://theintercept.com/2018/10/10/donald-trump-inherited-wealth/
https://www.truthdig.com/articles/naomi-klein-weve-entered-a-frightening...
The Shift to the Right...
perhaps people are desperate. Globally many have been displaced by climate change. Others have suffered from austerity for the working class and partying by the 1%. Symptoms of dissatisfaction are world-wide...from T-rumps election to Brexit to the several examples below...
The supreme court is going to shift to the right too. Hear from a couple of lawyers on the consequences of Kavanaugh's appointment
https://www.youtube.com/watch?v=CMqT5oztdM0 (1st 14 min)
Brazil
Maria Luísa Mendonça, director of the Network for Social Justice and Human Rights in Brazil...."the challenge is how do we deal with media manipulation, not just mainstream media, but the manipulation on social media." It is a world wide dilemma.
https://www.democracynow.org/2018/10/9/brazil_s_eroding_democracy_rise_of
Glenn Greenwald lives in Brazil. Here he is in print and video explaining the rise of the right there and around the world
https://theintercept.com/2018/10/10/watch-the-stunning-rise-of-brazils-f...
More from Brazilian journalist Rosana Pinheiro-Machado.
https://theintercept.com/2018/10/11/brazil-elections-bolsonaro-workers-p...
Even Germany is moving right...perhaps farther in today's elections (3.5 min)
https://therealnews.com/third_party_content/regional-elections-in-bavari...
Even in Canada - Quebec went for the conservatives in their recent election too...
I think we're seeing around the world a surge in populism on both the left and the right. And I think Quebec is a good example of that, where there was for a long time, two primary parties that contested elections, the PQ and the Liberals. And in this election, we saw both of them reduced substantially, with strong growth and support for upstart parties on the left and the right that are more populist.
https://therealnews.com/stories/what-is-behind-the-conservative-win-in-q...
Our ally Saudi Arabia is perhaps the most conservative and repressive government on Earth. Like the US, they just kill people who question their policies.
Medea Benjamin said this week -
I want to denounce the Western democracies for their hypocrisy and their enabling of Saudi behavior for so many years now. (video or text)
https://therealnews.com/stories/is-the-u-s-complicit-in-saudi-journalist...
Why do we support a country like Saudi?
FOX HOST: What's at stake with U.S.-Saudi relations, sir?
DONALD TRUMP:

I would say they're excellent. I've told them they've got to pay for their military. You know, Saudi Arabia has a, is a very rich country. And for years and years- there would be no Saudi Arabia if there wasn't the United States, because we protected them. And we don't get paid for this protection. We should be paid. We spent billions and billions of dollars a year protecting Saudi Arabia. And I've told the king, King Salman, I said, King, sorry, you've got to pay
.
https://therealnews.com/stories/will-the-disappearance-of-journalist-jam...
"Saudi Arabia, I get along with all of them," Trump said in 2015. "They buy apartments from me. They spend $40 million, $50 million. Am I supposed to dislike them? I like them very much." https://www.truthdig.com/articles/ethics-watchdog-raises-pointed-questio...
Everything is going as planned...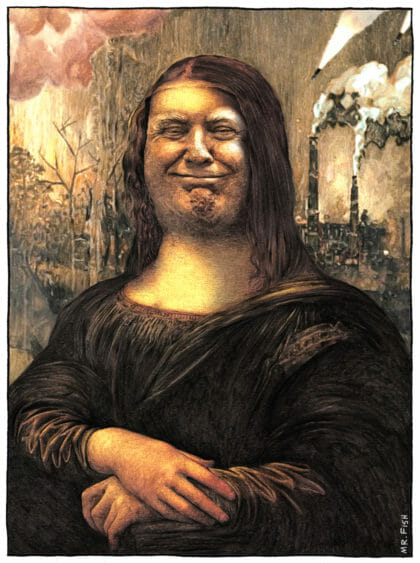 So it goes. Another week. How can we be a dollar short? All we have to do is print another. All we need is some ink and paper and we're good to go. Ready to react to the next disaster, collapse, or catastrophe. We can always create a war if we need to distract or derail attempts to address the real issues...of climate, the economy, peace, and so on. Use human nature. We're easy to scare, and there is always a bogey man worse than ourselves - or at least we can say so. RUSSIA, CHINA,...
We all know the real deal...we simply must leave fossil fuels in the ground...no more extraction nor refining. We know the banks need to be broken up and no longer allowed to gamble with people's money. We know that our government is bought and paid for and we need to decouple our representatives from their lobbyists. But the system is so entrenched that it will take a revolution. Meanwhile, there's a new series to binge watch on Netflix, and I gotta take the kids to the game, and ...and....and...we never make forward progress. Well back to my theme that we can still act as individuals. And here's hoping your life and day is filled with hope and dreams and your personal revolt is leading you to fulfillment!