The Weekly Watch
Submitted by Lookout on Sun, 05/21/2023 - 6:35am
Health is Wealth

"It is health that is real wealth and not pieces of gold and silver."
― Mahatma Gandhi
TPTB are planning to use health concerns to grab ever more power, so we'll start by looking at the UN's pandemic treaty. Also on the table are foods and lifestyles that hurt and can improve our personal health. In both cases a profit driven "sick care" is the root of the problem.
In addition to human health, we'll also dive into the health of societies, nations, and the economy.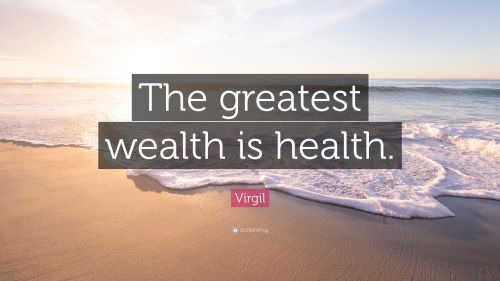 The Pandemic made obvious the failure of of the US and global health system. The profit driven health industry focuses on the bottom line, NOT people's health outcomes. The WHO made glaring error after error, from slow walking the elimination of flights into and out of China, thereby accelerating the spread of COVID around the globe, to demanding ineffectual mask and vaccine mandates. and requiring lockdowns which did more harm than good. Not a very good track record.
This is the same Gates funded WHO which is current writing and editing a global Pandemic Treaty which positions the WHO as the sole body to determine the "rules" which all nations MUST follow.
Building a new pandemic industry
The World Health Organization (WHO) and its Member States, in concert with other international institutions, is proposing, and currently negotiating, two instruments to address pandemics and widely manage aspects of global public health. Both will significantly expand the international bureaucracy that has grown over the past decade to prepare for, or respond to, pandemics, with particular emphasis on development and use of vaccines.
This bureaucracy would be answerable to the WHO, an organization that in turn is increasingly answerable, through funding and political influence, from private individuals, corporations and the large authoritarian States.
These proposed rules and structures, if adopted, would fundamentally change international public health, moving the center of gravity from common endemic diseases to relatively rare outbreaks of new pathogens, and building an industry around it that will potentially be self-perpetuating.
In the process, it will increase external involvement in areas of decision-making that in most constitutional democracies are the purview of elected governments answerable to their population.
...
This has potential to be a boon for Big Pharma and their investors who have done so well out of the last two years, concentrating private wealth whilst increasing national indebtedness and reversing prior progress on poverty reduction.
Sounds scary to me. No questions nor discussion allowed just as with COVID-19...
TPTB are already working toward the next Plandemic. No wonder they're rushing through this pandemic treaty. Grab power quick!
It's STARTING! The NEXT Pandemic is here & children are the target says Bill Gates (17 min)
The UK government has begun testing for asymptomatic bird flu. Two people who worked in poultry farms have tested positive. The government says that bird flu contamination can come from "the nose and throat from breathing in material on the affected farm or can be true infection. It can be difficult to distinguish these in people who have no symptoms."
There is no evidence that there has been human-to-human contamination. This has some people feeling pretty nervous about another asymptomatic pandemic, understandably so. It also feels a bit uncomfortable when coupled with news like this: vaccine makers recently said that they are prepping bird flu shots for humans, "just in case." Now children's hospitals around the world say that they are preparing for the next pandemic, also "just in case." What are we in for here?
Who defines truth? (5 min) Byram Bridle.
Entire post COVID summit press conference here with MP's, Dr. Malone, and Byram Bridle.
So to answer who defines truth, according to the new pandemic treaty, it is the WHO.
John Campbell looks at the new edits in the document which increase the WHO's ability to dictate actions to nation states. (14 min)
Notes available under the clip.
At least in the UK there are a couple of MP's which are questioning the WHO treaty. Will it be rubber stamped anyway?
M.P Andrew Bridgen comments. (18 min)
Analysis by Mr. Danny Kruger M.P. (16 min)
Why this concern for health? Well, we have a global case of excess deaths. The story is largely absent from MSM exposure. Somehow TPTB don't find it important.
'Brits are dying in their tens of thousands - and we don't really have any idea why'
Tens of thousands more Brits died than usual from May to December 2022, excluding Covid as a cause of death, raising serious questions as to why so many died.
John Campbell discusses the UK data. (15 min)
The UK is just an example. The excess deaths are a global phenomenon.
A new analysis shows that, compared to similarly high-income European countries, the US continues to have substantially higher death rates at all but the oldest ages, resulting in more "excess deaths," and this gap widened during the Covid-19 pandemic.
Aseem has been one of my health heroes...This 45 min conversation triggered this essay.
Aseem's advice to patients and doctors...

So we must do our own health homework. Just as we've been misled about the pandemic, we're being misled about diet. For example the idea that a sugary cereal is "Heart Health" is a lie plain and simple. Those labels can be purchased with donations. Another example is the recommendation to use vegetable and seed oils.
Dr. Chris Knobbe - 'Diseases of Civilization: Are Seed Oil Excesses the Unifying Mechanism?'
Dr. Knobbe's research efforts and revolutionary hypothesis for the nutritional basis of AMD have resulted in a published scientific paper, a book – Ancestral Dietary Strategy to Prevent and Treat Macular Degeneration – a website, CureAMD.org, and a second book currently in the making. Knobbe's current research focuses substantially on omega-6 seed oil consumption as a major unifying driver of the chronic degenerative diseases of civilization, including AMD.
More from a longer conversation with Chris with Ken Berry
Nina Teicholz with the background story, 'Vegetable Oils: The Unknown Story' (36 min)
These oils are in your commercial salad dressings, mayonnaise, cereals, crackers, chips, margarine, and almost all processed foods.
So what to do? Make your own dressing with olive oil, use butter (everything's better with butter), save bacon grease (my Mom kept a can by the stove for just that purpose, and now I do the same). Coconut oil is safe at high heat, and avocado oil is another healthy option.
The cheapest health hack which very few doctors know about nor advise is fasting. Fasting is the quickest way to reset your metabolic health to my mind. Two good sources for tips and tricks, as well as examples of patient outcomes are Jason Fung and Mindy Pelz. Both are practicing MD's.
Why do you think fasting is not a common recommendation? Well, there's no profit in it...No prescription kick back, plus patients improve and need less care. It really is easier than it sounds, especially once you get your metabolic health adjusted.
There's a seven year study which concludes high vitamin D levels improves health. Dr John explains (15 min). Daily oral dosing of vitamin D3 using 5000 TO 50,000 international units a day in long-term hospitalized patients, Daily oral intake of vitamin D3 ranging from 5000 IU/d to 60,000 IU/d for several years was well tolerated and safe in both our patients and staff. Notes at the link.
Friends are also important for our overall health. Even though we're only e-friends, these C99 relationships affect us. I know I sure felt better when we heard from eyo this week. So nice to know despite health challenges she still with us. Hooray for you, eyo!
Let's look at the health of the US and global economy...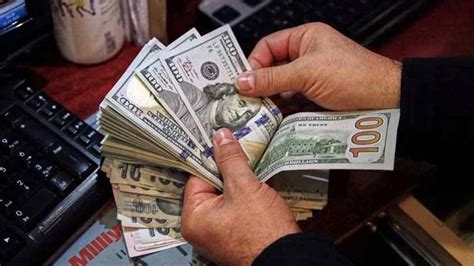 Economic Health
Raising the debt limit is the crisis of the moment...
What to expect as the US continues with debt ceiling negotiations
Republican lawmakers continue to insist on cuts to social programmes as US debt default looms on the horizon.
Some pols are calling for a default, including Donald Trump. (3 min)
House, Senate Republicans join hands on debt ceiling talks (1 min)
(17 May 2023) House and Senate Republicans joined together outside the U.S. Capitol to show solidarity in talks over raising the debt ceiling.
Negotiations FAIL! U.S. Debt Default Looms, World Urgently Accelerates De-Dollarization. (8 min)
May 10th, the threat of a US debt default and economic crisis, along with further tightening credit conditions, had a negative impact on the US dollar and US bonds. At the same time, data from the US Bureau of Labor Statistics showed that the Consumer Price Index rose by 4.9% year-on-year in April, slightly lower than expected (and the previous value), and continued to slow down for the tenth consecutive month. This data reduced the probability of the Federal Reserve raising interest rates by 25 basis points in June from 20.1% to 14.2%. The market immediately responded, with the US dollar index falling more than 30 points in the short term, spot gold rising about $15 in the short term, and the yield on the 10-year US Treasury bond plummeting 58 basis points to 3.464%.
Well-known investor Jim Rogers believes that under the pressure of the huge debt problem of over $30 trillion, the US financial market is facing a more serious threat than the 2008 financial crisis.
On the same day, the White House and Congress resumed negotiations to avoid a months-long debt crisis that would be the first default in US history. However, the negotiations lasted less than an hour, with significant differences between the two sides and no progress made.
The US House and Senate have indicated that they will continue negotiations in the coming week, but both sides have not shown any willingness to compromise. Even with more time for negotiations, it may not be possible to reach a permanent debt ceiling solution. Both sides emphasized that the US has never defaulted and will not do so in the future. The White House stated that it does not rule out the possibility of invoking the 14th Amendment to the US Constitution to declare the debt ceiling unconstitutional.
US Treasury Secretary Janet Yellen has warned that failing to raise the federal debt ceiling could have dire consequences, including the possibility of a constitutional crisis, as well as economic and financial disasters.
Without the ability to borrow more money, the US federal government could risk running out of cash. To avoid the possibility of default, Yellen has suggested that unprecedented measures may need to be taken.
Some members of Congress have proposed minting a $1 trillion coin that could be deposited into the Federal Reserve and used to pay off debts owed to countries like China. However, Yellen has rejected this plan, causing concern among Wall Street markets about potential bank turmoil and high interest rates.
"It Begins..." (8 min)
Jim Rickards warns about what's going on. He explains that the actions of the Fed will lead to a market downturn and trigger an economic recession. He emphasizes his belief that the Fed lacks a clear understanding of the situation and is making bad decisions.
Jim Rickards is an economist, lawyer, and investment banker with 40 years of experience in the capital markets on Wall Street. He is also a NY Times bestselling author and has written various book on topics like currencies, supply chains, surging inflation, monetary system, financial crisis, and precious metals. Rickard has advised various clients including government directorates and institutional investors.
This is a Heart Attack in the Global Financial System (8 min)
Jim Rickards issues a critical warning, emphasizing that we have never seen this event before. He explains that you need to prepare for what's coming next. Rickards expects that the stock market will experience a catastrophic crash due to the Fed's excessive tightening measures which will also lead to a severe recession.
Long form interview with Jim here.
Global Economic Collapse: The Banking Crisis Is Just Getting Started 45 min
With the US economy in decline, other countries are de-dollarizing. Now it is the ASEAN nations.
De-dollarisation: 10 ASEAN countries agree to ditch the US Dollar (1.7 min)
What I find most insane is the waste of US wealth fighting and funding senseless, endless wars.
Sy Hersh has a new piece suggesting there a possibility Ukraine will be forced to negotiate.
THE UKRAINE REFUGEE QUESTION
Ukraine's neighbors push for Zelensky to pursue peace as millions of displaced people flow into Europe
That sounds hopeful...
Col Douglas Macgregor Straight Calls - Ukraine news today and in-depth discussion of current geopolitical events in the United States of America. Colonel Douglas Macgregor's Ukraine Russia war update, Russian offensive, Ukraine counter offensive, Ukraine latest news, Ukraine war news, Ukraine war video footage, Ukraine Russia news, Russia Ukraine war update and Ukraine war 2023. (40 min)
Meanwhile 'elensky is once again traveling, this time to the Arab Summit and the G7.
The Duran explains (38 min)
The Health of Western Society...
Europe is committing suicide.
Betting on Technology over Fossil Energy - Alastair Crooke former British diplomat (24 min)
This is a project of the elite. The ordinary people object to this course.
Macron's democracy: repression and austerity (18 min)
Jeremy Loffredo reports from Paris for The Grayzone, covering the national uprising against French President Emmanuel Macron's plans to impose neoliberal austerity measures through unpopular pension reforms. Hear from the protest rank-and-file as they describe repression at the hands of militarized police, arbitrary jailing, and their fight against the billionaire president's aggressive rollback of economic rights.
It's not like it is any better in the US...
American Psychosis - Chris Hedges on the US empire of narcissism and psychopathy (15 min)
It's obvious, logical, natural, even mathematical that our civilization is going to collapse, that we have overshot the sustainable carrying capacity of the earth and ecosystem that supports us. But people are fed false hope, false positives and magical faiths which extract your agency and distract you from your presence. Held captive by apathy, afraid of your own shadow.
Chris is a realist. He lays it out without pulling punches. It is better to face our condition.
To my mind the big news this week are the revelations of the corrupt nature of the FBI in both the weaponization of government hearing and the Durham report.
Russiagate Was A Hoax! Says Justice Dept's Durham Report (30 min)
John Durham has issued his report on the Russiagate investigation, and the results are scathing, despite what many mainstream media outlets would have you believe. Durham found no evidence supporting allegations of collusion between Donald Trump and Russia, but rather that the FBI broke the law in pursuing the case and that the entire Russia-Trump connection was ginned up by the Clinton campaign in 2016. Jimmy and Kurt Metzger talk to Aaron Maté about the ongoing Russiagate hoax that won't die no matter how many times and ways it's debunked.
FBI Whistleblowers Speak Out (30 min)
FBI whistleblowers share their opening statements to the House Weaponization of the Federal Government Committee. Pretty damning!
It ain't just the FBI that's corrupt. The same applies to most three letter agencies...
(2 min)
Full interview here. (25 min)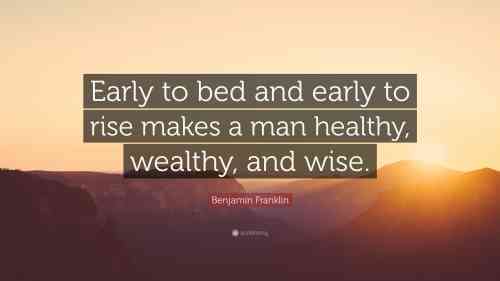 Conclusion...
The quality of our lives depends on feeling well. There are lifestyle options to maximize our health. To my mind one of the most powerful health hacks is fasting. Simply altering our diet can can often eliminate the need for pharma drugs. There are advocates for plant based to carnivore diets, do your homework and select the diet that works for you. If I was to suggest rules, I would recommend eliminating processed foods (currently 60% of the US diet), minimize sugar, and avoid seed oils. Eating home grown local foods can also improve our health. Growing some of your own food is even better.
We all find solace in different activities. I play music, and I garden. Both are excellent ways to stay sane in an insane world.
Here's yesterday's harvest...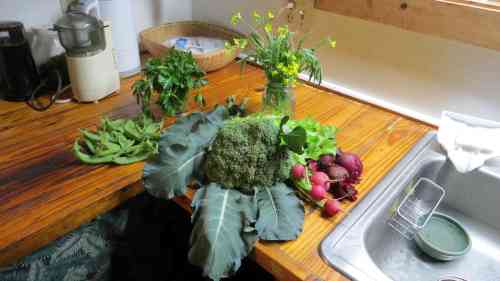 Summer crops grow as spring crops are ready for harvest.
These are bonus cabbage regrowing from last fall's cabbage stem.
Smiley asked about the espalier apples, well here they are along with the muscadine trellace.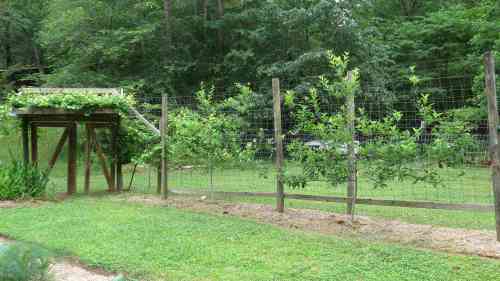 I look forward as always to your ideas, thoughts, and stories in the comments below!