The Weekly Watch
Submitted by Lookout on Sun, 09/11/2022 - 7:07am
Out of the Frying Pan and into the Fire...

So we had an FBI raid on Trump followed by the "dark Brandon" speech avowing all Trump supporters as enemies of the state. Across the pond we saw the appointment of Ms. Truss (appropriately named mistrust) as PM of the UK literally as the 70+ year reigning Queen dies (replaced by King (WEF) Charles). Additionally propaganda is being piled deep with the so called Ukrainian counteroffensives (which may be a trap). Add insult to injury, Crystia Freeland, is a likely future head of NATO? Remember, she's the one that was freezing bank accounts of Canadians protesting the vaccine mandates.You can't make it up...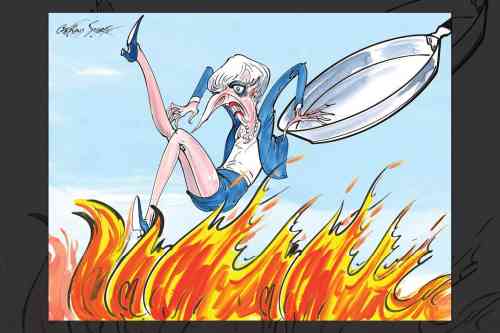 The idea of frying pan to fire came as I thought about the leadership here in the west. My music buddies, the twins, both worked for a nearby town until they retired. Whenever the mayoral election came around they would avow, "you think there's no way we could trade down, but every time we do."
Have you ever heard the swap song? I heard it years ago from Lotus Dickey, but YT only has Burl Ives singing it. The twins tell a similar story about Millard, their dad. He won a used car in a raffle and through a series of trades worked his way down to a lawn mower that blew up and was junked. That seems about the way our elections have gone through my lifetime, from a functioning car to a useless lawn mower, or as today's theme suggests, out of the pan and into the fire.
Western leadership is a joke, but sadly the joke is on us...
The collective west's insanity currently revolves around it's alleged devotion to Nazi infused Ukraine. Of course Ukraine is just a tool being used to weaken Russia. The west is happy to sacrifice every Ukrainian to achieve its goal (so they really don't give a flip about Ukraine). Scott Ritter is a reliable source to my mind... (19 min)
Six months into Russia's "Special Military Operation," fact-challenged reporting that constitutes Western media's approach to covering the conflict in Ukraine has become apparent to any discerning audience.
...
Six months into Russia's "Special Military Operation", most military analysts admit that Russia enjoys the upper hand on the battlefield, despite the billions of dollars in military aid that has been sent to Ukraine by the U.S. and its European allies.
But not Bill Arkin and his employers at Newsweek. They seem to be content with serving as the Defense Intelligence Agency's stenographers, putting out stories which have not, and will not, stand the test of time.
https://consortiumnews.com/2022/09/01/scott-ritter-getting-it-wrong-on-u...
Brian at the new atlas does a good job detailing the military operation in Ukraine.
- Ukraine continues its offensive around the Kharkov region after its Kherson offensive failed at great cost in lives and equipment;
- Tactical gains by Ukraine in Kharkov are also coming at great cost in lives and equipment and will leave Ukrainian forces in ultimately a weaker position than when they began;
- Russian withdrawals are tactical, focusing on long-term victory rather than daily headlines;
- Russia has repeatedly conserved manpower and equipment in the face of Ukrainian surges to later reform lines and counter attack on their own terms;
- The correlation of forces continues to favor Russia
More notes under the clip...
Alex Christoforou also is an excellent analyst. (27 min)
Izyum withdrawal. Escalation & psychological impact. Baerbock surprise visit to Kiev.
He discusses this article
My view is fairly simple: Ukraine cannot and will not reach meaningful objectives - what we call "operational depth" - and has in fact thrown much of its carefully crafted premium reserves into a dangerous position. I believe it's highly likely that these top rate Ukrainian formations are about to be savaged - but this is still an important learning moment for Russia.
None the less, this wasteful conflict continues to be fueled by the west...
As the Biden administration on Thursday announced billions of dollars in additional aid for Ukraine's defense against Russian invaders, peace activists renewed calls for a diplomatic solution to the nearly seven-month war.
"The White House and Congress are fueling this war with a steady stream of weapons instead of pushing for talks to end the conflict," Medea Benjamin, co-founder of the peace group CodePink
https://www.antiwar.com/blog/2022/09/08/peace-groups-decry-billions-more...
This counteroffensive is reminiscent of the original US driven 2014 coup. That happened as Russia was focused on the Olympics held in Sochi, Russia. This counteroffensive was conducted when Putin and most of the top leadership was at the Eastern economic forum in Vladivostok.
Here's some of what Putin said there...
I have already mentioned that the entire system of international relations has recently undergone irreversible, or should I say, tectonic, shifts. Emerging states and regions around the world, primarily, of course, in the Asia-Pacific region, now play a substantially bigger role. Asia-Pacific countries emerged as new centres of economic and technological growth, attracting human resources, capital and manufacturing.

Despite all that, the Western countries are seeking to preserve yesterday's world order that benefits them and force everyone to live according to the infamous "rules", which they concocted themselves. They are also the ones who regularly violate these rules, changing them to suit their agenda depending on how things are going at any given moment. At the same time, other countries have not been forthcoming when it comes to subjecting themselves to this dictate and arbitrary rule, forcing the Western elites, to put it bluntly, to lose grip and take short-sighted, irrational decisions on global security, politics, as well as economics. All these decisions run counter to the interests of countries and their people, including, by the way, the people in those Western countries. The gap separating the Western elites from their own citizens is widening.

Europe is about to throw its achievements in building up its manufacturing capability, the quality of life of its people and socioeconomic stability into the sanctions furnace, depleting its potential, as directed by Washington for the sake of the infamous Euro-Atlantic unity. In fact, this amounts to sacrifices in the name of preserving the dominance of the United States in global affairs.
The insane economic costs of the Ukraine conflict...
The EU was in a weak position at the start of the conflict...(9 min)
Michael Hudson explains...
Germany once the economic power house of the EU is literally killing its own manufacturing economy.
Habeck captains Germany towards economic disaster, no chance of turning back
Despite soaring energy prices that threaten the stability of the country, Foreign Minister Annalena Baerbock said she would
The comment is a fairly stunning admission that world leaders are intent on prolonging the war for as long as possible, no matter how much it harms the countries they are supposed to represent.

The people of Germany don't seem happy (2 min)
ENERGY CRISIS: German people demand the lifting of sanctions against Russia
Around 4,000 German people gathered in Magdeburg
to protest against the government's policy
that caused inflation rose to its highest level in almost 50 years,
Driven largely by energy price rises
By shouting: "Nord Stream! Nord Stream!"
The German people demand the lifting of sanctions against Russia
Sadly it seems the leadership has a plan...
MARTIAL LAW COMING TO #GERMANY
"From October 1, the military will patrol the streets in Germany, and special army units will be responsible for security inside the country as population about to explode on gas and electricity prices Winter is Kommen"
At least one German politician is making sense...
Sahra Wagenknecht, a left-leaning politician, said that Russia is its largest energy supplier on Thursday. Speaking in the Bundestag, the former co-chair of the party Die Linke (The Left) urged an end to anti-Russian sanctions and the resignation of the country's vice chancellor and economy minister, Robert Habeck.

Although describing the conflict in Ukraine as an ongoing war, "crime," Wagenknecht claimed that anti-Russian sanction are "fatal" to Germany. With energy prices out of control, the country's economy will soon "just be a reminder of the good old days,"The MP warned and urged Russia to lift the restrictions.
"We really have the stupidest government in Europe,"She urged Habeck to resign, and she spoke in front of the Parliament.

"The idea that we are punishing Putin by impoverishing millions of families in Germany and destroying our industry while Gazprom is making record profits – how stupid is that?" Wagenknecht wondered.
https://www.massnews.com/german-mp-names-stupidest-government-in-europe-...
Kyle Anzalone discusses the West's energy war with Moscow.
The West Doubles Down on the Losing Economic War with Russia
Bad as things are looking for Germany, the UK may be in worse shape, especially with their new PM.
The U.K. has a new Prime Minister and her name is Liz Truss. A member of the Conservative Party, Truss replaces the deposed Boris Johnson but, as a fellow Conservative, promises to perpetuate Johnson's right-wing policies on issues like police, warmongering and energy. In fact, when asked about her "feelings" surrounding the possibility of nuclear war, Truss insisted that she's ready to push the button and rain down cataclysmic destruction on the entire planet.
So the bottom line is Europe is committing economic suicide in order to support a country with which they have no formal alliance nor treaties. The US, perhaps purposely?, has set them on this course of destruction and the people are asking why, but the leaders don't care. They set the course and will become little more than US vassal states.
How about the situation in the US?
1.3 min
Yesterday was Labor Day. But we haven't heard a word from politicians about the struggles of hardworking Americans. This is not the time for celebration. It's time for our leaders to take serious action to reduce inflation & stand up for the interests of the American people.
Well Trump won the appointment of a special master to review the papers taken from him by the FBI.
The judge ordered the DOJ to stop reviewing and using the seized documents as part of its criminal investigation until the special master can complete a review. She will, however, allow US intelligence officials to continue a classification review and national security risk assessment.
Biden's speech in Philly at independence hall where he claimed to seek unity as he divides and sets up conflict.
"..."But as I stand here tonight, equality and democracy are under assault. We do ourselves no favor to pretend otherwise.... "Donald Trump and the MAGA Republicans represent an extremism that threatens the very foundations of our republic... "And here, in my view, is what is true: MAGA Republicans do not respect the Constitution. They do not believe in the rule of law. They do not recognize the will of the people.... "MAGA forces are determined to take this country backwards -- backwards to an America where there is no right to choose, no right to privacy, no right to contraception, no right to marry who you love.
"They promote authoritarian leaders, and they fan the flames of political violence that are a threat to our personal rights, to the pursuit of justice, to the rule of law, to the very soul of this country.
..."MAGA Republicans have made their choice. They embrace anger. They thrive on chaos. They live not in the light of truth but in the shadow of lies.
..."MAGA Republicans look at America and see carnage and darkness and despair. They spread fear and lies –- lies told for profit and power.
These are just a few examples of the nature of how the dims plan to spin the situation. Perhaps he has forgotten Russiagate, a DNC ploy and FBI collusion to make people doubt the outcome of the 2016 election?
As far as I'm concerned both parties are corporate, pro-war, and owned by various oligarchs. Neither has our interest at heart. Like the Germans, it doesn't matter how the voters feel. Just push the war time agenda, and blame the other party. How convenient.
How did we get into this mess.
Max explains to Russell how lockdowns contributed to the current situation.
Can we escape the flood of control and avoid the disaster of current leadership?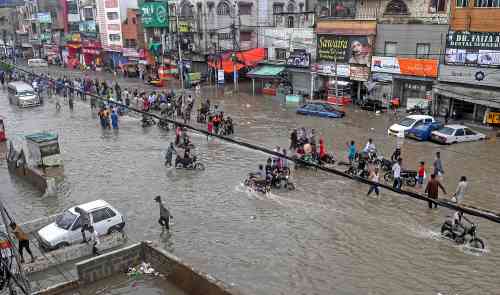 Time will tell, but one thing is for sure - this system will not carry us forward into a positive future for working people. I keep hoping that the USD will fail before we start all out WWIII. The economic war has already begun, and the collective west (12% of global population) is trying to bully the rest of the world into submission as it has for the last several decades. However the landscape has changed and there is an alternative - the BRICS+ system is on the rise as the US empire declines. So interesting times. Glad to share the ride with all of you. I look forward to your comments, stories, and insights below!