The Weekly Watch
Submitted by Lookout on Sun, 10/25/2020 - 7:12am

Seeking Balance
This week Max and Stacy have been discussing the coming digital currency on the Keiser Report. They suggest the IMF will digitize money to cover all the printing and central bank bailouts. As Max and Stacy often say, "You can't taper a Ponzi scheme". Stock trader, Greg Mannarino, has been saying he thinks the Fed will issue its own digital currency, but perhaps the plan is to work in conjunction with the IMF. The meme has been "money printer goes brrr", yet it seems eventually the piper must be paid. The idea of digital dollars which WILL track every transaction isn't a pleasant thought to me.


It is a question of the system will collapse, not if it will collapse?

We are piling up massive deficits and neglecting our basic infrastructure, including electrical grids, roads, bridges and public transportation, to spend more on our military that all the other major powers on Earth combined. We are the world's largest producer and exporter of arms and munitions. The virtues we argue we have a right to impose by force on others — human rights, democracy, the free market, the rule of law and personal freedoms — are mocked at home where grotesque levels of social inequality and austerity programs have impoverished most of the public, destroyed democratic institutions, including Congress, the courts and the press, and created militarized forces of internal occupation that carry out wholesale surveillance of the public, run the largest prison system in the world and gun down unarmed citizens in the streets with impunity.
https://scheerpost.com/2020/10/19/chris-hedges-the-politics-of-cultural-...
Author, activist and dissident Chris Hedges spoke at The Sanctuary for Independent Media in Troy NY on October 16, 2020. In this talk he examines the cultural and social forces that have given rise to extremism in the United States. He explores the myriad of factors that led to the proliferation of neo-fascist militias, extremist organizations, demagogic leaders, vast social divides defined by hate, a hyper nationalism and virulent racism as well as a mass media that has descended into burlesque and fans the flames of social disintegration. Meghan Marohn moderates a Q&A following the talk.
https://www.youtube.com/watch?v=GxSN4ip_F6M (2 hours)
I had to buy some bulbs for my tail light the other day. When he handed them to me I noticed they were made in China, and said, "I guess most of your parts come from China?"
He replied, "All we make in the US is trash and babies".
To which I said, "Oh no, we are the world's leading manufacturer and exporter of weapons, violence, and war."
Which brought no reply...

The United States has the dubious distinction of being the world's leading arms dealer. It dominates the global trade in a historic fashion and nowhere is that domination more complete than in the endlessly war-torn Middle East. There, believe it or not, the U.S. controls nearly half the arms market. From Yemen to Libya to Egypt, sales by this country and its allies are playing a significant role in fueling some of the world's most devastating conflicts.
http://www.tomdispatch.com/post/176761/

War is the US' actual economic machine, so the collapse might be a good thing. Sadly there will be plenty of collateral damage. Inequality has never been so extreme, and it is perpetrated, exaggerated across the system from media to the the injustice system.
corporate media—whose owners are overwhelmingly from the class that would be paying a wealth tax—are returning to throw cold water on the idea, after successfully sidelining the candidates who most enthusiastically promoted taxing the wealthy during the Democratic primaries this year.
https://scheerpost.com/2020/10/22/its-no-surprise-corporate-media-abhors...
The United States legal system, it turns out, is nothing more than an enabler of greed that has turned American society into a depraved playground for the decrepit rich. That's the devastating lesson found in the pages of attorney and literary agent Ronald Goldfarb's latest book, The Price of Justice: Money, Morals and Ethical Reform in the Law. In the latest installment of Scheer Intelligence, Goldfarb joins host Robert Scheer to discuss his book, which Scheer describes as "scathing in its indictment of the corrupt legal profession where too often profit smothers commitment to justice in criminal or civil jurisprudence."
(audio or text)
https://scheerpost.com/2020/10/23/ronald-goldfarb-americas-prized-legal-...
Consider the story of Steve Donziger.
Donziger was charged with misdemeanor civil contempt for refusing New York Judge Lewis A. Kaplan's orders to turn over to Chevron his client communications—which would force him to violate attorney-client privilege— his personal electronics, his passport and to cease trying to collect the $9.5 billion from Chevron for his Indigenous clients. As a result, he has had his law license revoked and has been confined under house arrest in New York since August, 2019, wearing an ankle tracking bracelet. He is buoyed by the support of 29 Nobel laureates and 475 lawyers and legal organizations that issued statements of support, along with countless other supporters.
https://scheerpost.com/2020/10/16/steve-donziger-how-big-oil-weaponized-...
(audio or text)
While The Nation, The Intercept and Courthouse News Service have reported on Donziger's current legal battle, no major mainstream publication has touched it.
"Corporate influence over our federal judiciary has increased dramatically in recent years," Donziger said. "This firm [Chevron] has captured an element of power from the government and deployed it against a human rights activist."
He continues...
"I cannot get a fair trial with a judge appointed by Judge Kaplan rather than though the random assignment process," he lamented. "I cannot get a fair trial with a prosecutor whose law firm [has worked] for Chevron. These are egregious conflicts of interest. It's misconduct on a grand scale. I've been locked up four times as long as the longest sentence ever imposed on a lawyer for criminal contempt in New York. Anyone who cares about the rule of law should be appalled."
https://scheerpost.com/2020/08/25/how-corporate-tyranny-works/
At least there was some good news this week with the election in Bolivia reversing the US coup created last year. Max and some of the grayzone staff were election observers. Max reports on his experience.
https://www.youtube.com/watch?v=d4UWcAxPgUY (36 min)
Finding Balance
So how do you find balance in a collapsing empire? One way is with humor...
(7 min)
(10 min)
Perhaps we are out of electromagnetic balance. Have you heard of "Grounding"?
Earthing, also known as grounding, is simply reconnecting to the Earth's healing energy. How do you ground? It is very simple; you've no doubt done it before! Walk barefoot in the grass, sand, dirt or on concrete. Like your body, these are conductive surfaces and the Earth's energy flows through them and into your body. Wood, asphalt, and vinyl, are not conductive. You can also connect to the Earth's energy by using simple barefoot substitutes. Barefoot substitutes consist of mats, bands, patches, and sheets, that when connected to the ground port of a grounded home or office outlet with a simple cord, connects you to the Earth's energy via the ground wire of the outlet.
The Earthing Movie: The Remarkable Science of Grounding (full documentary 1.25 hours)
Some people choose to reconnect with nature and themselves with psychedelics.
This was a new drug to me...Ayahausa.
The Nature of Ayahuasca (2019) Documentary (1 hour)
Music is another technique to find some balance. Yesterday QMS asked me what I've been listening to, and the answer is "Rising Appalachia". I've watched these two young women (Chloe and Leah) grow into excellent performers. They've been a part of our dance community since they were little kids.
RESILIENT
[Refrain]
I am resilient
I trust the movement
I negate the chaos
Uplift the negative
I'll show up at the table, again and again and again
I'll close my mouth and learn to listen
[Hook]
Whoa, whoa, oh-oh
Whoa, whoa, oh-oh
Whoa, whoa, oh-oh
Whoa, whoa, oh-oh
Whoa, whoa, oh-oh
Whoa, whoa, oh-oh
[Verse 1]
These  times are poignant
The  winds have shifted
It's all we can do
To stay uplifted
Pipelines through backyards
Wolves howlin' out front
Yeah, I got my crew but truth is what I want
Realigned and on point
Power to the peaceful
Prayers to the waters
Women at the center
All vessels open to give and receive
Let's see the system brought down to its knees
[Hook]
Whoa, whoa
Whoa, whoa, oh-oh
Whoa, whoa, oh-oh
Whoa, whoa, oh-oh
Ooh, oo-ooh
Whoa, whoa, oh-oh
Whoa, whoa, oh-oh
Whoa, whoa, oh-oh
Ooh, oo-oo-oo-ooh
Ooh, oo-oo-oo-ooh
Ooh, oo-oo-oo-ooh
[Verse 2]
I'm made of thunder
I'm made of lightning
I'm made of dirt, yeah
Made of the fine things
My father taught me that I'm a speck of dust
And this world was made for me
So let's go and try our luck
[Bridge]
I got my roots down, down, down, down, down
Down, down, down, down deep
I got my roots down, down, down
Down, down, down, down
Down, down, down, down deep
I got my roots down (I got my roots down)
Down (I got my roots down)
Down deep (I got my roots down)
I got my roots down (I got my roots down)
Down (I got my roots down)
Down deep (I got my roots down)
[Verse 3]
So what are we doing here? What has been done?
What are you gonna do about it when the world comes undone?
My voice feels tiny and I'm sure so does yours
But put us all together, make a mighty roar
Roar
[Refrain]
I am resilient
I trust the movement
I negate the chaos
Uplift the negative
I'll show up at the table, again and again and again
I'll close my mouth and learn to listen
When COVID came it threw the entire world for a loop. We may be entering the darkest phase of the pandemic...(6 min)
Folks we need to stay the course. I'm tired of it all just like you, but I'm going to continue to avoid mixing with people. When I do, I'm going to wear my mask, keep my distance, and stay outside if possible. Like the doctor above says, with the holiday season coming it is going to be difficult to limit gatherings.
This week John Campbell discusses people who have long term effects from COVID.
https://www.youtube.com/watch?v=YN8y_VV6a7w (26 min)
https://covid.joinzoe.com/post/long-covid
https://www.theatlantic.com/health/archive/2020/08/long-haulers-covid-19...
Meanwhile Trump continues holding his spreader events...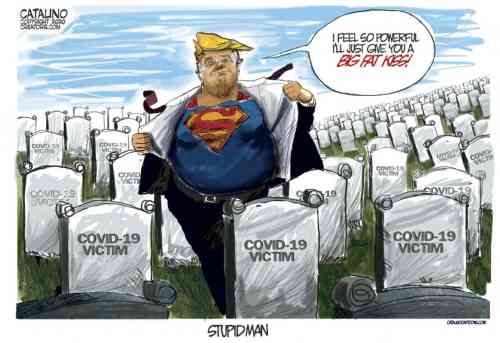 I wonder how many people attending his crowded rallies come down with COVID.
Get Back to the Garden
I find balance growing things. This week digging sweet potatoes was like finding buried treasure. Amazingly there was no vole damage. Like Josh I think fall is a great time to garden. Check out his drill driven greens harvester at the start.
Richard Perkins reports on the growth of his no-dig technique...
It's incredible to see our approach to no-dig market gardening ripple out across the globe; here's a small selection of hundreds of the farm's we've influenced to take better care of their soil and ecology when growing vegetables...
https://www.youtube.com/watch?v=a3wX09l2w-c (4 min)

When will we get so out of balance that the empire collapses like a house of cards? The sooner the better I think...before we start a major war with China or Russia or Iran or...
My hope is that we fall because of our fiat currency rather than through war, but what will be will be. In the meantime, I hope you all are finding some sort of balance in these odd times. Anybody have a successful technique they want to relay? Other things that come to mind are various forms of meditation, yoga, and so on. So be well, stay healthy physically and mentally, and find joy where you can!