The Weekly Watch
Submitted by Lookout on Sun, 08/11/2019 - 7:42am
What You Say?
I heard several interesting interviews over the last couple of weeks and thought I would feature a few of them for your listening pleasure in today's column. There will also be plenty of articles to read as well. As a homesteader, I lead an active life, so I use a couple of tricks to listen to these sorts of conversations. If I'm working around the house I put them on the stereo that includes outside (on the porch) speakers. That way I can do my chores and be informed at the same time. My other trick is to use an audio conversion program (like https://online-audio-converter.com/ ) to create a MP3 file which I put on my little player (most people use their smart phone, but I don't have one). Then I can listen while I mow or travel (my truck radio has an auxiliary plug). So like most of you I love to learn from people, but we need to be active to stay healthy. I try to do both.
Let's start with national treasure Noam Chomsky in a wide ranging conversation over two hours. This podcast was published a couple of weeks ago and is only audio. I find Noam to be insightful on many levels. https://www.youtube.com/watch?v=-r5ve2BQYbg
This is a great interview to convert and listen to while traveling.
Chris Hedges and investigative journalist Mohamed Elmaazi discuss documents showing an alleged British government-financed propaganda mill, similar in nature to the CIA's Operation Mockingbird psychological operations. Elmaazi's work can be found at Theinterregnum.net. https://www.youtube.com/watch?v=Z_K-j6a9ETI (27 min)
A detailed article about the government funded network of networks...
https://thegrayzone.com/2019/01/08/new-documents-reveal-a-covert-british...

Venezuela...
Max Blumenthal interviewed President Maduro this week. I wish more people would listen (or read) and meet Maduro and hear his goals and thoughts. (38 min)
Ben Norton reports from Caracas, where thousands of Venezuelans marched to protest against the crippling US blockade of their country — and also to symbolically celebrate the 200th anniversary of Simón Bolívar's victory over Spanish colonialists at the Battle of Boyacá.
https://www.youtube.com/watch?v=be6oxSvIUjc (2 min)
NPR promotes the coup in Venezeula. I used to be a fan, but I don't donate nor listen anymore to what has become National Propaganda Radio.
https://therealnews.com/columns/npr-shreds-ethics-handbook-to-normalize-...
The Trump administration's new sanctions freeze all of Venezuela's U.S.-based assets and those of anyone who helps Maduro which will only increase poverty, says Venezuelan economist Francisco Rodriguez (video or text)
https://therealnews.com/stories/more-sanctions-against-venezuela-means-m...

Israel
Jimmy looks into the anti-BDS bill which recently passed the house.
https://www.youtube.com/watch?v=SeVaVcyrR_E (25 min)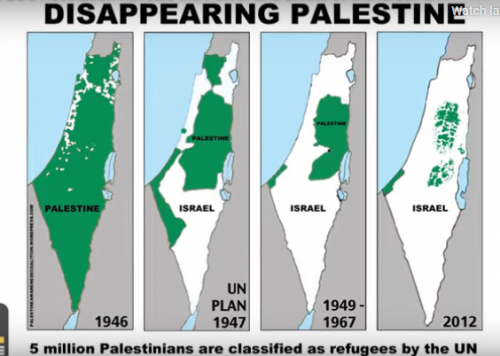 The defense of Palestinian rights has become more acceptable and accusations of anti-Semitism have become more sparing in the mainstream media, despite the House's recent resolution against the Boycott, Divestment, and Sanctions movement, says Phyllis Bennis (video or text)
https://therealnews.com/stories/house-anti-bds-resolution-reveals-the-po...
https://www.thenation.com/article/bds-house-resolution-palestine-solidar...
https://www.thenation.com/article/bds-house-resolution-trump-squad-omar-...
Aaron Mate and Ali Abunimah, co-founder of the Electronic Intifadah (his latest book is the The Battle for Justice in Palestine) discuss the anti-BDS bill. (11 min)
https://thegrayzone.com/2019/07/29/progressive-democrats-vote-against-bd...
Shir Hever discusses two new Israeli military strategies, presented by Israeli chief of staff Aviv Kochavi, who calls for a more deadly invasion of Gaza, and former general Yossi Kuperwasser's plan of "changing the Palestinian narrative" in order to annex Palestinian land (video or text)
https://therealnews.com/stories/new-israeli-military-strategies-for-anne...
A scandal broke out in the Israeli media recently, when it became known that the Israeli government has been engaged in a systematic effort to conceal official documents on the Nakba, the ethnic cleansing of Palestine, in 1948. Prof. Ilan Pappe discusses why Israel's agency in charge of nuclear security hid documents about the Nakba, explaining that it was an effort to eliminate the Palestinian narrative (video or text)
https://therealnews.com/stories/how-israels-erasure-of-palestinian-histo...
When The New York Times asks in its headline "Is BDS anti-Semitic?," it is prioritizing a claim and not asking whether Israel's occupation and ethnic cleansing constitute anti-Palestinian racism. The framing is the takeaway.
https://electronicintifada.net/blogs/michael-f-brown/new-york-times-doub...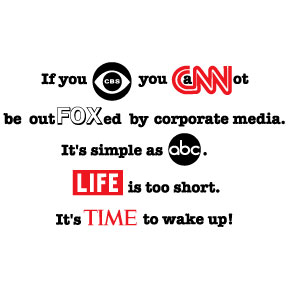 The press
The NYT pretends to be anti-war while pushing for war.
https://fair.org/home/the-nyts-pro-war-arguments-against-war-with-iran/
A fossil fuel baron is now an executive at the largest regional newspaper network in the United States. "Press freedom and democracy decline as gas tycoon Wes Edens increases his media and political power – as his Gatehouse Media acquires Gannett, creating the largest newspaper company in U.S. history," said Jeff Cohen, founding Director of the Park Center for Independent Media. "With environmental struggles often localized and fought over issues like fracking and pipeline construction, it's a grave situation when a gas and fracking investor like Edens is the ultimate owner of an ever-increasing number of local dailies and weeklies." https://therealnews.com/columns/a-fossil-fuel-baron-just-bought-usa-today
Jordan Chariton speaks with Jeff Cohen, the founder of FAIR (Fairness and Accuracy In Reporting) and executive producer of the film "The Corporate Coup D'Etat'".
https://www.youtube.com/watch?v=H9xm1Xcd2ds (19 min)
Stephen F. Cohen says that while Robert Mueller has closed up shop, dangerous U.S. fear-mongering about Russia remains. Aaron Mate's new podcast "Pushback". (18 min)
https://thegrayzone.com/2019/08/04/mueller-time-is-over-russia-hate-is-h...

Politicians, activists, and intellectuals
Joe Rogan has been conducting some great interviews.
This week he talked with Bernie (1.1 hours)
https://www.youtube.com/watch?v=2O-iLk1G_ng
And a few months ago he had an extended 2.5 hour conversation with Tulsi
https://www.youtube.com/watch?v=kR8UcnwLH24
A couple of weeks ago he had a great conversation with Cornel West (2 hours)
https://www.youtube.com/watch?v=ViWvAnvT17c
One more from Joe with one of my faves Abby Martin (2 hours)
https://www.youtube.com/watch?v=O51yryBeNuY
Life style
Forty years ago poet and philosopher Randy Vining was determined to live a free life on wheels by living frugally. In this video, he looks back on those years with no regrets. If you listen carefully, he'll tell you how you too can enjoy the free life! In this video you meet the two stars of the documentary, "Without Bound".
https://www.youtube.com/watch?v=UjTGF4jPdCY (27 min)
Here's an opposite philosophy focusing on becoming a creature of place...tying yourself to a piece of land. Creatures of Place is an insight into the wonderful world of Artist as Family: Meg Ulman, Patrick Jones, and their youngest son, Woody. Living on a 1/4-acre section in a small Australian town, Meg and Patrick have designed their property using permaculture principals. They grow most of their own food, don't own cars and ride their bikes instead, use very little electricity, and forage food and materials from their local forest. https://www.youtube.com/watch?v=rCRukvZE2Vk (12 min)
I enjoy this Brit farming in Sweden. I think he represents the future of food production. What an operation and productivity plus providing training for young farmers as he goes. It is the season of the harvest. (21 min)
https://www.youtube.com/watch?v=MMoc34__-uE
So do you live on the road, set up a homestead, or something in between? All approaches are valid. We are witnessing the sixth great extinction and we may indeed be victims ourselves. Choose a path which you find enjoyable while you can.


(13 min)
This 30 minute documentary about sea level rise is a must watch for people living close to the oceans, and everybody concerned with the future state of Earth.
https://www.youtube.com/watch?v=f9pH5d7vKBs (32 min)
Chris Hedges talks to Roger Hallam, co-founder of the British-based group Extinction Rebellion. The global grassroots movement uses nonviolent acts of civil disobedience by occupying areas of capitals of major industrial countries in protest, to reverse what they argue is a one-way track to global extinction. Activists are demanding the ruling elites state the truth about the climate emergency and implement radical measures to halve carbon emissions by 2025 and terminate the 150-year binge on fossil fuels.
https://www.youtube.com/watch?v=Y9MQGRI8N48 (27 min)
On September 20, three days before the UN Climate Summit in NYC, young people and adults will strike all across the US and world to demand transformative action be taken to address the climate crisis. Millions of us will take the streets to demand a right to a future, and we're inviting you to strike with us.
Brief introduction to the new UN Climate and Land report (video or text)
https://therealnews.com/stories/we-must-change-land-use-to-save-humanity
Here in the United States, the report shows that, I think they said we had 591 million acres in cropland, but only one fifth of that land is used to grow crops that feed human beings. The rest are soy and corn for industrial use to feed livestock like pigs and cattle. So it really, in many ways, we can talk about the desperation of people and what they're trying to farm around the world, but in many ways, this problem is being driven, it seems to me, by corporations, the need for profit, what to sell us.
https://therealnews.com/stories/new-ipcc-report-warns-of-vicious-cycle-b...
We need to be farming like the earlier clips... the Brit in Sweden or the family in Australia. Regenerative farming will take up rather than create greenhouse gases. It heals rather than degrades landscapes. Farmer's are changing. Here's the story of one farmer's journey.
.
https://www.youtube.com/watch?v=HNUyg4RoAc4 (27 min)
...and a developing network of farmers https://www.savory.global/
There are also consequences to our health and nutrition. We are growing the wrong crops in the wrong way. Study after study clearly show we should be eating a low carbohydrate high fat diet, yet they haven't changed the diet recommendations. We are using the wrong fats. Seed oils (Canola, corn, etc.) are NOT healthy. Olive oil, Coconut oil, Avocado oil, even butter and lard are healthier options. Dr Eades reviews the evidence (1st 5 min)
https://www.youtube.com/watch?v=yEAJW8gR-zI (19 min)
part 2 - https://www.youtube.com/watch?v=ZacuLvo8rRw (25 min)
Uncle Dave lived during the Scopes Trial in his home state of Tennessee. He makes it clear that evidence doesn't matter, belief does.
"What You Say, What you say, it's bound to be that way"
Perhaps it is just human nature to resist change, but like it or not we've altered the planet's systems and change is acomin'. It really isn't about what we say, but what we do that makes our lives worthwhile or miserable. I enjoy learning from "what you say" and write, and all the people/links in this essay and all the others. Acting on all the information is more difficult. This week included many horrors...mass shootings, more sanctions on countries that have oil we want, ICE raids tearing apart families, accelerating melting of Greenland, and more. It can depress and overwhelm you if that is your obsessive focus...the horrors. That's one of the many reasons I push gardening. It is something productive, rewarding, and real...leading to better physical and mental health. As Jörgen Andersson says in the clip "Farming is Everyone's Business", we can't wait for systems and governments to create change. We can change our diets and improve our health. We can grow a garden or support local producers. We can lead active healthy lives. We can minimize our personal carbon footprint. We can lead a happy life despite the horrors. No, the horrors don't go away, but they are easier to understand when you are in a good place. Here's hoping you all are in a good place and are happy and productive.