Trump Administration WARNS they will Blow up the Planet
Submitted by Big Al on Wed, 03/08/2017 - 11:37pm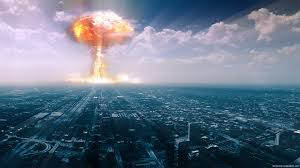 Trump's U.N. Ambassador, Nikki Haley, is proving to be every bit the rabid warmonger Samantha Power was/is. Trump is proving to be every bit the Imperialist his predecessors were. "Make America Great Again". Wasn't that a clue? I thought it was.
"The United States has said "all options are on the table" to deal with North Korea."
Ooh, serious. All options on the table. We know what that means don't we. That means the option of nuclear war that will destroy civilization and the planet is on the table.
Doesn't that show how fucking crazy they are right there? If you're willing to destroy civilization and the planet, doesn't that mean you are crazy? Seriously?
This is the same Trump who said he wants a nuclear arms race, that he wants to build so many nuclear weapons that the planet will tip to the side they're stored, thus reducing the risk of climate change. Isn't that comforting? Doesn't it make you feel safer that our President, to keep us safe, is willing to blow the planet up?
Fuck ya, me too.
Oh wait, this is about that crazy Korean dude.
"US Ambassador to the United Nations Nikki Haley also denounced North Korean leader Kim Jong-un after the United Nations Security Council discussed Pyongyang's launch of four ballistic missiles on Monday.

"We are not dealing with a rational person," said Haley. "It is an unbelievable, irresponsible arrogance that we are seeing coming out of Kim Jong-un at this time."
http://www.aljazeera.com/news/2017/03/warns-options-table-deal-korea-170...
Haley, Trump's representative to the U.N. (not mine, man, screw that. How about you?) says "we are not dealing with a rational person"!
Oh, this is good, man. It's got all the elements of a great black comedy.