Thursday Open Thread 4-5-2018
Submitted by studentofearth on Thu, 04/05/2018 - 5:32am


Morning, may this week find you well with interesting activities. Watching spring unfold and plants wake up is one way to watch time pass. In December I was rising in the dark at 7 am and needed to start evening chores by 3 pm to race the approaching darkness. Now the sun is awakening me at 5 am and daylight is available to after 7 pm for outside activities.
One of our greatest luxuries is controlling our own time. Most of our lives are controlled by clocks, schedules and planned activities of work, vacations choreographed to the minute detail and goal orientated hobbies. One time thief is using medications and drugs that were originally started as a benefit, now have become another controller in one's life.
Discusses drug use for a couple of minutes (the complete video is 12 minutes)
Meet benzodiazepines, America's next big drug problem Two issues, patients not encouraged to use lowest minimum dose by occationally taperring and normal aging process changes the effectiveness of clearing drugs from the body. The same dose taken at 30 years of age will be stronger when taken 60 years old, more likely to cause side effects of falls, decreased coordination, memory loss and confusion.
Today, the U.S. may stand at another such moment. Its next huge drug problem seems likely to be benzodiazepines. Better known as Xanax, Valium and Klonopin, they are tranquilizers used to treat anxiety and insomnia -- maladies at least as universal and hard to measure and cure as pain. In this century, the number of adults filling benzodiazepine prescriptions has increased nearly 70 percent, and the quantities taken have tripled.

Though overdose deaths involving benzodiazepines are fewer than those from opioids -- about 9,000 in 2015 (the most recent year of data) compared with more than 42,000 for opioids in 2016 -- the number is some eight times what it was in 1999.
At any age we may be encouraged to take too many drugs or some for tool long of time. Many individuals do not consider OTC (over the counter) drugs, herbs or vitamins as drugs and add more meds to their prescribed therapies. America's other drug problem': Giving the elderly too many prescriptions
A doctor had prescribed blood pressure medication for a 99-year-old woman at a dose that could cause her to faint or fall. An 84-year-old woman hospitalized for knee surgery was taking several drugs that were not meant for older patients because of their severe potential side effects.

And then there was 74-year-old Lola Cal. She had a long history of health problems, including high blood pressure and respiratory disease. She was in the hospital with pneumonia and had difficulty breathing. Her medical records showed she was on 36 medications.
More reasons to do your own cooking and to limit the number of visits to restaurants. I do like my own cooking, it is cleaning the kitchen and dishes that is not a favorite task. Eating out at restaurants increases phthalate levels in body.
The association was especially strong for teenagers, researchers found. Adolescents who frequently ate at fast-food outlets while out with their friends had 55% higher levels of the chemicals than young people eating at home.

Researcher Dr Ami Zota, from George Washington University in Washington DC, said: "This study suggests food prepared at home is less likely to contain high levels of phthalates, chemicals linked to fertility problems, pregnancy complications and other health issues.

"Our findings suggest that dining out may be an important, and previously under-recognised, source of exposure to phthalates for the US population."
Farm Report
Enjoy your stories on how the season is unfolding in your part of the world. Locally the fields have turned green, trees still need to leaf out. The color green will surround me when outside until November. The birds are singing and building nests.
Trying to figure out the time of day I feed the chickens. Are flying from bush to bush as I move through the orchard area.


Dramatic sunsets are little more regular.


The perennials are above the soil.
Grape Hyacinth


Rhubarb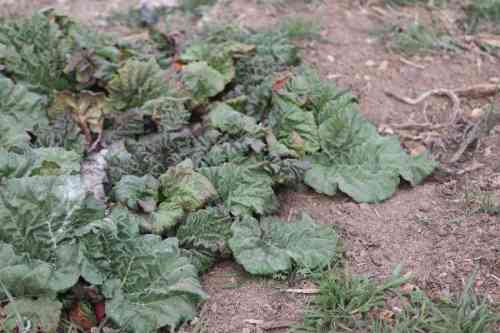 End of day today.