Syria war just transitioned from proxy war to full-scale regional war
Submitted by

gjohnsit

on Mon, 02/19/2018 - 12:49pm
Turkey's invasion of the Kurdish areas of Syria was always going to be a threat for the region. Yesterday it happened.

Turkey warned the Syrian government Monday against entering the Kurdish-controlled enclave in northern Syria where a major Turkish military offensive is underway, saying it would hit back at the troops if their goal is to protect the Kurdish fighters.
The warning sets up a potential clash between Turkish troops and Syrian government forces backed by Russia and Iran, whose deployment would be a first step toward restoring President Bashar Assad's presence along the border with Turkey.
The warning by the Turkish foreign minister came shortly after Syrian state media said pro-government forces would enter Afrin "within hours" to "bolster" local forces in confronting Turkey's "aggression" after reaching an agreement with the Kurdish militia known as the People's Protection Units, or YPG, which controls Afrin.
#BREAKING Regime forces will enter #Afrin area 'within hours': Syrian State TV

— Guy Elster (@guyelster) February 19, 2018
Up until now, the Turkish offensive hasn't made a lot of progress in Afrin. The Kurds have done a good job of slowing the pro-Turkey jihadists. However, the sheer weight of numbers is on Turkey's side.
The U.S. has made it painfully obvious, by agreeing only on Manbij, that they were prepared to sacrifice the Afrin canton to maintain diplomatic ties with the NATO ally. This forced the Kurds to ask Assad for help to save Afrin.
That request was nearly a month ago. What took so long? Obviously Assad wanted something in return for help that the Kurds were reluctant to give. My guess is that the agreement involved driving a wedge between the Kurds and the invading army of the U.S. in eastern Syria.
So the next time Assad decides to take back his oil fields, our Kurdish allies will wave them through.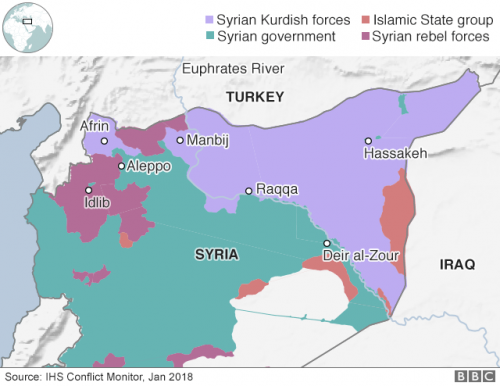 That isn't the only escalation going on.
Corrupt and soon to be indicted war criminal Israeli Prime Minister Benjamin Netanyahu just went past threatening Iran over its troops in Syria, but threatened Iran directly.

"Last week its brazenness reached new heights" he said. "We will act without hesitation to defend ourselves. And we will act if necessary not just against Iran's proxies but against Iran itself."
Don't be fooled into thinking that this is just more threats. Israel is already diving deeply into the Syrian civil war.

According to foreign media reports, over the past few months Israel has begun carrying out airstrikes against Syrian army facilities and targets linked to Iran and its Shi'ite militias, in addition to its longstanding targeting of convoys carrying arms to Hezbollah. Tsurkov also reported on other developments taking place.
Dozens of rebels who spoke with Tsurkov described a significant change in the amount of aid they receive from Israel. Moreover, she said at least seven Sunni rebel organizations in the Syrian Golan are now getting arms and ammunition from Israel, along with money to buy additional armaments.
...Nevertheless, she wrote, there's an expectations gap between the two sides. The rebels expect unlimited Israeli support, and some are even hoping for help in their efforts to topple the regime. Israel's plans are much more modest, and are intended as a holding action.
If that sounds familiar, it is. Israel tried the very same thing in Lebanon, and failed.
Nevertheless, Assad and pro-Iranian forces are taking the threat seriously.