Sunday Open Thread: August 12 is World Elephant Day
Submitted by

enhydra lutris

on Sun, 08/12/2018 - 5:00am
and it is also Prickle-Prickle, Bureaucracy 5, 3184 YOLD
(for you Discordians out there)
It should be prety much the peak of the Perseid meteor shower, and, I shit you not, it is called The Glorious Twelfth in Britain because it is the start of the Grouse Shooting season. I don't know if I can top that, I mean, really ...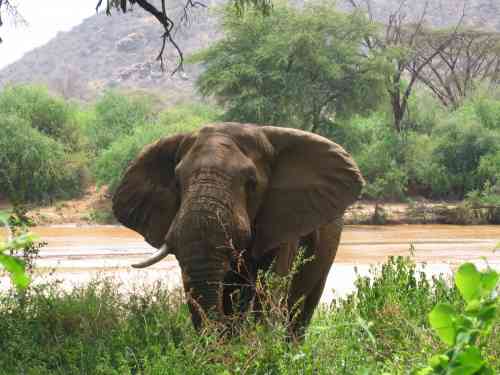 World History this day
1323 - The Treaty of Noteborg between Sweden and Novgorod Republic was signed. The Novgorod Republic was pretty much a piece of the Kievan Rus, a not-too widely known and studied loose and fluctuating confederation running from the Baltic Sea to the Black Sea and more or less controlling the best trade route between northeast Europe and Constantinople. In a sense, the History of Russia, Ukraine and Crimea starts here.
1687 - The Second Battle of Mohacs was such a crushing defeat for the Ottomans that the entire Otoman army completely disintegrated shortly thereafter. This allowed the Audtrian Empire to liberate or conquer, as the case may be, a lot of territory previously conquered by the Ottomans during the Ottoman expansion. The territory was previously conquered by and became part of the Roman Empire before being overrun by the Visigoths and such. Some travel to experience different cultures. Some simply stay at home and have it come to them.
US History this day
1898 - The Hawaiian flag over Iolani Palace was replaced with that of the US in annexation ceremony marking Hawaii's official loss of sovereignty and incorporation into the US.
Science & Technology this day
1851 - Isaac Singer got a patent on his sewing machine. New and improved enough, I guess, it definitely changed a lot of things
1865 - Joseph Lister, performed the first antiseptic surgery, yet every week one reads of this or that hospital, doctor or medical office failing in that regard. C'mon folks, it's been a century and a half.
1883 - The last quagga died in a zoo in Amsterdam.
1960 - NASA launched Echo 1A. Hello, hello, can you hear me now?
1981 - The IBM Personal Computer was released and priced out of range of most persons. Luckily, a lot of people started making "PC Compatible" machines and now look where we are.
The Arts this day
-
Misc. this day
-
Birthdays of Note this day
1626 - Giovanni Legrenzi, composer and orgnist
1644 - Heinrich Ignaz Franz Biber, violinist and composer
1831 - Helena Blavatsky, occultist, theosophist, co-founder of the Theosophical Society
1859 - Katharine Lee Bates, poet who wrote the words to America the Beautiful
1876 - Mary Roberts Rinehart, author and playwright
1887 - Erwin Schrodinger, cat fancier
1907 - Gladys Bentley, singer and pianist
1914 - Ruth Lowe, pianist and songwriter
1918 - Sid Bernstein, record producer
1919 - Margaret Burbidge, astrophysicist
1920 - Percy Mayfield, singer and songwriter
1926 - Joe Jones, singer, songwriter and producer who discovered the Dixie Cups
1929 - Buck Owens, singr, songwriter and guitarist, pioneered the Bakersfield Sound.
1931 - William Goldman, author, playwright, and screenwriter
1945 - Dorothy E. Denning, computer scientist
1949 - Mark Knopfler, singer, songwriter, guitarist, and producer
1949 - Lou Martin, pianist, songwriter, and producer
1950 - August "Kid Creole" Darnell, musician, bandleader, singer-songwriter, and record producer
1954 - Pat Metheny, jazz guitarist and composer
1961 - Roy Hay, guitarist, keyboard player, and composer
Deaths of Note this day
30 BCE- Cleopatra, queen of egypt
1955 - Thomas Mann, author
1973 - Walter Rudolf Hess, physiologist
1985 - Kyu Sakamoto, singer and songwriter
1989 - William Shockley, physicist
1992 - John Cage, composer
2009 - Les Paul, guitarist and songwriter
2010 - Richie Hayward, drummer and songwriter
-
-
So now some music
Echo 1A
Gladys Bentley
Percy Mayfield
Buck Owens
Mark Knopfler
Kid Creole
Pat Metheny
Kyu Sakamoto
John Cage
Les Paul
Richie Hayward
-
Photo: "One Tusk", by the author, 06-10-2008, Kenya
It's an open thread, so do your thing