Open Thread - Thurs 12 Jan 2023 - Shaking My Head
Submitted by Sima on Thu, 01/12/2023 - 5:00am
Just Shaking My Head:
Sometimes all I can do is shake my head when reading analyses of the 'news' which is pumped out to us daily.
Recently there was a great feel good story about the police in Indianapolis finding a little kid who was kidnapped and left for a couple of days in an abandoned stolen car outside a pizza joint. Lots of news outlets reported on the story, here's a report from a local station: WishTV. Basically, there were two twin boys in the back seat of a car stolen several days earlier in Columbus, Ohio. One of the twins was found fairly quickly, after having been left in a parking lot at the Dayton airport. The second twin was missing for days until found by, according to the original news stories, the police outside the pizza joint in the original stolen, and now abandoned, car. This story was published in several news outlets, such as CNN (original story here, updated story after they added in information about the two women rescuers a few days after the original publication).
But a deeper dive, such as done by Luke O'Neil writing on his substack called 'Welcome to Hellworld' reveals a much different story. It wasn't the police who found the child, it was two women who couldn't even get the police to help them who found both the kidnapper AND the baby boy because of their dogged determination. Many of the news outlets got this wrong (see O'Neil's piece for some examples) but some news outlets got this right. For example: here's a piece from the IndyStar which talks about the two women heroes (how the IndyStar got the piece).

Pic of the baby and an the officer with one of the rescuing hero women in the background (Shyann Delmar). Her cousin, Mecka Curry, took the photo which was used by all the news outlets
I suggest reading O'Neil's substack story on this, if you haven't already (link above). He goes into several other examples of the news turning things in favor of the police. It all makes me livid, but I have to shrug and shake my head in disbelief because there's not much else I can do.
Have you been seeing any nonsense like this (it doesn't have to be about the police, although it often is) in the news? Have any antidotes for the way the news throws us biased reporting? I try to read different news outlets, both right and left, to get an overall picture, but, obviously, the stories are still slanted in a way approved by TPTB. I also read work by marginalized journalists like Mate, Greenwald, Tiabbi, and O'Neil, etc, to get a better understanding of what is happening. I would love to read about any examples of the slanting, and antidotes to that slanting, you have in the comments!
A Fun Goat Pic:
Here's our young goat, Peaches, with one of our young roosters, Tiny, on her back. This was from 2014. We went through a stage where we had chicks that were bred and then hatched on the farm. Those chicks turned into chickens which really liked the goats, and the goats seemed to like them in return. The chickens would jump on the goat, ride around the pasture, and pick bugs off the goats as they rode. Tiny did his job as a roo', defending his hens, and passed away when he was about 5. Peaches is still with us!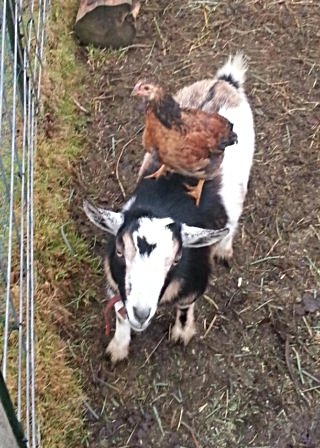 So, thanks for reading and here's the open thread - and remember, everything is interesting if you dive deep enough, so tell us about where you're diving!