Open Thread - 12-16-22 - A Most Joyous Holiday Season
Submitted by JtC on Fri, 12/16/2022 - 8:43am
What the world needs, right now, coming into this holiday season is, less war, less pestilence, less famine, less hate. The world needs more peace, more love, more economic justice, and less Useless Parasitic Eaters. Right now.
Would it not behoove the world to shed itself of that which causes those blights that threaten its existence?
Shed itself of that which, in light of peak oil and climate change, is a major cause of both maladies. Those that fly private jets to all points of the world. Those that flaunt a lavish lifestyle while calling for austerity for all we Bob Cratchits and Tiny Tims of the world. Those that control the largest consumers of oil and the biggest cause of climate change, the militaries. Those that point fingers at the common folk of the world as they rape the planet. Those that eat kobe steak while suggesting the world eat insects. Those that use their wealth to stomp on the necks of their misplaced ideation of the great unwashed. Those that want the world as their oyster at our expense. Those that want far less competition for the remaining resources that they see as their own. Those that want it all because they consider themselves the crown of creation, as they sit upon their piles of ill-gotten wealth.
We, the world, need less Klaus Schwab, less Yuval Harari, less Bill Gates, less WEF.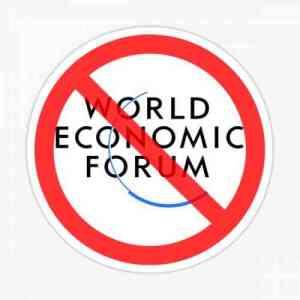 What the world needs, right now, is an anti-WEF. A movement to rid ourselves of this pestilence. This greed driven avarice. This plague of anti-human arrogance. For it is they that are the largest consumers of energy and the leading cause of climate change in the guise of capital industry and financial usury, as they blame everything and everyone but themselves. It is they that have wrought this juncture in the road. They will collapse the world in a perceived cloud of war, famine and pestilence, to rebuild it in their own image, as Gods.
We need a People's Great Reset. A world where there will be no World Economic Forum. And we will be happy.
That my friends, would make for a most joyous and happy holidays.