Open Thread - 10-07-22 - While My Guitar Gently Weeps
Submitted by JtC on Fri, 10/07/2022 - 7:13am
"Get in, folks. We're building a better America."
I wont embed the tweet posted on October 3 by President Joe Biden. I'm sure most of you have seen it already, but I will highlight the disconnection between reality and political doctrine of this hypocritical statement made by the so called leader of the free world. The tweet contains the image below of the Big Guy in his '67 Corvette with the quote above about building "a better America".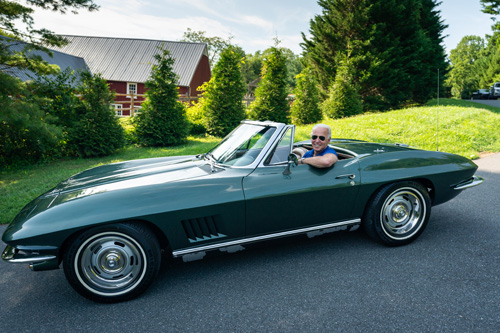 If you're ready to go ridin' with Biden, cruise on down below.
Build a better America? For whom? I certainly haven't noticed a better America, have you? As if he'd really wants any of us in that car with him anyway. And please, if he is going to be driving around in that souped up Vette, let me know so I can get off the streets.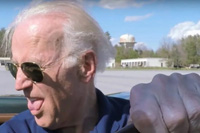 Besides, before I get in that car with him he'd have to clean up the ice cream stains from the seats, vacuum up the hair on the floor, and uh, Joe, if I get in that car with you and if we're going on a "build America better" tour then I insist my wife sits in the middle and you know what that means, hands off buster, I don't care if you kicked Corn Pop's ass or not.
Is this not a perfect example of the contempt that the wealthy
have for we common folk? Does he not understand irony? Showing off in his gas powered classic while sky high gas prices are breaking the backs of working people all in the name of sacrifice for his war in Ukraine, and as he demands that we give up our gasoline powered automobiles in lieu of costly electric vehicles. That my friends, is what's wrong with the supposed raison d'être de democratic party and electoral politics in general. They just don't give a rat's patootie or a flying back flip about you and I. We must sacrifice for their well being, donchaknow. Until election time, then it's on.
This would/will be my favorite angle of The Big Guy's '67 Corvette.

Last night, just for general principals, I looked up the definition of the word, liberal, as it pertains to politics. Here's what I found. It's from a Google Dictionary Box, where else better to find the meaning of liberal than from Goolag, right?
adjective
1. willing to respect or accept behavior or opinions different from one's own; open to new ideas.
(in a political context) favoring policies that are socially progressive and promote social welfare.

2. relating to or denoting a political and social philosophy that promotes individual rights, civil liberties, democracy, and free enterprise

noun
1. a supporter of policies that are socially progressive and promote social welfare.

2. a supporter of a political and social philosophy that promotes individual rights, civil liberties, democracy, and free enterprise.
And for the sake of balance, the definition of illiberal, again from a Google Dictionary Box.
adjective
1. opposed to liberal principles; restricting freedom of thought or behavior.
I'll leave it to you to form your own opinions about the veracity and/or dissonance of said definitions.

I'd like to take a little time to clarify a touchy subject that comes up from time to time here at c99. IE: Who is welcome to post on this board.
I'm sure you've all seen it iterated time and time again that c99 is a nonpartisan board that allows open discussion from the left and the right and all points in between. We take pride in our open discussion policy. Everyone is welcome here.
WITH THE EXCEPTION OF TROLLS.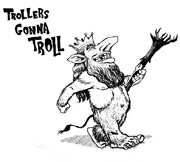 Trolls are not welcome. Blatant trolls are swatted down swiftly, they're easy to spot. The subtle trolls are a different story. To give you an idea of what I'm talking about here's a piece written by Andrei at The Saker:
A short vademecum for aspiring trolls.
Did you recognize any of the traits?
Who here at c99 decides if a user is a troll? The management and only the management.
What are the parameters used by management to establish trolldom? Again blatant trolls are easy to spot. The subtle trolls not so much. Let's delineate.
A user that makes it obvious that they are here only to disrupt the flow of the discourse.
A user that constantly claims to be a victim.
A user that constantly has derogatory opinions about the site.
A user that is a one trick pony that usually focuses on one subject and beats that horse to death.
A user that focuses on a certain user or users, again and again.
And, see this.
Subtle trolls are given plenty of time to prove who or what they are. Usually several warnings are given. The subtle troll is afforded ample leeway to change course. Sometimes they may feign a change, but they almost never do follow through and will eventually return to their natural state. And sometimes they may not even be aware that they are trolling.
So, to those that wish to take advantage of c99's open discussion policy, be forewarned, just because we practice open discussion doesn't mean it's an open playground for you.

I recently stumbled upon this young lady's music. What caught my attention was her last name. It's somewhat of an uncommon name and it's also the last name of a close friend that I grew up with. So I did a little research and sure enough she's the daughter of my now deceased old buddy that I hadn't seen since I was a wee lad. She has a lovely voice. Please take a listen, the overlaying video footage reflects the poignant sentiment of George Harrison's lyrics.
Here's the description she wrote under the video on her channel:
"My heart goes out to all suffering in the world because of the violence within others and the violence within ourselves. May truth and love soften our hearts to live at peace with others and at peace within ourselves."
The apple didn't fall far from the tree. I see she listened well to your music, RIP, old friend.

Thanks for reading folks.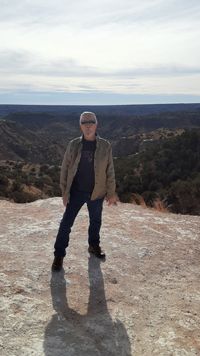 Palo Duro Canyon