The New Hero Of Liberals: George W. Bush
Submitted by gjohnsit on Sat, 03/04/2017 - 12:06am
When did so many liberals become worthless, pieces of shit?

The press and liberal groups gushed, and hundreds of headlines approvingly quoted the former president. "Why you should listen when George W. Bush defends the media," declared a headline at the Washington Post. "George W Bush: a welcome return," raved the Guardian, which went so far as to call him a "paragon of virtue." The leftist site ThinkProgress ran a blog post titled "George W. Bush defends the Constitution to rebuke Trump."
"Paragon of virtue"? Has everyone forgotten that he's a war criminal?
George W. Bush: hero of the left.

Strange times.

— Rick Hasen (@rickhasen) February 27, 2017
Not of "the left". "Of liberals".
There's a difference.
"[Pres. Trump] is in there 40 days, and the previous president had to speak out," @JoyVBehar said of Pres. George W. Bush's criticism. pic.twitter.com/AwgEqkHwEg

— The View (@TheView) February 28, 2017
You know things are bad when George W. Bush starts sounding like a member of the Resistance. https://t.co/OoGOjcVzfq

— George Takei (@GeorgeTakei) February 27, 2017
He's a war criminal. Is that OK with liberals now?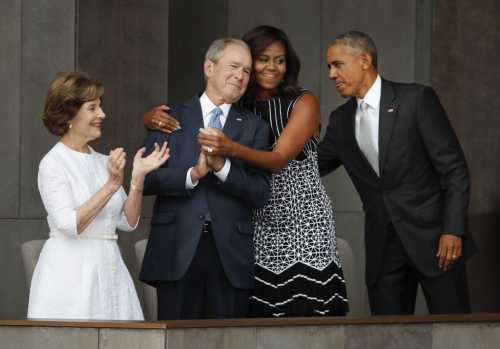 The fondness took flight online last fall when, at the opening ceremony of the National Museum of African American History and Culture in D.C., cameras caught Obama and Bush in a brief but clearly warm embrace. The New York Times called it "the embrace seen round the world," sharply symbolic at a time of political strife.
"That surprised everybody," Bush said on the "Ellen DeGeneres Show" Thursday when the host asked about his "good friend" Michelle Obama."That's what is so weird about society today, that people on opposite sides of the political spectrum could actually like each other."
As for the Ellen DeGeneres interview, I leave it to a right-wing libertarian to describe my disgust.

I'm not a big fan of litmus tests, but here's one I think is entirely appropriate. If you're a self-proclaimed "liberal" who's suddenly fawning over George W. Bush, you're a fraud and should probably never speak again.

Unfortunately, this most recent demonstration of mindless, unprincipled liberal "ideology" continues to make the term completely useless, and the people who use it to describe themselves, increasingly irrelevant. When you stand for nothing, you'll allow anything, including the whitewashing of war crimes. This is precisely the direction celebrities, fake liberals and the corporate media are taking us in, and it's no accident.

Think about it. If the public can be convinced that George W. Bush is some sort of hero just because Trump is in office, what can't we be convinced of? If torture and the destruction of a nation based on false information can now be overlooked, what can't be overlooked? That's why this intentional resurrection of George W. Bush seems like a psychological operation against the American public. It's a way of saying, who cares about the horrific crimes committed by the American elite class over the past 20 years, we have to unite against Trump and Putin! To this I say: Never.
...
You know things are bad when "the resistance" is so ideologically weak and castrated it eagerly embraces George W. Bush.

At this point, I want you to watch the Ellen clip. The dancing is nauseating enough, but it's the embrace that really sticks with you. There is a look of affection from Ellen that simply cannot be faked. It's utterly creepy.