My Landlord Has Raised My Rent 18% In Two Years - Just Because He Can. Here's My Letter To Him.
Submitted by

Mark from Queens

on Thu, 01/17/2019 - 1:53pm
I've been in a bit of a funk lately, not the least of which is due to this grotesque rapaciousness. Family ties and obligations are also bogging me down. My father has completely fallen victim to the predatory Fox News RW propaganda machine and my life is completely consumed by two scampering babies demanding attention in many different ways during the 60 hours a week I have them by myself.
The "news" continues to depress and confound, while I despair at the laughable things that people chose to consume themselves with, as the masses are distracted all day from the Big Truths lying dormant until they can creep back in during the quiet solitariness of night when even the smallest connection to the cosmos can make itself felt. Staying offline is refreshing sometimes. Besides the stacks of books I always have lying around the house I couldn't resist picking up at the local library the new Michael Pollan book about psychedelics, and bios of Howard Zinn and David Foster Wallace. That'll keep me busy and settled down away from my father's insane Tweets and the cheesy and demented media circus.
So I decided to lay it on the line to this guy. It's obviously edited to remove some of the more personal information. Emailed it over 24 hours ago, along with printed version sent through the mail. No answer yet. The new lease with the extravagant increase, of which we haven't signed, is due to start Feb 1st.
...We have two kids now. You might remember those days a couple of decades ago? It's extremely tough going in the beginning (I keep hearing it gets better…). There's not time for anything, other than the task right in front of you at that moment. So I haven't had time to collect and compose my thoughts to you on this.

Daycare costs on the average in Astoria are around $1300 a month! Try to wrap your head around that. Even the price of just having the babies, with my partner's really good healthcare plan, somehow managed to cost us several thousand of dollars out of pocket, both times (so much for insurance companies).

This area...has been devastated with mom and pop stores being blown out, in favor of corporate chains that can pay the exorbitant rent hikes, while so many storefronts still remain vacant. The turnover of new upscale restaurants can't conceal any of this.

And it's not only Astoria either. My main weekly performing gig on the Lower East Side ended a few months ago after 13.5 years. Why? Because businesses are being gouged by high rents. How many other venues couldn't afford the rent and closed up shop (BB Kings, Roseland, CBGB's, The Continental, etc)? Look up and down 5th Ave, or the Upper East Side, Midtown, etc. It's vacancy after vacancy. Eventually everything in the world will be owned by a few banks and a handful of multinational corporate conglomerates.

When too many renters are now paying upwards of HALF of their income to landlords –it's an f-ing crisis!

What do these rent hikes mean personally to people like myself in our everyday lives? It means forgoing medication and doctor's visits, eating cheaper and worse food, going into more debt, not taking vacation, not visiting friends, worried about retirement, not going out for entertainment, etc.

This out-of-control situation is forcing tenants all over the city to have to seek extra roommates, while some friends I know have had to convert bedrooms into Air B&B hotel rooms – just to cover the exorbitant rent increases.

The increase you want to $2200 a month amounts to 50% of what our rent was when we moved in 15 years ago. That is a very big cumulative increase. I don't know of anybody who has had their salaries increased by 50% in the last decade.

We like it here very much. Our children are very fond of the children of a young mother who lives a few doors down from us. She has practically the same 2 bedroom apartment. She's paying a reasonable $1700 a month.

And now after all this time you want an arbitrary 18% increase over two years…18%!

How do I petition you without it sounding like I'm not just some disgruntled tenant, who in your eyes just doesn't want to accept that the cost of living goes up, or understand the expenses involved with the building, etc. etc.?

For a very long time now most jobs have given only infuriating 2% raises, if that, for years now. Many workers haven't gotten raises in years. The banks still pay a blood-boiling .5% interest on savings. At the same time they nickel and dime us for all kinds of fees. A corrupt corporate culture has cropped up around us of hidden fees and fine print, laws favoring (written by and for) the rich to further pillage a financially vulnerable population. Meanwhile, the cost of tolls, bridges, and the subway have risen to exorbitant rates, the former over 50%. Even the New York Jets can see which way the wind is blowing and have lowered their season ticket prices, a first.

Let me put it this way: Have you raised the salaries of your employees 18% these past two years? I mean no disrespect, but not even the best workers are seeing these kind of raises.
How much are you already collecting from this building per month, about $13,000 or so? That's close to 150k a year! Will $200 less a month really hurt you? $200 more a month will hurt me.

I understand that there are expenses in maintaining a rental property, of course. But these contingencies are baked into the rent.

Here's the reality facing all renters today: Speculative landlords, flush with Wall St-heisted money, have moved in and predatorily raised rents - and now every previous landlord wants to get in on the gouging too. It's circular disaster that creates the tinder for a citizenry on the brink – people are now just one more rent hike/salary decrease/medical emergency/work hours decreased away from revolting in the streets the way the Yellow Vests of France are right now for the past two months straight (I wouldn't be surprised if you are unaware of it, because it's been blacked out by American mainstream media). Occupy Wall St started right here in this city over eight years ago – for a reason. It was a response to the 2008 financial crash and the greed and power of the bankers over all of us. The protest movement engendered worldwide solidarity in recognition of the fact that the 99% globally have been getting screwed every which way by the Economic Terrorists of Wall St, who have taken their bailout money to bulk up their portfolios by fortifying their positions in the real estate market, which has had the hideous effect of overinflating rent prices all over the world. That antipathy hasn't dissipated. In fact it just keeps building and building.

I can imagine the temptation to look around and hear about the prices other landlords are getting. Everyone wants to get rich – it's the American Dream, isn't it? It's the ultimate fulfillment in life that we've been conditioned to believe since we were children. A success! Getting rich – by any means possible – is the greatest measure of what we consider success.

Again though, hardly anybody is making any more money since the Great Recession of 2008. Many in fact have taken pay cuts. In many painful ways the slog just grinds on and on and worse than ever. And at the same time employers have used it as an excuse to downgrade employee's wages, hours and benefits, or take on more responsibilities with the same pay.

I don't know how much longer we're going to live in Astoria, or the city for that matter. The dog eat dog culture, in my opinion, is the lowest rung of human development and frankly, uncivilized. A cabal of a few greedy oligarchs have steamrolled us all. There's no relief, it seems, if one's primary goal in life isn't to get rich.

But as a fellow native New Yorker it's hard to get the place out of your blood, isn't it? Blood is what binds us all. Without it there's nothing else – no vacations, no depositing checks in bank accounts, no employees, no health insurance to pay, no children to admire, no more clouds or sunsets. You and I and everything else does not exist, if not for the sun that gives life and the blood that courses through our veins.

It's not just us. So many people today are feeling under the gun, just to make the rent that just keeps increasing while the money just isn't coming in. It can make many in the citizenry believe that they're the only ones giving their sweat, blood and tears and that they're up against the wall.

Something's got to give.
My partner edited out some of the more contentious points I was compelled to make, and also because it had become, at an almost unruly 3000 words, on the verge of approaching a magazine essay instead, more about the times we live in seen through the eyes of one city-dwelling father than a pitch to a landlord not to raise the rent.
Here's what else I wrote and really wanted him to fucking hear:
What's been happening is every property owner is looking around at the high prices being fetched at these new, high-rise luxury living buildings blanketing the city. Everyone's salivating trying to emulate the big realty groups and their big rent prices. The very wealthy as usual have taken complete advantage of the people the screwed over with criminal scams such as credit default swaps and subprime mortgage.
It's a complete and total scam. Banks are purposely paying no interest to account holders. This forces them to consider going into the stock market with their savings (they already have their 401k's). Whereupon, because all regulation has been shredded that previously separated banks from being investment houses (Glass-Stegall Act), the banks win again with endless, unrestrained schemes of high-speed trading, insider trading and conspiring to manipulate interest rates (LIBOR scandal), etc.
The Economic Terrorists of Wall St held a proverbial gun to the head of the American taxpayer and hijacked billions from the federal government on the promise that they would restart the economy buy among other things giving loans to people. They did none of that. Instead they paid themselves ostentatious bonuses and created more elaborate schemes to plunder more money out of the uninitiated.
Those criminals took that extortion money and fortified their positions in the real estate market. The fucking gall of these sleazy bastards: after causing the Foreclosure Crisis they go and buy up those same stressed properties, while also throwing around their fake Monopoly money investing in high rise luxury spaces to launder back to their international banking criminal friends.
Which leads me back to the local landlord. Who sees all this and gets all big-eyed and thinks, "why can't I get in on this?" Well, you can't draw blood from a stone.
Do you have any idea how horrible the corporatization of our lives is? The "job market" is marred by an internship culture of getting young people to work for free with the promise of a future job, "contracting" or "consulting" work with no benefits, and stulfifingly boring and meaningless jobs…If your children are approaching working age, and especially if they went to college and have enormous student loan debt, they'll probably feel the pressure to get one these dead-end gigs. With fewer and fewer meaningful jobs it's a dystopia out of which will be difficult to break free. It won't be because they're lazy; it'll be because capitalism crushed their spirit.
Remember that movie when we were growing up in the 70's, called 'The Omega Man," with Charlton Heston as the last man on earth? He was living solitarily in a big city, which had been taken over by these zombie-like people. I often think that NYC is headed in a similar direction. In my dystopia there won't be a lone Charlton Heston armed to the teeth.
Instead, the city will become the strict domain of wealthy landlords and oligarchs. But they'll begin to wake up and gradually see that there's no one left in their city because they can't afford the gouging, gratuitous rent hikes. There will be no one to clean the streets, deliver their purchases, make their meals, fetch their belongings on call; no valets, no messenger service, - nobody left to fix and furnish their palatial high-rise luxury apartments, because nobody can afford the city anymore.

Some years ago I walked into the one and only bookstore at the time in Astoria as they were selling all their books at clearance rates. It wasn't a great store but it was at least a bookstore. Which is still something in an age of which it seems all most people want to talk about is food and restaurants, and seem excited most about more stores to shop in whose inventory is mostly cheap, disposable goods made primarily by child slave labor in SE Asia.
I asked the owner why he was closing. He said simply, "I can't afford the rent increases." Then added, "I'm tired of paying for someone's vacation home in Greece." That's kind of how I feel at this moment - ready to walk.
Reddit thread on this finding: The majority of renters in 25 U.S. metropolitan areas experience some form of housing insecurity, finds a new study that measured four dimensions: overcrowding, unaffordability, poor physical conditions, and recent experience of eviction or a forced move.
The main thing that keeps us from revolting, in my opinion, is the insidious, deeply ingrained propaganda of the American Dream and American Exceptionalism. We're conditioned from an early age to believe, by virtue of our citizenship, that prosperity is always just around the corner. That if we just work hard enough, pull our bootstraps up, don't ruffle an feathers, yada, yada, yada. Wampeters, Foma and Granfalloons.
As Vonnegut described the title,
A "wampeter" is an object around which the lives of many otherwise unrelated people may revolve. The Holy Grail would be a case in point. "Foma" are harmless untruths, intended to comfort simple souls. An example: "Prosperity is just around the corner." A "granfalloon" is a proud and meaningless association of human beings.
The non-stop onslaught of advertising, preying on the vulnerable that they're just a few more purchases away from happiness, and the power of focused propaganda in the mainstream media and social media that has accelerated and increased its potency to levels not before seen has completely addled the masses into becoming wild partisan zombies so easily manipulated with false fear.
What's giving me the most hope right now is the #YellowVest movement in France. Those people completely get it , and they're talking to one another in person. That kind of solidarity goes on and on - and can change the world. It's the complete opposite to the faux Resistance here. It's the most uplifted I've felt since Occupy.
O̶n̶c̶e̶ Twice upon a time there was a revolution...#GiletsJaunes pic.twitter.com/JXAZDsvhM7

— Midwest Unrest (@MW_Unrest) December 10, 2018
"We want some cash while we wait for communism" pic.twitter.com/tkFStBogSp

— (@andr3w_0) December 10, 2018
"5 cops for 1 demonstrator, 1 nurse for 30 patients" pic.twitter.com/kUqZem97wa

— Midwest Unrest (@MW_Unrest) January 16, 2019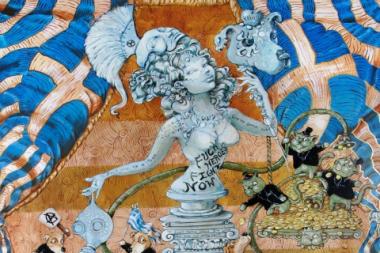 (Art by Molly Crabapple, of Occupy Wall St)