Medicare For All opponents just had a Come-To-Jesus moment
Submitted by

gjohnsit

on Wed, 04/17/2019 - 12:57pm
For the predators in Big Pharma and Big Insurance, it just got real. That singular moment in Bernie's Town Hall on Fox, where Bret Baier asked the audience about Medicare For All was the bloodsuckers' 9/11.
The markets are already starting to price in MFA.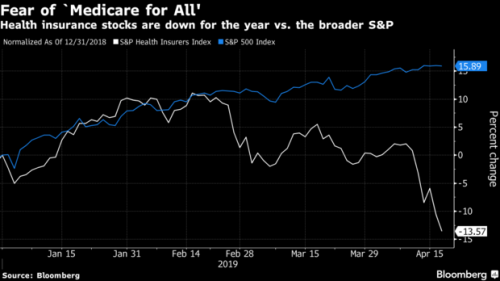 Health-care companies that get mixed up in politics? That was $28 billion worth of ugly on Tuesday, and the stock market damage continued on Wednesday.

"Presidential primary politics," said Evercore ISI analyst Michael Newshel, are "more in focus than fundamentals."

The slide began in earnest on Tuesday when UnitedHealth Group Inc. -- treated by investors as a bellwether for the insurance sector -- waded into the debate over "Medicare for All," which would expand government-administered coverage to most of the population and rewrite the businesses of U.S. health insurers, hospitals and doctors.

While it's a longshot to become law despite the backing of some contenders for the Democratic presidential nomination, the proposal has the power to upend company stock prices. Together, the shares of hospitals and insurers lost $28 billion in market value on Tuesday, according to data compiled by Bloomberg. The Tuesday losses capped the worst five-day stretch since 2011 for health insurers, despite UnitedHealth reporting earnings that beat analysts' estimates and raising its 2019 forecast.
Our message to Steve Nelson and UnitedHealthcare is simple: When we are in the White House your greed is going to end. We will end the disgrace of millions of people being denied health care while a single company earns $226 billion and its CEO makes $7.5 million in compensation. https://t.co/OafOIT92H9

— Bernie Sanders (@BernieSanders) April 12, 2019
The S&P 500 Managed Health Care Index fell 5.5% on Wednesday, and is now down 13 percent for the year.
In response, the Trump Administration sent out Seema Verma.

The nation's top Medicare official said on 'Fox & Friends' Wednesday that Democrats' "Medicare-for-all" proposal amounts to "the biggest threat to the American health care system," claiming the policy would lead to worse care and longer wait times.

"I've been saying that Medicare-for-all is the biggest threat to the American health care system," Centers for Medicare & Medicaid Services (CMS) Administrator Seema Verma said. "What we're talking about is stripping people of their private health insurance, forcing them into a government-run program."
That might sound convincing, if not for the fact that Verma's background is as a CEO of a Health insurance group who's specialty was helping states to avoid the Medicaid expansion of Obamacare.
Meanwhile, both the "liberal" NY Times and WashPost published concern trolls about the cost of MFA.
The success of Bernie's Town Hall on Fox has caused the hilarious situation of Trump attacking his favorite network over and over again.
Many Trump Fans & Signs were outside of the @FoxNews Studio last night in the now thriving (Thank you President Trump) Bethlehem, Pennsylvania, for the interview with Crazy Bernie Sanders. Big complaints about not being let in-stuffed with Bernie supporters. What's with @FoxNews?

— Donald J. Trump (@realDonaldTrump) April 17, 2019
No matter how you slice it, health care will be a much bigger issue in 2020 than in 2018 for multiple reasons. All but one of those reasons was caused/created by the GOP.
The Trump Administration and the rest of the Republican Party can't kick poor people off of public health insurance fast enough, while they are also winning the battle against Obamacare. That leaves only Bernie's MFA or...