2020 will be The Health Care Election
Submitted by gjohnsit on Sun, 04/07/2019 - 10:04pm
In 2018 health care was the critical issue that allowed the Democrats to win the House.
If reality matters, then health care will be a much bigger issue in 2020 for multiple reasons. All but one of those reasons was caused/created by the GOP.
Let's start with what could be the biggest item of all - the court challenge to Obamacare.

President Donald Trump told reporters Tuesday that the Republican Party "will soon be known as the party of health care – you watch."

In a letter filed Monday with the Fifth Circuit U.S. Court of Appeals, Justice Department attorneys said that a lower court's ruling that the Affordable Care Act is unconstitutional should be affirmed and that the United States "is not urging that any portion of the district court's judgment to be reversed."

Last December, U.S. District Court Judge Reed O'Connor in the Northern District of Texas agreed with the GOP-led states' argument that the health law was unconstitutional.
The judge ruled that the requirement that people buy insurance or pay a penalty was no longer constitutional because Congress repealed the "individual mandate" when it passed the 2017 tax bill. O'Connor ruled that because that provision was so pivotal to the health law, the whole thing had to be tossed out.
...Without the health law, the Urban Institute estimates that 15.4 million low-income families and children would lose Medicaid and Children's Health Insurance Program coverage. Another 6.9 million Americans who buy ACA marketplace insurance also would lose health coverage, but some would get insured by an employer-sponsored plan, according to the Urban Institute.
If Trump wins this court case before the 2020 election, and I believe that he will, this will become the biggest shock to our health care system in memory.
Trump is right. The Republican Party "will soon be known as the party of health care", but not in the way he means.
You see, it isn't just the GOP assault on Obamacare (which I will get to in a minute). It's a systemwide, full-frontal Republican attack on all public health insurance for poor people.
A great example is this headline out of Tennessee the other day.

Harrison is one of at least 128,000 children who, over a two-year span, were purged from TennCare or CoverKids, two Tennessee government health insurance programs for low-income families. It appears tens of thousands of these children have not acquired private insurance, so they likely joined the swelling ranks of the uninsured residents of Tennessee, already one of the unhealthiest states in the nation.
Programs dropped these children because they are no longer qualified or because their families did not respond to mandatory renewal forms that were mailed over the past three years. TennCare officials confirmed "many members" were disenrolled because they did not respond to renewal forms, but couldn't estimate how many were cut purely because of lack of paperwork.
Tennessee is hardly the only Republican state looking to drop coverage for poor people.
The primary method being used to prevent people from getting health care is Medicaid work requirements.

McGonigal — who had limited access to a computer and has trouble using them — didn't realize he would have to report his hours every month, so when he went to pick up his prescription in October, he was told his medication would cost $800.

He hadn't fulfilled the work requirement order, so he lost his insurance. Because he couldn't afford his medicine, his health worsened, he missed several days of work due to illness and Southwest Poultry fired him.

That anecdote leads the 35-page opinion that struck down Arkansas' work requirements law last week, stymieing the legislation that had caused 18,000 Arkansans to lose health insurance over the past several months. About 2,000 were able to re-enroll after losing their coverage.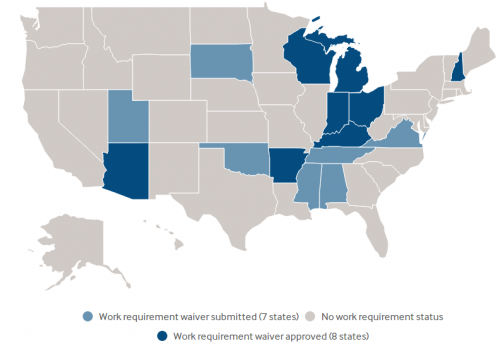 All of this adds up to millions of people having lost health insurance since 2016.
How many millions? It depends on the survey.
The January 2019 Gallup National Health and Well-Being Index reported "a net increase of about seven million adults without health insurance."
The Centers for Disease Control and Prevention said the number of uninsured rose 1.3 million.
So no matter how you cut it the numbers are going in the wrong way, and are likely to accelerate.
Which brings us to Obamacare.
Obviously the Democratic establishment wants to believe that saving Obamacare is the winning political strategy. Just as obviously, that is not true.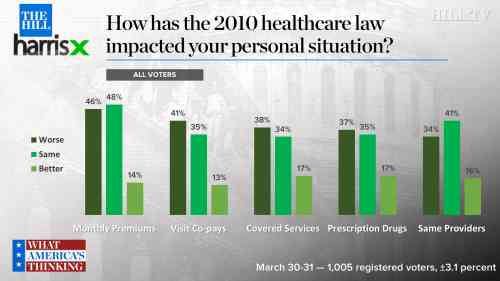 Forty-eight percent of respondents said the ACA had not impacted their monthly insurance premium costs, while 46 percent said their premiums were worse compared to before the law. Just 14 percent of respondents said they were better off.

When asked about the health care reform's effect on co-pay fees, 41 percent said they were worse off, and 35 percent said they were not impacted. Only 13 percent said the ACA improved those costs.

Forty-one percent said their access to medical service providers is the same as it was before the ACA, while 16 percent said it is better. Thirty-four percent said things are worse in terms of access.
The juicy bits of this poll are when you dig down in it.
It turns out that Democratic voters aren't in love with Obamacare either. It's not a partisan thing.

Twenty percent of Democrats said their premium costs have gotten worse under the health care law, with 36 percent saying they were the same. A minority, 32 percent, said they had seen an improvement. Twelve percent were unsure.

Similarly for co-pays, 16 percent said they had gotten worse under the Affordable Care Act, with 39 percent saying they were the same. Thirty-five percent said their situation with medical co-pays for visits had gotten better. Ten percent were unsure.
If Republicans hate Obamacare, and Democratic voters are generally indifferent to the ACA, then Thank Gawd for Bernie's Medicare For All, because otherwise this would be a missed opportunity.