The Mavericks - Amarillo, Texas - 9/21/23
Submitted by JtC on Sun, 09/24/2023 - 6:27pm
Last Wednesday wifey and I trekked up to Amarillo to catch a Mavericks concert on Thursday the 21st of September. The show was at the beautiful Globe-News Center Performance Hall in downtown Amarillo.
This was one of the best shows I've seen, and I've seen a lot of them. It was high energy, excellent musicianship, and must I say, great vocals from frontman Raul Malo.
Anyway, I recorded some of the show for your viewing pleasure, along with some photos. You may get a feel for the excitement that reverberated through the auditorium, both from the band and the audience. We were seated center stage, 5 rows back, 20 feet from the band.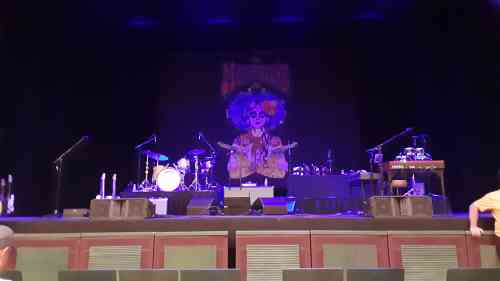 The stage pre-show.

Here's the video I took, apologies for the slight jerkiness, I couldn't help but dance and my arms felt like they were going to fall off holding the camera up for so long. They're best viewed in full screen mode.
Rancho Grande/Rolling Along & As Long as There's Loving Tonight
13:47

Dance in the Moonlight & All Night Long
12:29

All You Ever Do is Bring Me Down (Encore performance)
8:14
I thought that maybe you Mavericks fans would appreciate a little taste of this outstanding show. It's Sunday evening and my head is still buzzing from the greatness of it all.
Enjoy!
Raul Malo - Bass Guitar
Eddie Perez - Lead Guitar
Jerry Dale McFadden - Keyboards
Percy Cardona - Accordion
Max Abrams - Saxophone
Julio Diaz - Trumpet
Lorenzo Molina - Trumpet and Congas
????? - Drums (I didn't catch the name of the temporary replacement for Paul Deakin who is recuperating from a heart attack.)