A long overdue Civil War is coming to the Democratic Party
Submitted by gjohnsit on Fri, 06/26/2020 - 8:54pm
Before I talk about the Democrats, let me just say that if Trump loses (and it appears that he will), the GOP will descend into a civil war that will make the Democrat's civil war look mild in comparison. Trump's hyper-loyal base has gone off the deep end, immersing itself in konspiracy theories while rejecting logic and fact-based reality. It's not a group that will simply accept their hero losing.
Also Republicans have long practiced the art of never admitting when they're wrong. Doubling-down on bad ideas isn't just the default for Repubs, it's the law. This is not a formula that can accept having reality telling you that you are wrong.
The Democrats have the opposite problem. The party leadership has open contempt for its base. People like Pelosi and Hoyer hate their own voters so much that they are willing to give the Republicans what they want, against the wishes of progressives, out of spite.

Pelosi may have been gracious during the sit-in, but her contempt for the CPC's priorities had been palpable since the 116th Congress convened. In January, the newly gaveled House speaker told Rolling Stone, "Medicare for All is not as good a benefit as the Affordable Care Act," drawing upon her conviction that the proposals for universal health care distracted from her efforts to protect the Affordable Care Act from Republican attempts to dismantle it. She cited the more than $30 trillion price tag that a libertarian policy center had tied to Sanders' Senate version of the bill and scoffed, "How do you pay for that?" (With the headline "Women Shaping the Future," that issue of Rolling Stone featured a portrait of Pelosi beaming alongside Ocasio-Cortez, Omar, and new Connecticut Rep. Jahana Hayes on the cover.)

A month later, Pelosi heralded the Green New Deal as the "green dream or whatever they call it—nobody knows what it is, but they're for it, right?" At the symbolically important 100-days benchmark, Pelosi joined Lesley Stahl on 60 Minutes and distanced herself from her progressive colleagues. "That's, like, five people," Pelosi told Stahl.


Slate noticed the Dem leadership's public dismissal of progressives more than a year ago, and drew an obvious conclusion.

Republican House leaders didn't always feel it was electorally useful to pursue, say, a hard-line immigration strategy, but the right-wing bloc of the caucus used its leverage, often, to ensure they did. And the Republican "establishment" equivalent of any one of these comments—it's just a few of them; the green dream or whatever—would have sparked an incredible backlash from the GOP's base and those backbenchers. Pelosi must not be feeling such a backlash, because she keeps casually tossing backhanded remarks the left's way. For top Democrats, what passes for restraint is when aides use anonymity to crudely trash-talk the left wing of the caucus: "What we're here to do is get something done, not introduce legislative proposals that are Bernie Sanders' wet dreams," one senior Democratic aide told Politico last week.

Pelosi might only really consider changing her posture toward the emboldened left flank of the party if the left flank of the party emboldens.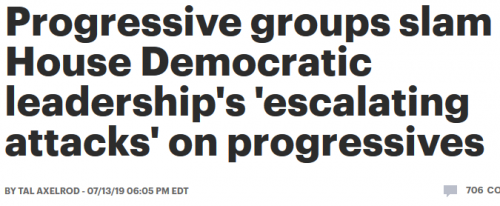 Pelosi and the Dem leadership aren't going to give progressives a damn thing. They don't feel that it is necessary to even show a modicum of respect to the Left.
In this way, they are just like Trump - they're bullies. And bullies only respect power.

Fortunately, progressives have been slowly building up a political infrastructure and racking up an impressive string of wins, outside of AOC.
You probably aren't aware of this growing trend because neither party wants to talk about it.
For instance, the New York Independent Democratic Conference got annihilated by voters in 2018, who kicked six of the eight turncoats out of office.
Last month New Mexico Democrats did the exact same thing to their turncoats.

They were known as the "Formidable Five." Five conservative Democrats in the New Mexico Senate occasionally voted with Republicans to kill progressive bills, to the frustration of their House colleagues and Gov. Michelle Lujan Grisham. "You get all these great House members sending bills over to the Senate, and the same five senators were working together to block the legislation," says Griego, New Mexico state director for the Working Families Party and a former Democratic state senator.

On June 2, four of the five were defeated in primaries, including Mary Kay Papen, the president pro tempore, and John Arthur Smith, who has served for 32 years and chairs the Finance Committee.
Kicking four of five senior politicians to the curb isn't something that just happens. It's not an event that mysteriously fell out of the sky. Grassroots activists worked hard to make this happen.
The Left has made other notable gains, such as six democratic socialists are now Chicago city aldermen.
However, the most impressive gains have been in Pennsylvania, where four DSA-backed candidates won statewide races in 2018. Leftists won big in Pennsylvania again in 2019. Then just four weeks ago, Pennsylvania voters punched the Democratic establishment in the mouth yet again, for the third election in a row.
I think Pennsylvania voters are trying to tell the Democrats something.
In West Virginia, those indomitable public school teachers first decided to take over their union, and have now turned their attention to the state government (defeating the president of the West Virginia Senate).
In my 40 years of political awareness I have never seen the Left so active, nor so successful.

At the start of the last decade, Republicans were challenged in primaries by candidates aligned with the Tea Party or other factions. Now, it's Democrats who have to watch their left flanks. That started to be evident in 2018, from the election of Alexandria Ocasio-Cortez over a veteran member of Congress, to the defeat of numerous top Democrats in the Maryland Senate.

"There was a long period of time when there wasn't that challenge from the left," Goldstein says. "Having a more organized progressive movement electorally is a huge development."
There's a major difference between of reaction to the Tea Party and the current Progressive Insurgency.
The GOP almost immediately co-opted the Tea Party movement. It used it's energy, and within a couple election cycles it was corrupted and spent.
The Democrats, OTOH, view the Progressive Insurgency like the French aristocracy saw the French peasants in 1789 - contempt, scorn, and bewilderment at why the lower classes are making such a fuss. They not only don't feel the need to compromise with the Left, they don't even feel the need to understand it.

In July 2019, Fox News reporter Brooke Singman quoted a senior Democratic source as saying of the Justice Democrats: "No one is afraid of those nerds. They don't have the ability to primary anyone." Bowman isn't the only example of how this sentiment has been proven wrong. In March, progressive challenger Marie Newman—also a member of the Justice Democrats—ousted right-wing Democratic incumbent Dan Lipinski in Illinois.
This hubris on the part of the Dem establishment is actually a backhanded gift. It prevents the Democratic Party from co-opting and corrupting the progressive movement, unlike what happened to the Tea Party.

Even before the many victories by the Left this month, Pelosi has found it necessary to go around her own party in D.C. in order to keep pushing through the neoliberal agenda.
Look at what Pelosi did just this week.

"Total swamp move," one DC lobbyist said this afternoon.

House leader Nancy Pelosi just made sure that a vote to leave the World Trade Organization would not be taken up by this congress, going against other Democrats that think it's time the U.S. considers leaving the multilateral trade body.
What sort of party leader has to go around her own party? In Congress! Not just going against her own voters, but also against other politicians in her party who are beginning to feel the heat.
What this bullheaded intransigence is going to do is prevent other less arrogant establishment Dems from compromising with the grassroots, thus creating a very clean split in the party starting in January of next year. Because the Progressive Insurgency, unlike in 2019, will have won enough races and have enough members in Congress, that they won't be just an oddity for the news media.
They will be a voting block large enough that it can do the one thing that Pelosi actually respects - exercising political power.