It's the Baby Boomers Fault, But it's NOT Too Late
Submitted by

Big Al

on Fri, 02/23/2018 - 10:58pm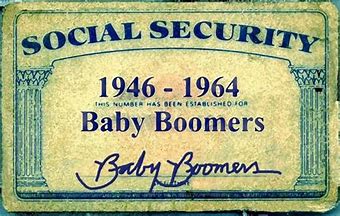 Hey all you old fuckers out there. It's one two three what are you waiting for? You're getting old and you don't give a damn? You gave up and in to Uncle Sam?
I see a lot of quitting out there from the older set, and that points squarely at the "boomers". This coming from a generation that had a lot to do with the FUBAR predicament we serfs and peasants find ourselves in. I've argued against such generalizations in the past, about an entire generation being to blame for what ails us, but I'm getting pissed so I've changed my mind.
Sue me. Isn't that what the boomers do?
Sure, there's plenty of other blame to go around. And deep down, in our fucking bones, passed on generation to generation, we know the rich bastards that rule the country and the world are really to blame. Not the rest of us who couldn't stop them or didn't even try. No way, man.
No, the boomers know the deal, that's why it's their fault. It's not about who got what and who didn't. It's about not standing up when they know the truth. They know Vietnam was all lies. They watched the civil rights movement and the hippie movement and they know the truth about that. They know about the greed that has caused this capitalist system and infuckingcredible wealth inequality. They know about our fucking government, we had all those protest and anti-establishment songs in the sixties, they listened to them, lauded them, still play them. We lived it, the ch, ch, ch, changes.
And yet they don't want to do a damn thing except vote in the next fucking election. They still believe that's the only thing we've got. No more Power to the People, it's all power to the oligarchy. They don't want to stir the pot, act young again. They got theirs, or didn't, and now they want to moan and groan about how their poor grandkids aren't going to be able to live the lives they did, or didn't.
They say we can't win, we ought to give up. There's nothing we can do about it, the rich have won. That's just the way it is.
I knew it. It was all fake back in the sixties. People got stoned, sang the songs, protested the war, then they went out and had kids and got jobs, cut their fucking hair and started wearing ties. They traded the weed for martinis and cell phones and became democrats and republicans. They got them some new heroes that happened to be senators and congressmen/women instead of radical heroes that sought to overturn the establishment. They became the establishment.
But not all of them of course. This is a gross generalization after all. One must extrapolate and prognosticate and pontificate when it comes to generalizations. Many boomers are the fucking enemy. Many are fucking godsends.
Shit ya it's their fault. But it's not too late. They can still pull this out, redeem themselves and fight back against the "man". Pull their gray hair out of their asses and realize they ARE the ones who have to do this. It's not the young, they don't know what the boomers know, they haven't experienced it or have links to what came before. Boomers do.
I've always thought that if we had to have a war, which we never really have to but if we did, it makes more sense to send the old fuckers out there because they've already had decades of life whereas humans send out their young to die young. Die young.
What the fuck sense is there in making the young die young? Jesus. Fucking stupid.
It's time to quit complaining, work together and find some solutions. Finish what we started fifty years ago. It's not too late, it's never over til it's over. Shit, we can do this sitting behind our computers, man. At least for now. We can't let these psychos win. We can't let them keep killing and stealing and ruling.
Rock on boomers, keep on trucking, time to save the day. Quit acting like you're all old and useless. Time to finish that power to the people thing. The next generations depend on it.