Insurance Companies Announce: You Can't Have A Pony!
Submitted by

gjohnsit

on Wed, 09/20/2017 - 3:38pm
The establishment's response to Bernie Sanders' Medicare-For-All proposal has gotten hysterical. A good example is the opening sentence to this article.

Having destroyed the private health insurance market, Democrats have a new target in their sights: Medicare.
How exactly has private health insurance been destroyed again? I seem to recall them making billions in profits this year.
It doesn't have to make sense. It only needs to scare and confuse.
The anti-MFA propaganda reminds me of the 1988 California ballot. Consumer advocates put Proposition 103 on the ballot to do something about sky-high auto insurance rates. The insurance industry responded that they would all leave California if 103 passed. They also paid to have three competing ballot measures in order to muddy the waters, as well as billions for deceptive ads.
Everyone was shocked when the voters weren't fooled. Only 103 passed.

According to the Consumer Federation of America, a D.C.-based organization, auto insurance rates in California dropped from the third-costliest in the nation to the 18th after Proposition 103 was approved. Average premiums declined from being 30% higher than the national average to being exactly at the national average.
The insurance industry lost in 1988, but they are using the same tactics in 2017.
Insurance and Pharma lobbyists are certain that single-payer health care "cannot work". Just ask them.

Bernie Sanders has a health care plan he calls Medicare for all. He's underselling it. His proposal really should be called Medicare for all and a pony.
They have an endless supply of reasons why Americans can't have something that they badly need, but in the end they can never answer a basic question:
How come every other major nation on Earth can accomplish universal health care for a fraction of the cost that we already pay? Why does Canada, Australia, South Korea, and Mexico have the ability to do the impossible, but we don't?
America doesn't sound very "exceptional".
Because the advocates of the status quo can't answer those questions, and because everyone is familiar with Medicare and likes it, most Americans aren't going to believe them.
Let's look at some of the reasons for "No You Can't Have It!"
What we're left with is little more than the distinct impression that the "Medicare for all" bill effectively doubles as an ideological litmus tests for Democrats, as POLITICO has speculated. For a party trying to reclaim a modicum of exercisable control in Washington, this newest test of progressive purity is but another footstone in the Democratic Party's path to electoral isolation, one more deviation from a true route to success in November.
This is laughable. The Dems have been decimated because they don't stand for anything.
Now progressives stand for just one single issue - MFA - and suddenly they are "too pure".
So the Dems should be less pure and stand for nothing again? Those seem to be the only options.
Politico's Bill Scher put it well: "Single-payer hardly comes with an Election Day guarantee. More than 90 percent of voters support requiring background checks for gun buyers. More than 60 percent oppose a border wall. Fifty-six percent say America should discourage the use of coal. And yet, we have a president on the opposite side of all those issues."
Yes, it will be hard.
So that means we shouldn't try? Once again, America doesn't seem very exceptional.
In 2016, the Fraser Institute found a median 20-week wait in Canada between a generalist's referral and the time the patient actually received a definitive test or treatment/procedure from a specialist.
...unlike Canada, we will never tolerate such long waiting lines, which is one of the reasons single-payer will never work here.
This is half-right: Americans don't like long waiting lines.
In America, we ration needed health care by ability to pay, instead of by need.
45,000 Americans die every year because of lack of health insurance.
The good news is that all those people who died didn't have to wait in a line.
Americans are happy with the way things are

Despite growing problems in access and cost, most Americans don't want change to jeopardize what works. A 2016 Gallup Poll revealed that 65% of Americans are happy with the way the healthcare system works for them. The backbone of our system is employer-based health insurance.
Another half-truth.
The poll in question measures ALL AMERICANS, including those with Medicare. This is from the poll:
"Americans with Medicare, Medicaid and military or veterans' insurance continue to express the most satisfaction, at or near 75%, while uninsured Americans report the lowest (40%)."
The tens of millions of Americans with Medicare, Medicaid and military or veterans' insurance inflate the satisfaction numbers.
As for employer-based health insurance, that isn't sustainable either.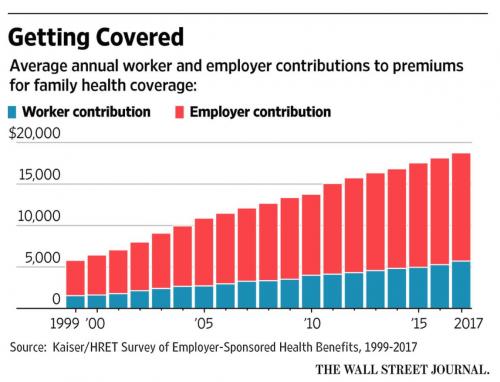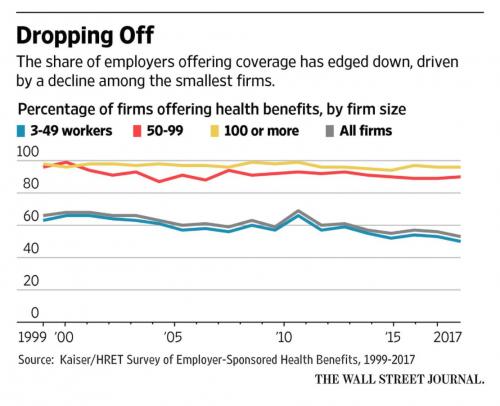 The current employer-based health insurance system is slowly collapsing, and it is crushing full-time employment in the process.
MFA advocates need to emphasize this.