The Inequality Crisis in charts
Submitted by gjohnsit on Thu, 10/10/2019 - 4:44pm
If you are a visual person then this essay is for you.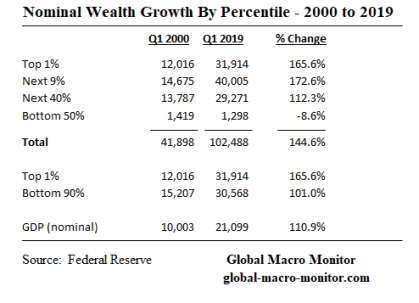 Notice how the 10% did nearly as well as the 1%.
So it's not exactly the 1% vs the 99%.
It's partly the 10% vs the 90%.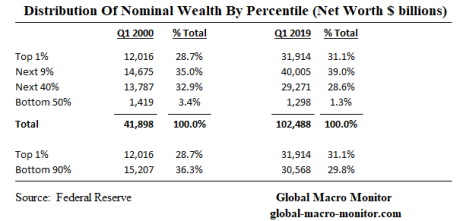 And then the chart that is sure to set everyone off.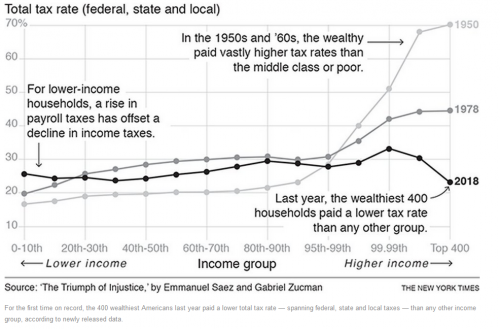 For the first time on record, the 400 wealthiest Americans last year paid a lower total tax rate — spanning federal, state and local taxes — than any other income group. This depressing milestone has two main causes: President Donald Trump's 2017 tax cut and the long-term rise of tax avoidance by both companies and individuals.

The average tax rate on the richest 400 households last year was only 23%, down from 70% in 1950 and 47% in 1980. Why? In recent decades, the top income-tax rate and the estate tax have both fallen, and corporate taxes — which are effectively paid by shareholders — have plummeted. Middle-class and poor families, on the other hand, haven't benefited much if at all from the falling corporate tax or estate tax, and they now pay more in payroll taxes than in the past. Overall, their taxes have remained fairly flat.
"Many people have the view that nothing can be done," Zucman told me. "Our case is, 'No, that's wrong. Look at history.'" When the United States has raised tax rates on the wealthy and made rigorous efforts to collect taxes, it has succeeded in doing so.

And it can succeed again.

Saez and Zucman portray tax history as a struggle between people who want to tax the rich and those who want to coddle the rich. The story starts in the 17th century, when Northern colonies created more progressive tax systems — including wealth taxes — than Europe had. The Southern colonies, by contrast, were hostile to taxation, out of a fear that taxes could undermine slavery, as historian Robin Einhorn has explained.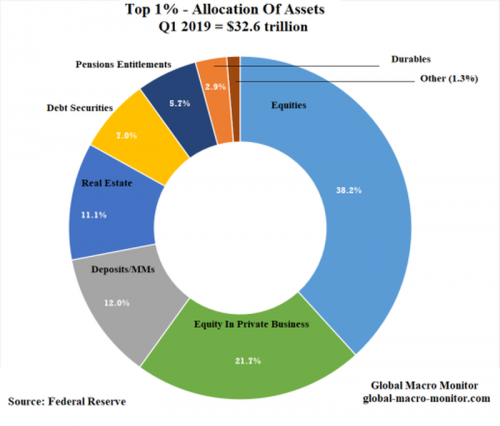 Politicians cut every tax that fell mostly on the wealthy, with the justification that the economy would benefit.

The justification turned out to be wrong. The wealthy, and only the wealthy, have done fantastically well over the last several decades. The American economy just doesn't function very well when tax rates on the rich are low and inequality is sky high. It was true in the lead-up to the Great Depression, and it's been true recently. Which means that raising high-end taxes isn't about punishing the rich (who, by the way, will still be rich). It's about creating an economy that works better for the vast majority of Americans.
And then for a global view...