Hypocritical Irony Alert: Guess who's buying Russian oil by the boatload?
Submitted by gjohnsit on Wed, 05/22/2019 - 1:24pm
The U.S. has been squeezing the Russian oil and gas industry since 2014.
Just the other day we prepared to sanction our European allies for wanting to buy Russian gas.
We are determined to crush the Russian energy export market, unless they bend to our will.
Or so you would think.

In the first half of May, 13 ships from Russia delivered almost 5 million barrels of crude and oil products, according to a report by Caracas Capital Markets managing partner Russ Dallen. More supplies are en route, with American refiners set to triple their monthly intake of Russian crude, the largest foreign producer outside of OPEC. "Lately, Russian shipments coming to the U.S. seem to be on steroids."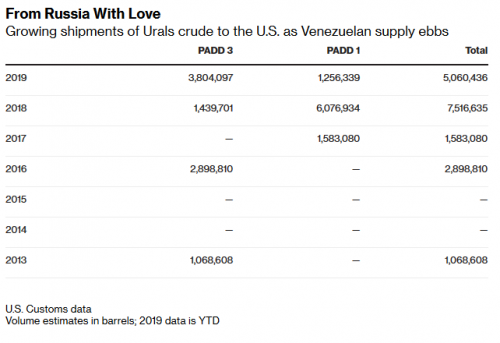 OK. I get it. Do as I say, not as I do.
I've seen this game before.
Which explains how "effective" the sanctions have been.

Russia has 21 companies on this year's Forbes Global 2000 list of the world's top corporations. Surprise! Seven of them are oil and gas companies.
...All seven of the Russian oil and gas firms on the Global 2000 have moved up the ranks this year. Gazprom is Russia's largest. It's ranked as the 40th largest corporation in the world, up from 43 the previous year.

Rosneft, the Russian oil and gas company run top-down by Igor Sechin, a man referred to behind the scenes as Darth Vader in Moscow, is now the world's 52nd largest corporation, up from 73 in 2017.
Our unilateral sanctions that have targeted these specific, government-owned Russian oil/gas companies, have grown and gotten richer under U.S. sanctions, partly because the U.S. itself has dramatically increased its imports of Russia oil.
Obviously other nations should respect our sanctions. Not.