Hot Air
Submitted by magiamma on Thu, 07/30/2020 - 4:40am
~
Nick-Nack Bortac
Pepper Spray and Flash Bang
This ole' town comes swatting down
~
The Border Patrol Tactical Unit (BORTAC) is the tactical unit of the US Border Patrol. Their mission is "to respond to terrorist threats of all types anywhere in the world in order to protect our nation's homeland". Formed in, wait for it, 1984, BORTAC has steadily expanded its scope and mission capabilities. The Bush administration expanded the border patrol to 20,000 members and increased its budget to the $5bn it is today.
~
This is the same unit that was recently deployed in Portland. BORTAC typically has
additional gear such as stun grenades and enhanced Special-Forces-type training, including sniper certification. The officers typically conduct high-risk operations targeting individuals who are known to be violent, many of them with extensive criminal records.
.
This type of thuggery has been going on in Black and Brown communities for a very long time.
Bates said he believed the number of cases pursued by the Gun Trace Task Force [in Baltimore] helped explode the number of shootings and deaths in the city. Nine members of the elite police unit have been convicted or pleaded guilty to corruption that included robbery and extortion, planting evidence and illegal searches and seizures of Baltimoreans.
.
It has been said that sending in BORTAC to handle protests is Rumps way of garnering votes from middle class women who, Republicans think, do not want non-White people moving into their neighborhoods.
Donald Trump and his enablers know that women. for as long as there have been efforts toward desegregation, white women have defended the status quo. These women have been loud and insistent, maybe because those protests have long been one of the few places where anger doesn't immediately render a woman unfeminine and unattractive, strident or shrill. An angry white woman has always been a "nasty woman"— unless she's a mama bear, standing up for her kids and their schools and neighborhoods.

Thus President Trump's recent provocative tweet to "the Suburban Housewives of America," warning "Biden will destroy your neighborhood and your American Dream."
…
Mr. Trump's re-election depends, at least in part, on white suburban women still feeling that way.

But if recent protests and nonfiction best-seller lists are any indication, at least some "housewives" have arrived at a more nuanced understanding of racial dynamics and have harnessed the potent, symbolic power of white motherhood to advocate for change. Simsbury, for example, now has a Facebook group called Holding the Door Open, "for people within greater Simsbury CT who are open, ready and willing to discuss, share and grow in their understanding of racism, white privilege and exclusion in our community and within America."
.
So there is that. Anything for election. But still, the force and techniques that these "special forces" are using in Portland do not belong in a democracy, or even in what little is left of it.
The question, in my mind, is, is it too late? The PTB are hyper organized as witnessed in their response to the Portland protesters. They have been prepping for this, certainly since the Sanctuary Movement. Now they are honing their skills on Portland protesters.
This is what Democracy looks like...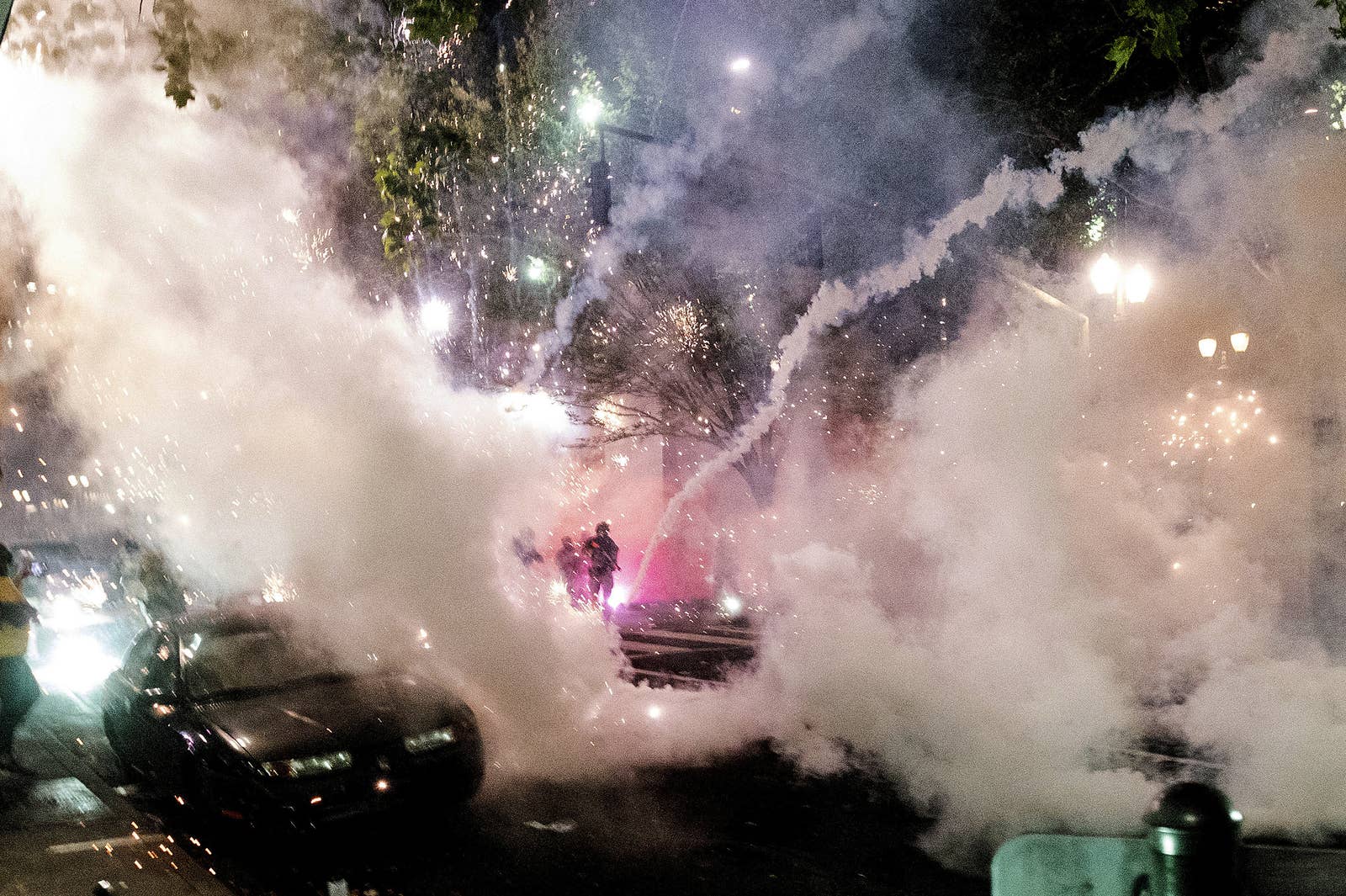 Is it too late to change things via elections, via legislation? What are our options? Time is short. The Climate Crisis will not wait.
The thread is open…