Have the ruling elite gotten lazy or stupid?
Submitted by gjohnsit on Fri, 06/14/2019 - 5:42pm
The Gulf of Credibility - I really cannot begin to fathom how stupid you would have to be to believe that Iran would attack a Japanese oil tanker at the very moment that the Japanese Prime Minister was sitting down to friendly, US-disapproved talks in https://t.co/P1wE1Y886i

— Craig Murray (@CraigMurrayOrg) June 14, 2019
When the ruling elite wanted a war with Iraq they invented incubator babies and WMD programs that didn't exist. Their inventions were far fetched, but not unbelievable.
However, the idea that the paranoid dictator Saddam was just going to hand over his most powerful weapons to religious fanatics that hated his guts, was laughably stupid.
When the ruling elite wanted a war with Libya they invented a genocidal, Viagra-fueled, rape army. Their invention was far fetched, and bit lazy, but you could be forgiven for believing that the Mandarins believed it.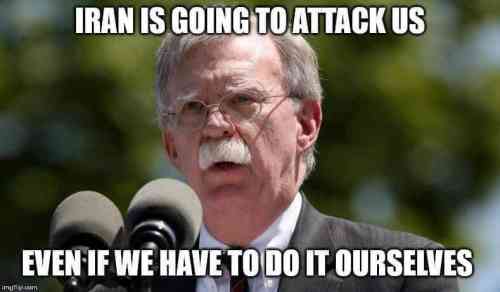 This latest anti-Iran warmongering is just plain stupid. It's as if they don't really care if anyone believes the lies they are telling.
For starters, look at the shameless liar who is telling these lies.
You mean "Mr. We Lied, We Cheated, We Stole"? What a disgraceful character... pic.twitter.com/pMtAgKaZcG

— Brave New World (@ClubBayern) June 13, 2019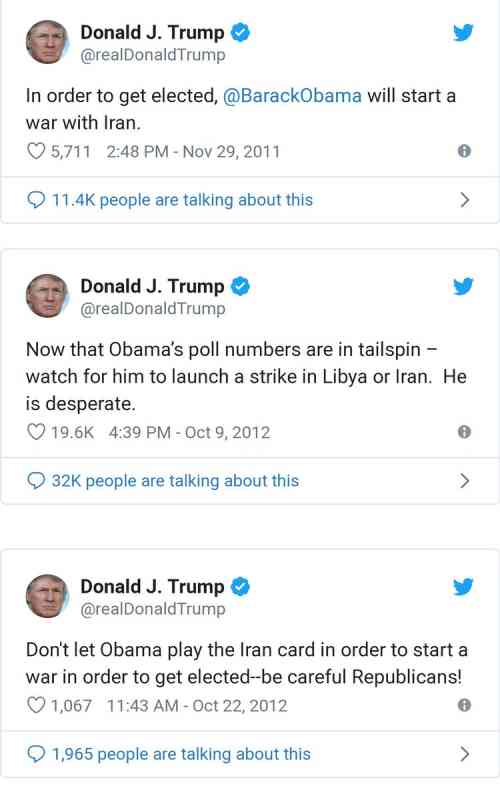 Then there are the many problems of their "proof".
Where is the video of the Iranians PLACING explosives & detonating them? Removal would be prudent by any Navy/CG. Also location of explosives is VERY high off waterline ...Weird. It's not a limpet mine, it's a demo charge. Had to be put on by fairly high boat w/ a long gaff/pole https://t.co/3qzB7TrrYv

— Malcolm Nance (@MalcolmNance) June 14, 2019
The distress call went out at 6 am. So, according to CENTCOM's analysis of this video, they're suggesting that 10 hours after the tanker was hit, the IRGC just casually pulled up to the tanker to remove unexploded limpet mine in broad daylight?!

— Rosalind Rogers راز (@Rrogerian) June 14, 2019
BREAKING: Owner says Kokuka Courageous tanker crew saw "flying objects" before attack, suggesting ship wasn't damaged by mines.

— The Associated Press (@AP) June 14, 2019
The Japanese company that owns the ship has refused to cooperate in this false flag mission.

But in remarks to Japanese media, the president of the company that owns the ship said the vessel wasn't damaged by a mine. "A mine doesn't damage a ship above sea level," said Yutaka Katada, president of Kokuka Sangyo, the owner and operator of the vessel. "We aren't sure exactly what hit, but it was something flying towards the ship," he said.
When the propaganda begins to fall apart and @realDonaldTrump tries to find another way to start a war to win an election. pic.twitter.com/r8Cp7BNQ7z

— Bamboozll (@bamboozll) June 14, 2019
Looking at this incident/narrative from any/every angle leaves one to conclude "false flag".
Finally, there is the question of "why"?
What would Iran hope to accomplish by this? I found one establishment source that tried to rationalize.

Iran denied responsibility, with Foreign Minister Javad Zarif descending to bazaar-level conspiracy theories involving a false-flag operation by Israel's Mossad.

If you're not inclined to believe the Trump administration – and such skepticism is entirely reasonable – most detectives would still tell you that the most obvious culprit is usually responsible for the crime.

To those seeking logic behind the attacks, though, it may be hard to see why Iran would do this – but that assumes that the regime in Tehran is a rational actor.

The Gulf of Oman attacks are especially hard to explain: targeting Japanese shipping on the very day that Prime Minister Shinzo Abe was meeting Supreme Leader Ali Khamenei on a well-publicized peace mission would seem extraordinarily counterproductive, even for a regime with an almost fanatical commitment to self-harm.
Have you ever noticed that everyone that we want to start a war with is crazy?
Regimes that stand solid for generations under hostile conditions are always run by maniacs.
You'd think that insanity would prevent them from taking power in the first place, but that seems to only be true with our allies.
As for the "most obvious culprit is usually responsible for the crime" that also happens to be "bazaar-level conspiracy theories involving a false-flag operation by Israel's Mossad". Because Mossad actually does that.
Since the U.S.'s tightening of sanctions has squeezed Iranian oil exports, nobody else's should be allowed to pass through waters within reach of the IRGC.

The Iranians know that these threats, if repeated, can lose their power if not followed with action. The attacks on the tankers, then, can be explained as a demonstration that Khamenei's attack dogs have some teeth.

There is another rationale. If Iran does eventually agree to negotiate with the U.S., it will want to bring some bargaining chips to the table – something it can exchange for the removal of sanctions. In the negotiations over the 2015 nuclear deal, Iran was able to offer the suspension of its nuclear program. It doesn't have that particular chip now, although Tehran has recently threatened to crank up the centrifuges again.

Meanwhile, the regime may have calculated that the only way to secure some kind of negotiating position is blackmail: End the sanctions, or we take out some more tankers, and send oil prices surging.
This almost sounds logical, except for one thing: Iran tried that in 1988 and it didn't work. It only caused the one thing the U.S. was itching for: to kill some Iranians.
Do you think that they've forgotten? Or that the U.S. is less warlike?
Oh wait. Iranians are crazy and can't be reasoned with, amirite?
US public radio @NPR does not mention it was Iranians who saved the crew. That's how terrible they are at journalism

— boomerWithaLandline (@Irene34799239) June 14, 2019
The only real question is, why such a transparent lie?
Has the ruling elite gotten lazy or stupid? Or do they think that we are that lazy and stupid?
I have an alternative theory.

For the last two years, as you've probably noticed, the corporate media have been not so subtly alternating between manufacturing Russia hysteria and Nazi hysteria, and sometimes whipping up both at once. Thus, I've dubbed the new Official Enemy of Freedom "the Putin-Nazis." They don't really make any sense, rationally, but let's not get all hung up on that. Official enemies don't have to make sense. The important thing is, they're coming to get us, and to kill the Jews and destroy democracy … and something about Stalin, if memory serves. Putin is their leader, of course. Trump is his diabolical puppet. Julian Assange is … well, Goebbels, or something. Glenn Greenwald is also on the payroll, as are countless "useful idiots" like myself, whose job it is to sow division, discord, racism, anti-Semitism, anti-capitalism, anti-Hillaryism, collusion rejectionism, ontological skepticism, and any other horrible thing you can think of.
Their bullsh*t lies have gotten lazy and stupid because real effort isn't required to start a war and kill a lot of people.