A growing peace movement in the most unlikely of places
Submitted by gjohnsit on Mon, 04/09/2018 - 5:15pm
America and NATO has been trying to bomb the Taliban into submission for 16 years, and has failed for 16 years.
All the regional nations have been trying to coax the Taliban into peace talks for 16 years, and they continue to fail after 16 years.
However, there is one group of mostly unknown, unarmed, nameless people that have the Taliban completely flummoxed and unable to vocalize a coherent response.
They've done something that all of the military might of NATO has failed to do - forced the Taliban to sit down and discuss peace.
It started with tragedy.

In Lashkar Gah, the administrative capital of Helmand, which is known as a Taliban group political heartland and a centre of opium production, a car bomb went off at a wrestling match, killing 14 people and wounding dozens.
One day after the March 23 blast, hundreds of Helmand residents began a sit-in camp, demanding a two-day cease-fire between the Taliban group and the Afghan government, with around 30 activists going on hunger strike.
Both the government and the Taliban group rejected the two-day ceasefire demand.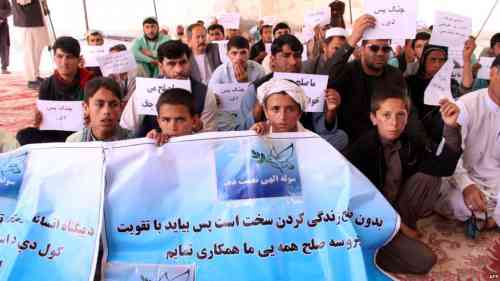 The peace movement doesn't distinguish between the Taliban and Afghan government when it comes to guilt. They are denouncing both sides.
Parallel to this peace movement, and in the same region of the country, is the secular Pashtun Tahafuz Movement (Movement for the Protection of Pashtuns, PTM).

Essentially an anti-war campaign, the PTM sprang up as a result of the killing of the 27-year-old Naqeebullah Masood, who was killed by police in the southern city of Karachi on January 20. The authorities claimed Masood had links with militants, a charge his family and civil society activists deny. Rights groups say that thousands of Pashtun youths have been murdered or abducted by security agencies in the past decades on unproven terrorism charges.
...The PTM has thus irked the Pakistani military establishment, which has recently tried to appease the movement by releasing some activists, according to Pakistani media.
"We are receiving threats from the state institutions as well as the 'good Taliban,'" Wazir added.
Dozens of people set up a tent city and went on a hunger strike for peace. Most of the protesters, who have called themselves a "People's Movement", are widows or mothers who had lost their husbands or children in the war.
These people are serious.

At least six people were hospitalised as the hunger strike continued into its second day.
Two people were taken to the emergency hospital on Friday night after they were found unconscious in the sit-in tent set up by protesters. Four were hospitalised early on Saturday.
The protest in #Helmand may succeed, it may not. But there is something that sets it aside from the rest: it isn't an elite movement by western educated youth in #Kabul. It is one led by rural Afghans from whom the #Taliban allegedly derive their legitimacy, if there is any.

— Sayed Madadi (@MadadiSaeid) March 31, 2018
The hunger strikes ended after religious leaders begged them to stop, but the peace movement has gone viral.

The peace camp soon expanded to other parts of Helmand before residents of Herat and Farah provinces in western Afghanistan joined up too. Then the movement reached Afghans in eastern Paktia province, where a small group established their own sit-in.
Originally the protestors demanded to meet with both the Taliban and Afghan military.
The Afghan military was uninterested, and the Taliban warned them to stay away.
But the anti-war protestors persisted, and then something amazing happened.

While the Taliban initially rejected the local plea for peace, the insurgent group has since softened its stance.
A Taliban official requesting anonymity told VOA that his group is looking forward to meeting and talking with the protesters.

"It is a totally new subject for us. We are studying it and we will meet with these people and listen to their demands and will try to find out why they are making such demands from the Taliban alone," the insurgent official told VOA.

That meeting apparently happened. According to the organizers of the sit-in, local Taliban groups in Helmand have supported their call for peace.

"Local Taliban delegations visited us, extended their support and expressed their frustration of war," Khyber, a sit-in organizer, told VOA.
Wow. It's amazing what you can do when you are fearless.
Maybe if America will step aside, Afghanistan might have a chance at peace.