Election Fraud Lies: Over 432,000 Votes Removed From Trump in Pennsylvania, Data Scientists Say
Submitted by edg on Mon, 01/04/2021 - 11:35am
In the spirit of bigger and bigger lies, the "data scientists" I debunked yesterday (Election Fraud Lies, Georgia Edition), are back with a 25-fold increased lie about the presidential election in Pennsylvania.
The Lie
Pennsylvania election data shows that over 432,000 votes were removed from President Donald Trump during the November election, data scientists say.

According to an analysis by the Data Integrity Group, obtained exclusively by The Epoch Times, votes for Trump—from both Election Day and mail-in ballots—were removed from the totals in at least 15 counties.

Time-series election data shows Trump's votes decrementing in various counties at numerous time points instead of increasing as would be expected under normal circumstances.

Source: Epoch Times, of course.
The Rebuttal
The "experts" claim Trump lost votes in 15 Pennsylvania counties. Unfortunately for their credibility, 6 of those counties are Republican counties that Trump won. They are:
Armstrong County
Carbon County
Luzerne County
Pike County
Washington County
Westmoreland County
This could mean that even Republican election officials in solidly Republican counties were in on the big steal. You might believe that if you're insane. If you're sane, it means the thousands of humans involved in the process made mistakes in the unofficial, uncertified results that are shown on TV. Mistakes that were caught and corrected.
Here's what Edison Research told FactCheck.org about Armstrong County:
Edison Research, which provides vote tabulation data to CNN and other networks, said that the moment of Trump dropping by 19,958 was caused by a brief reporting error on its end.

Rob Farbman, Edison's executive vice president, told us that Edison did receive the correct vote totals from Armstrong County in Pennsylvania through a state feed — which at that point in time was 24,233 votes for Trump and 4,275 votes for Biden. But a team member, while scouring individual county vote totals, then mistakenly entered the county's totals backwards — 24,233 votes for Biden and 4,275 votes for Trump.

"It was simple human error," Farbman told us by email, noting the mistake was corrected about an hour later.

Source: FactCheck.org -- Bogus Theory Claims Supercomputer Switched Votes in Election
Just in case you missed this earlier Election Fraud Lies essay, only 2 of the Pennsylvania counties that went for Biden use Dominion Voting Systems equipment. Dominion is the default whipping boy for Election Truther fraud claims.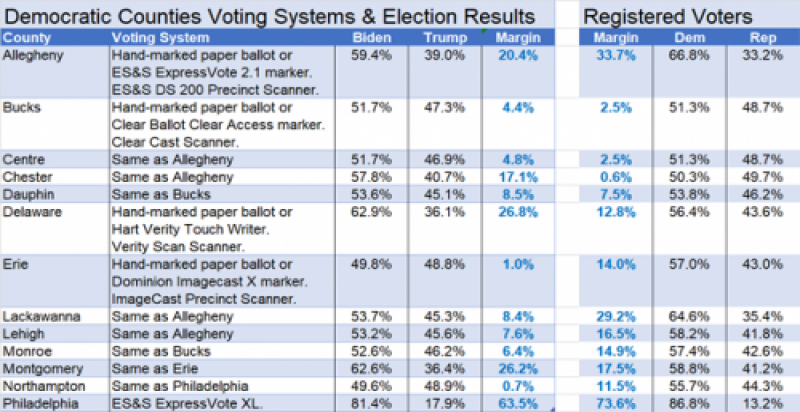 Other Election Fraud Lies Essays