Corporate America is in real trouble
Submitted by gjohnsit on Sun, 08/12/2018 - 3:04pm
Stocks have been on a record run. The S&P 500 is near all-time highs, while NASDAQ is doing even better.
But appearances are deceiving.

Six stocks account for 98% of the S&P 500 Index's advance from the July low, according to Bloomberg. That's right, 98%!
Those six stocks are (no big surprise here): Facebook FB, -1.55% Amazon AMZN, -0.64% Apple AAPL, -0.30% Netflix NFLX, -1.00% Google GOOG, -0.92% GOOGL, -0.95% and Microsoft MSFT, -0.61% Let's call them FAANG+M.
The recent gains in the general stock market hide two glaring weaknesses, both of those weaknesses involve concentration.

The American stock market has been shrinking. It's been happening in slow motion — so slow you may not even have noticed. But by now the change is unmistakable: The market is half the size of its mid-1990s peak, and 25 percent smaller than it was in 1976.
...When I say "shrinking," I'm using a specific definition: the reduction in the number of publicly traded companies on exchanges in the United States. In the mid-1990s, there were more than 8,000 of them. By 2016, there were only 3,627, according to data from the Center for Research in Security Prices at the University of Chicago Booth School of Business.

Because the population of the United States has grown nearly 50 percent since 1976, the drop is even starker on a per-capita basis: There were 23 publicly listed companies for every million people in 1975, but only 11 in 2016, according to Professor Stulz.
Fewer and fewer companies makes it harder for investors to diversify. It also means there are fewer and fewer small companies, leaving the economy more and more dominated by behemoths.
However, there is another hidden weakness here that is even more alarming.

Profits are increasingly concentrated in the cluster of giants — with Apple at the forefront — that dominate the market. For a far larger assortment of smaller companies, though, profit is often out of reach. In 2015, for example, the top 200 companies by earnings accounted for all of the profits in the stock market, according to calculations by Kathleen Kahle, a professor of finance at the University of Arizona, and Professor Stulz. In aggregate, the remaining 3,281 publicly listed companies lost money.

In theory, as a shareholder, you are entitled to a piece of a company's future earnings. That's one of the main arguments for buying stock in the first place. But the reality is that you often are buying a piece of a money-losing proposition. Aside from the top 200 companies, the rest of the market, as a whole, is burning, not earning, money.
I think that is mind-blowing. Even a majority of the S&P 500 are money losers.
Netflix, for example, loses money constantly despite being a member of the elite FAANG.
So when the media talks about record earnings, keep in mind that the corporate world has even more inequality than society in general.
All of those corporations losing money means that they must cover expenses with borrowing, and that leads us to a looming crisis.

Much has been made of the degradation of the $7.5 trillion U.S. corporate debt market. High yield offers too little, well, yield. And "high grade" now requires air quotes to account for the growing dominance of bonds rated BBB, which is the lowest rung on the investment-grade ladder before dropping into "junk" status. And then there's the massive market for leveraged loans, where covenants protecting investors have all but disappeared.

How does that break down? Corporate bonds rated BBB now total $2.56 trillion, having surpassed in size the sum of higher-rated debentures, which total $2.55 trillion, according to Morgan Stanley. Put another way, BBB bonds outstanding exceed by 50 percent the size of the entire investment grade market at the peak of the last credit boom, in 2007.

But aren't they still investment grade? At little to no risk of default? In 2000, when BBB bonds were a mere third of the market, net leverage (total debt minus cash and short term investments divided by earnings before interest, taxes, depreciation and amortization) was 1.7 times. By the end of last year, the ratio had ballooned to 2.9 times.
Yield for these "investment grade" corporate bonds is extremely low, which means prices are extremely high, even while these companies lose money hand over fist.
I believe there is a name for that.
Even the few money-making companies are borrowing because interest rates have been so cheap.
The problem is what they are doing with that cash.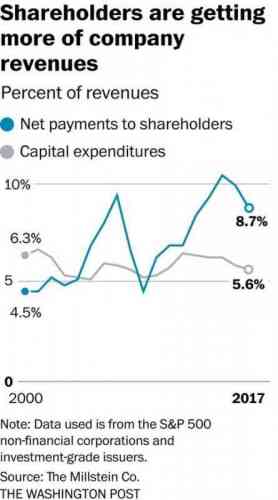 Welcome to the Buyback Economy. Today's economic boom is driven not by any great burst of innovation or growth in productivity. Rather, it is driven by another round of financial engineering that converts equity into debt. It sacrifices future growth for present consumption. And it redistributes even more of the nation's wealth to corporate executives, wealthy investors and Wall Street financiers

Corporate executives and directors are apparently bereft of ideas and the confidence to make long-term investments. Rather than using record profits, and record amounts of borrowed money, to invest in new plants and equipment, develop new products, improve service, lower prices or raise the wages and skills of their employees, they are "returning" that money to shareholders. Corporate America, in effect, has transformed itself into one giant leveraged buyout.

Last year, public companies spent more than $800 billion buying back their own shares and, thanks to all the cash freed up by the recent tax bill, Goldman Sachs estimates that share buybacks will surge to $1.2 trillion this year. That comes at a time when share prices are at an all-time high — so companies are buying at the top — and when a growing global economy offers the best opportunity to expand into new products and new markets. This is nothing short of corporate malpractice.
It amazes me how no one is talking about reforming Corporate America.
It seems obvious that corporate culture is toxic, predatory, and working against the interests of the country.
Have people forgotten that we can change the rules on how corporations function?
There is simply no good reason why we can't make corporations more democratic and more responsive to the people of this nation.
Finally, there is the inevitable outcome for all of this money burning.

New Chapter 11 bankruptcies in the US spiked 63% year-over-year in March to 770 filings, the highest number of filings for any month since April 2011 (when there had been 789 filings as companies were still trying to emerge from the Great Recession).