China and Russia coming to Venezuela's rescue
Submitted by gjohnsit on Thu, 08/08/2019 - 6:14pm
The Trump Administration has hit Venezuela with a harsh "Cuban-style" embargo, and already it has familiar results.
Like the 60 years of policy failure with Cuba, all talk of reform or regime change in Venezuela came to an immediate halt.
Like the 60 years of policy failure with Cuba, Venezuela looked for help in Asia and found another nation under economic assault by the U.S. Empire.

A Chinese contractor has agreed to shore up Venezuela's derelict refining network to ease fuel shortages, potentially complicating the Trump administration's push for regime change in the oil-rich country.

Wison Engineering Services Co., a Shanghai-based chemical engineering and construction company that is using China's 'Belt and Road' infrastructure program to expand overseas, agreed last month to repair Venezuela's main refineries in exchange for oil products including diesel, according to people with knowledge of the deal.

The deal mirrors the OPEC producer's other arrangements with Russian and Chinese oil majors, under which payments are made in crude by Venezuela's cash-strapped national oil company.
Russia's state-owned oil company Rosneft is currently the last major supplier of petrol to Venezuela.
Both China and Russia have denounced Washington's latest move.

China, however, has opposed the measure and has become the country's top oil export destination, eclipsing the United States...
Since the beginning of Venezuela's political standoff, Moscow has maintained "military-technical cooperation" with Caracas and has vowed to continue sending defense personnel there and striking oil deals regardless of Washington's threats.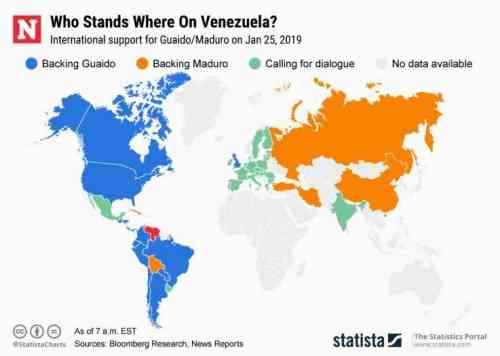 China and Russia have very little in common, despite a shared border.
Politically they are natural rivals, not allies. Thus they were enemies from the 60's through the 80's.
But then Putin came to power and the U.S. began looking to surround and isolate Russia and China.

just months before Xi Jinping came to power as general secretary of the ruling Chinese Communist Party, the two countries signed the 2012 Strategic Partnership....
The pair have been practically inseparable ever since, meeting up to 30 times, and often declaring how their nations' ties are at "their highest level in history."
...
With the U.S. cracking down on China's ascendency in economics and defense, Beijing has turned to Moscow as a vital partner in Xi's Belt and Road Initiative (BRI) that imagined new infrastructure projects across Asia and extending into Africa, Europe and even Latin America. In turn, Russia saw an opportunity in bolstering Putin's own Eurasian Economic Union (EEU) project.
China has the manufacturing base, while Russia has the natural resources. Both of them have big plans.
There is another way to look at their partnership.

"Russia still needs a powerful ally due to its isolation in the West, whereas China seeks a dependable junior partner to increase its international clout."

Remyga put this equation even more simply, describing China as "a big guy walking around with a lot of money" and Russia as the "big guy walking around with big guns."
No amount of sanctions will make China and Russia bend to America's will. If sanctions could do that, it would already have happened.
So threats of new sanctions against Russia are completely pointless. While new sanctions against China will just make things worse.
Washington's aggressive stance against Iran has, like Venezuela, pushed the Muslim nation into the arms of Russia. What would normally be an unlikely odd couple, have become military allies. This is a marriage of convenience.
The same is true for Russia's growing alliance with Pakistan, and their still new friendship with Turkey.
Combine all those nations with Russia's long-time economic and military agreement with India, Syria and Vietnam, and there is very little of Asia that isn't part of an anti-American military/economic bloc.