Big Money predicts the Dems take the House
Submitted by gjohnsit on Fri, 08/03/2018 - 11:51am
We aren't even done with the primaries yet, but Wall Street has begun betting on the results.

Fund managers from Federated Investors, OppenheimerFunds, and BMO Global Asset Management are among those who are repositioning their portfolios and seeing cash as more attractive with the Nov. 6 elections less than 100 days away.

Chief among their concerns: a so-called Blue Wave of Democratic victories could end the Republican Party's single-party control of the White House and Congress, leading to both more investigations into possible abuses by the Trump administration and more stock market volatility.
...
Yet a victory by more progressive Democrats in the midterm elections could lead to a greater regulatory focus on financial and technology firms that have so far received a pass from the Trump administration, said Jon Adams, senior investment strategist at BMO Global Asset Management,

A victory by progressive Democrats may also lessen the likelihood of a bipartisan deal on infrastructure and strengthen calls for reversing corporate tax cuts, he said.
It is a safe bet that the Democrats taking back the House will lead to corruption investigations. How far those investigations go depends on the House leadership, and that is currently in flux.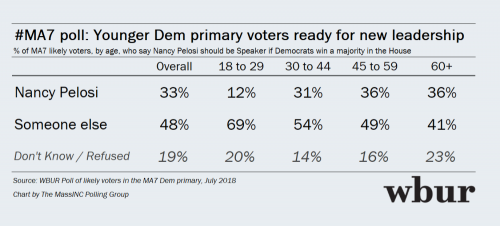 It's interesting how the less "out of step" the Dems are, the worst they do in elections.
My take-away from that is: don't listen to the opinions of your opponents.