Are you a Russiagate traitor?
Submitted by gjohnsit on Sat, 08/04/2018 - 4:14pm
Russiagate may technically be about Trump, but in fact most of the "traitors" and Putin Puppets are progressives on the left.
Russiagate officially started in 2015 long before the DNC hack and the Democratic primaries.

From:brentbbi@webtv.net To: john.podesta@gmail.com Date: 2015-12-21 12:09

Best approach is to slaughter Donald for his bromance with Putin
Russiagate never was actually about Russia.
It's the Democrats' version of Obama's birth certificate. As Caitlin Johnstone puts it, Russiagate is 9/11 minus 9/11.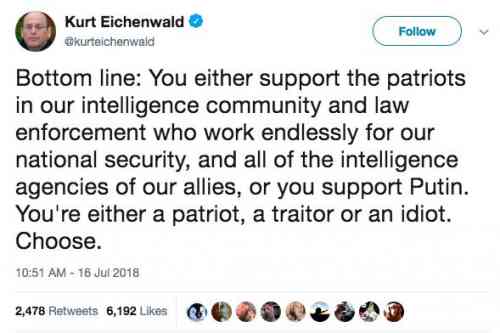 In reality, Russiagate started with Ralph Nader and the 2000 election.

They said a vote for Nader was a vote for Bush. You have a moral duty to vote for the Democrat and to be pragmatic. Your Naderite purity came at the expense of the poor. Only affluent selfish white guys could afford this type of virtue signaling. In fact, maybe some of these people were really Republicans in disguise. There were no Russian bots to blame just yet, but clearly some liberals are unable to imagine good faith criticism of Democrats coming from the left.

The terms " virtue signaling", " purity pony", and of course "White Berniebro" weren't coined yet, but the the stereotype they describe was formed in 2000. Gore lost and Nader and all his voters, in swing states or not, were vilified. They were worse than Republicans. They were traitors. Of all the factors that caused Gore's loss, the only one that Democratic partisans really cared about was Nader.
People that voted for Nader became responsible for the Iraq War, while Democrats who voted for Bush and the Iraq War got a free pass.
Liberals, besides their obvious double-standards when allocating responsibility, made the dubious claim that morality requires being pragmatic in your voting. And then, as if to prove the basis of their claims to be false, they approach their target audience in a non-pragmatic way.

The anger on open display is the opposite of pragmatic politics. They don't try to persuade people to vote for the Democrat. They demand it. It is a moral litmus test, or rather, a judgement of one's very soul. Good people know they have to vote for the Democrat. Bad people vote for Republicans and the very worst people of all claim to be left, but vote for Stein or maybe even voted for Clinton, but criticized her. Democratic partisans have no interest in what you say about an issue if they perceive it as in any way an attack or a criticism of a Democrat. If you are a third party advocate you can forget about being taken seriously on any issue because you have already self identified as a Satanist and you need to be exorcised from the body politic. Even if you say you support the Democrat as the lesser evil, you speak as one of the damned and deserve no mercy. Sanders played the game in 2016 exactly the way people said Nader should have played it and he and his supporters were still dismissed.
Like Nader before her, Stein is the absolute worst traitor of all. Worse than Trump himself.
Jill Stein is a Russian agent.
Jill Stein is a Russian agent.
Jill Stein is a Russian agent.
Jill Stein is a Russian agent.
Jill Stein is a Russian agent.
Jill Stein is a Russian agent.
Jill Stein is a Russian agent.
Jill Stein is a Russian agent. https://t.co/qkDUe6yADd

— Zac Petkanas (@Zac_Petkanas) 18 December 2017
Maddow cast suspicion on Stein's silence over alleged Russian attempts to interfere with the election to benefit Donald Trump, who she claimed during her own campaign would govern no differently than Hillary Clinton.

"So everybody's like, 'Wow, how come this like super, super aggressive opposition that we saw from these third-party candidates — how come they haven't said anything since this scandal has broken?'" Maddow said.

"I don't know, Jill — I can't pronounce it in Russian," Maddow said, with apparent sarcasm.
.@maddow spots something fishy going on between Jill Stein and Vladimir Putin. pic.twitter.com/Cah10YWx8p

— DESUS & MERO (@desusandmero) 15 February 2017
Bernie Sanders, OTOH, did everything he was told he should do.
He supported the Democratic establishment candidate, and believed the Russiagate story.
It has been clear to everyone (except Donald Trump) that Russia was deeply involved in the 2016 election and intends to be involved in 2018. It is the American people who should be deciding the political future of our country, not Mr. Putin and the Russian oligarchs.

— Bernie Sanders (@BernieSanders) February 16, 2018
However, Sanders had already committed the unforgivable sin of criticizing the Democratic establishment candidate from the left. There is simply no way of coming back from that treason.

Despite his stance, Sanders has also been constantly presented as another Russian agent, with the Washington Post (11/12/17) asking its readers, "When Russia interferes with the 2020 election on behalf of Democratic nominee Bernie Sanders, how will liberals respond?" The message is clear: The progressive wave rising across America is and will be a consequence of Russia, not of the failures of the system, nor of the Democrats.
It isn't just progressive politicians that are all traitors.
Movements like Black Lives Matter are also traitors for Russia.
Slate: Russian Trolls Were Obsessed With Black Lives Matter
CNN: Her son was killed — then came the Russian trolls
NY Times: The Propaganda Tools Used by Russians to Influence the 2016 Election
That's because you, Russia, funded riots in Ferguson. See 0 hour I have your connections to Trump archived via Schiller and Scavino https://t.co/aTUDlCGkYi

— Louise Mensch (@LouiseMensch) April 9, 2017
If you are still confused about what is treason and what isn't, ask yourself the question: Does the issue advance the narrative that the Democratic Party is a force for absolute good?
Oh my god: this is how deranged official Washington is. The President of the largest Dem Party think tank (funded in part by dictators) genuinely believes Chelsea Manning's candidacy is a Kremlin plot. Conspiracy theorists thrive more in mainstream DC than on internet fringes pic.twitter.com/e8g314iQHT

— Glenn Greenwald (@ggreenwald) January 15, 2018
We still have the 2018 election, and then the long lead-up to the 2020 election.
There is nothing to indicate that the rhetoric won't get a lot more insane. The general indifference of the public doesn't seem to discourage the media and pundits.
So how will it likely look in Fall 2020? Probably like it looked in 1952.

The purpose of advancing the Communist issue was not to fix the Communist problem — it was to exploit that problem for political and ideological advantage. That is how the Republican Party could produce its unhinged 1952 platform, which charged that the Democrats "have shielded traitors to the Nation in high places," "work unceasingly to achieve their goal of national socialism," and "by a long succession of vicious acts, so undermined the foundations of our Republic as to threaten its existence." (Does that kind of talk strike you as overheated? Then you, too, are failing to take the Russia issue seriously.)
There is little to no danger for conservatives and Republicans. All of the danger is for progressives and socialists, and the angry mob is the Democratic establishment trying to silence left-wing ideas.
In comparison, the danger of the GOP to the left-wing is trivial.