About Our So-Called "Tribalism"
Submitted by Alex Budarin on Tue, 10/23/2018 - 10:01am

I've seen a number of people criticize what they call "tribalism" by Liberals and Conservatives. They blame our current "toxic" politics on social media and "hyperpartisan" TV shows. I think it's because of a conflict much more fundamental.
My own antipathy toward Conservatives truly began with the Presidency of George W. Bush. I disliked a lot of what Reagan and Poppy Bush did, but I could still have civil political discussions with Conservative colleagues, even though I was a Liberal. And, although I'm an atheist, I could also have polite discussions about religion with Conservative Christians, including those who called themselves "Evangelical."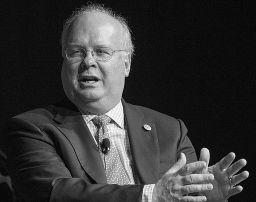 Karl Rove changed that. With cunning insight, he calculated, correctly, that George W. Bush could be President by appealing just to the Conservative base, and to Evangelical Christians in particular. [See Karl Rove, 'The Architect', this article by Anthony R. Brunello and this book by Slater and Moore] Thus, gay marriage would be made a campaign issue. Speeches by George W. Bush would include Evangelical words and phrases. Evangelicals would see he was one of them, and that he would promote their interests.
As President of the United States, he did not disappoint them. His "faith-based initiatives" promoted services based on religion. He limited the number of stem cells available for medical research, because Evangelicals maintained that the cells had come from destroyed human lives [i.e., embryos]. He raced from a vacation in Texas to sign a law intended solely to ensure that a brain-dead patient would not have her feeding tube removed, despite her husband's wishes. He ended federal aid to overseas organizations associated with abortion services. And he declared his support for a Constitutional Amendment to preclude the recognition of same-sex marriages.
At this point, in my view, the Federal Government was indeed establishing religion, by enacting and endorsing policies which reflected the religious doctrines of Conservative Christians. Conservative Christians would have despised any government which imposed Islamic ("Sharia") law, but they were quite pleased by the idea of the Federal government imposing their religious doctrines on abortion, marriage and end-of-life decisions. As a Southern Baptist leader reportedly said,

Well, there's no question this is the most receptive White House to our concerns and to our perspective of any White House that I've dealt with, and I've dealt with every White House from Reagan on.
***
Now we have a president who they [Southern Baptist evangelists] feel like really sees the world the way they see it, understands them, is sympathetic to them, and has an administration that understands that they are a very important part of a governing coalition for a Republican president.
The administrator of a "Jesus Camp" even presented children with a life-size cutout of George W. Bush and asked the children to speak blessings to him.
To me, these were frightening developments, pursued in violation of the First Amendment to our Constitution, which prohibits "an establishment of religion." National policies were being decided on the grounds of what Conservative Christians asserted were the wishes of their God, the rest of us be damned. The Federal government would be imposing the Conservative Christian equivalent of Sharia Law.
It's become even more entrenched under our dictator-loving President, Donald J. Trump. With his appointment of ever more Conservative judges to Federal courts, he guarantees rule by Conservative Christian doctrines for decades to come. He's actually made matters worse, by appealing also to those Conservatives with social dominance orientations, the sort who feel that anyone who's not White, male, Christian and straight is less worthy. These are not people with whom I can have polite discussions. These are not people with whom I can make compromises. Compromising with them would mean compromising my own core beliefs and values.
Calling these conditions "tribalism" makes it sound irrational. But there truly is a division in this country, based upon opposing beliefs and values. There really is a "culture war" of sorts. Those who call themselves Conservatives want to conserve the old order, with its traditional views and hierarchies, however questionable, harmful or needlessly discriminatory. The political actions of Liberal leaders, especially in the 1960's and 1970's, seriously and directly threatened the old order. Then Conservatives regained power. At every chance they have used that power to take more and more measures calculated to restore the old order. Now, those of us who call ourselves Liberals or Progressives are resisting their actions. We can't accept the re-imposition of traditional views and hierarchies which are questionable, harmful, unfair or needlessly discriminatory. It's a conflict which may appear irrational to Centrists, but I'd call it "value-rational," i.e., reasoned on the bases of our core personal values.

Thus, social media and partisan TV shows aren't the cause of our "uncivil" politics. They just reflect what people want to see and hear. Our politics are uncivil because we are experiencing a profound conflict over how we believe our government should treat its citizens, and citizens of other nations.
I don't know how or when this Era of Bad Feelings will end, but I think it's safe to say that complaining about social media and partisan TV shows will only serve to overlook the deeper issue we face.