In Canada, we must support Israel at all times
Submitted by MarilynW on Mon, 05/11/2015 - 5:10pm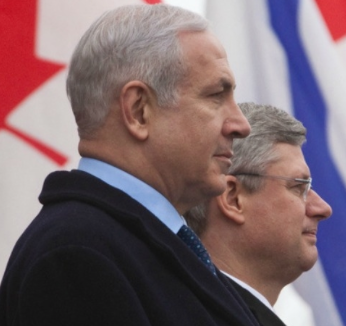 Ottawa cites hate crime laws when asked about its 'zero tolerance' for Israel boycotters
The Harper government is signalling its intention to use hate crime laws against Canadian advocacy groups that encourage boycotts of Israel.

Such a move could target a range of civil society organizations, from the United Church of Canada and the Canadian Quakers to campus protest groups and labour unions.
[...]
The government's intention was made clear in a response to inquiries from CBC News about statements by federal ministers of a "zero tolerance" approach to groups participating in a loose coalition called Boycott, Divest and Sanction (BDS), which was begun in 2006 at the request of Palestinian non-governmental organizations.
In fact all Canada's leaders except the leader of the Green Party, Elizabeth May are against the Boycott Divest and Sanctions movement. Naomi Klein is all for it and advocates for it her book "This Changes Everything." Wonder what they are afraid of?
It's been very successful and it is growing. Even the Obama administration is against it in regard to Israel.
The Obama administration officially opposes boycotts of Israel, and a measure now before Congress would direct American trade negotiators to discourage boycotts of Israeli goods.
The Harper government is once again trampling all over Canada's constitution. He's really pushing his efforts to destroy Canada because there's a Federal election in October this year. His clock is ticking. I can't wait to see the end of his fascistic reign.