Polls: Americans don't care about COVID and the vaccines anymore
Submitted by gjohnsit on Sun, 02/26/2023 - 9:38pm
This essay is about the fact that if you still feel that COVID and the vaccines are an important issue, then you aren't just in the minority. Your chosen minority is so small that it is statistically insignificant.
And that isn't my opinion.
For instance, Gallup:

I had to cut those two images into two because "coronavirus" was so far down the list that I couldn't put into the same file.
OK, you don't believe Gallup? Big Pharma and the government is rigging that poll?
Then how about Pew.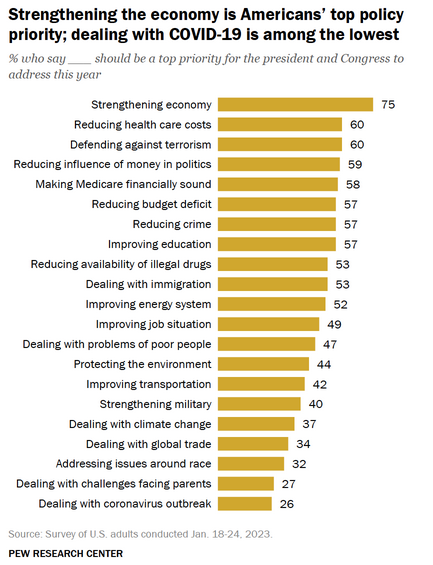 COVID was last on the list of people's priorities.
Even at the end of last year, COVID was falling in importance is IPSOS and Monmouth.
So what's my point? Only that if you are still obsessing over the issue then you should be aware that the world is leaving you behind.