The Weekly Watch
Submitted by Lookout on Sun, 01/29/2023 - 5:57am
The Tip of the Yucatan

We're in the Yucatan of Mexico for the next three weeks...lucky us. I thought I would take you along to see the sights we're experiencing. This week we're in a small fishing village/beach town, El Cuyo, and visiting a UNESCO recognized biosphere reserve, Rio Lagartos, to do some birding.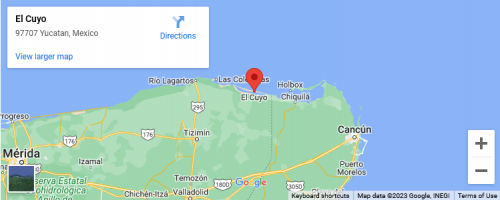 El Cuyo is a small fishing village of just a couple thousand people located on a sandbar along the Gulf of Mexico. Owing to its relatively out-of-the-way location, El Cuyo is still very much a hidden gem. The beaches in El Cuyo are the main reason to visit. They are perfect for kite surfing, stand up paddleboarding, kayaking, or just relaxing on a patch of white sand with a drink in your hand. Although not technically an island, El Cuyo has a laid back island vibe. If you ever wondered what Tulum or Holbox or Isla Mujeres were like before the throngs of tourists descended, you might fall in love with El Cuyo!
In many ways, the quiet beaches in El Cuyo are what Holbox used to be before the crowds started streaming in. The sand is nearly perfectly white, the water relatively shallow and warm, and there is rarely more than a handful of people in a given 100 meter stretch of sand. There are many access points to El Cuyo beach, and the entire stretch of sand is pretty homogenous, so you can safely just grab a towel and sunscreen, and find your private patch of paradise!
More info at this link.
Life goes slow at El Cuyo, Yucatan. Gradual development has seen a small community of locals and expats move in, drawn in by the tranquil and peaceful emerald waters. The laid-back island vibe echoes strongly in the colorful houses, palm-lined streets, and tropical decor. The town consists of a few blocks of colorful buildings connected by sandy dirt roads and centered around the main pier. The center of town is mostly walkable, although a car is nice to have if you're staying on the outskirts.
https://vivalatravelista.com/el-cuyo-yucatan/
These folks also had high praise for the restaruant in the previous clip
(8 min)
About an hour to the west is Rio Lagartos
Drone video clips and scenic footage of Rio Lagartos located in the north part of the Yucatan peninsula in the state of Yucatan in Mexico. Las Coloradas is where you have the pink lakes. Rio Lagartos does not have any pink lakes as a lot of people think. But in this video I will show you the beauty of Rio Lagartos located at a lagoon, the Ria Lagartos, which is part of a natural reserve. This makes it an ideal place for birdwatching. This lagoon is part of the Petenes mangroves ecoregion, and the Ria Lagartos has been designated as an internationally recognized Important Bird Area
Rio Lagartos is best place for Birdwatching & Photography tours on the Yucatan Peninsula..
¨If you are looking for a one-stop location to see as many birds as possible while visiting the Yucatan Peninsula, the Ría Lagartos Reserve tops the list with 395 birds -70% of all the birds reported for the region. The reason is simple: diverse habitats that include the sea, coastal dune, scrub, an extensive estuary, salt flats, fresh water wetlands, as well as both dry and humid forest. On top of that, you have some of the best local bird guides in the region that know just where to find the birds on your "wish list".
a fantastic full day bird-watching tour to the Northern tip of the Yucatan Peninsula. During this tour we will be birding at different habitats.We will try to find passerines such as Yellow-faced Grassquits, Blue-black Grassquits, Orioles like the Hooded, Black-cowled, Altamira, Yellow-tailed as well as endemics such as the Orange Oriole, Yucatan Jay, Yucatan Woodpecker, Yucatan Wren and the almost endemic Mexican Sheartail. (there is a small population in Veracruz as well) We will also make a fascinating boat-ride through the Biosphere of Ria Lagartos, where other than birds are good chances to see crocodiles. Since the Biosphere is the breeding ground of the American Flamingo it will be very likely to see them in their natural habitat. It is as well home to the Bare-throated Tiger Heron. (2.5 min)
(4.5 min)
As I said this is not a standard Yucatan tourist destination, but a little town at the end of a long road north. On the shores of the Northern tip of the Yucatan peninsula you will find a little settlement with less than 4,000 inhabitants. Rio Lagartos always used to live off the fishing industry, but slowly it is turning into a tourist hotspot. But don't worry there are still only a handful tourists to be found here that come to admire the natural beauty this region has to offer. Most tourist traveling to the North shores of the Yucatan peninsula visit Isla Holbox, Rio Lagartos is often a little forgotten.

Rio Lagartos actually means Alligator River, but I learned from a local that it is completely wrong. There is no river, neither are there alligators. Rio Lagartos is located at a lagoon (means Ria) and the reptiles living here are crocodiles. The lagoon is declared a protected biosphere by UNESCO since 2004 because of its breeding ground for endless species of birds.
Rio Lagartos is a small village perched on the shores of mangrove-lined lagoon that holds special appeal for bird-watchers and wildlife photographers. In this tranquil village at the tip of the Yucatan Peninsula, there is a relaxed vibe and abundant nature. Rio Lagartos offers an opportunity to get a glimpse into the lifestyle of a sleepy, rural fishing community.

The Yucatan Peninsula is a draw for many because of its warmth and beaches. Yet there's more to the Yucatan's cultural landscape than the Riveria Maya's Caribbean coastline. The wetlands area of Ria Lagartos is on the northeastern tip of the Yucatan Peninsula, and along the Gulf of Mexico; Cuba is about 90 miles offshore.
...
Rio Lagartos means "estuary of the lizard." The area was given this name in 1517 by a soldier accompanying Spanish explorer Francisco Hernandez de Cordoba. Cordoba's expedition marked the European discovery of the Yucatan and, in fact, Mexico. According to an amusing story, when the Spanish asked the indigenous people the name of the area, the response they got, was Yucatán, meaning "I don't understand you;" the rest is history.
More info at this link.
So that is the first week of this trip. Hope you enjoyed the vicarious visit. I will be back next week with more travels. Remember this is an open thread and any and all comments are welcome. Chances are I will have very little internet bandwidth, so y'all may need to carry on the conversation among yourselves.