The Weekly Watch
Submitted by Lookout on Sun, 11/27/2022 - 6:33am
Homecoming?

After missing the posting of this column last week, it feels like homecoming to publish today's musings. Last week we managed to avoid WWIII, as the missile that hit Poland was confirmed to be Ukrainian. Gonzalo said (5 min) thank God for the Polish potato farmer and his posted photograph of the missile, without which the war mongers might have called on article 4 of the NATO alliance. Both Gonzalo and Scott Ritter speculate the missile was fired as a false flag to escalate the current conflict. And so the NATO proxy war with Russia continues...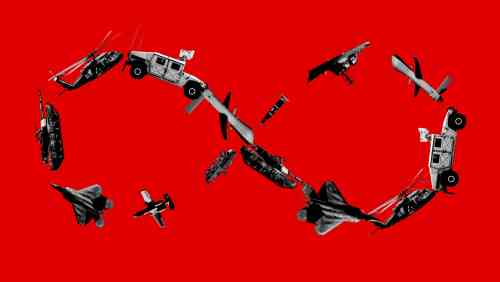 Scott's article supports his false flag hypothesis with several bits of evidence.
Caity explains how this almost went very bad...
AP's anonymously sourced report which said, "A senior U.S. intelligence official says Russian missiles crossed into NATO member Poland, killing two people" went viral because of the massive implications of direct hot warfare erupting between Russia and the NATO alliance.
AP subsequently retracted its story as the mainstream political/media class came to accept that it was in fact a Ukrainian missile that had struck Poland. AP's firing of reporter James LaPorta looks at this time to be the end point of any accountability for the circulation of this extremely dangerous falsehood.
Like Gonzalo said, God bless the polish potato farmer that photographed the missile.
Excellent conversation with:
In Moscow: Mark Sleboda, IR & Security Analyst & U.S. Navy veteran in Nuclear Engineering; in New York State: Scott Ritter, former U.S. Marine Corps intelligence officer & U.N. weapons inspector; and in Canberra, Australia: Tony Kevin, Ret. Australian ambassador to Poland & diplomat in Moscow
Comment under the clip:
This is probably the most intensively thoughtful, comprehensive, historically influenced and up-to-date discussion regarding the Ukraine conflict I have ever watched.
Douglas MacGregor thinks Ukraine is about to be annihilated (38 min)
Mike (aka iEarlGrey) just finished a trip to the Donbass where they deliver aid plus, he interviews many people who have dealt for years with this conflict. (clips at link) The trio that went shares their adventures on the road. War has real consequences for real people, and it is easy for those stories to fall through the cracks.
The Ukraine conflict is just one of many US sponsored aggressive acts...
Brian explains the Anti-China Protests in Thailand: Who is Behind them & Why? Searching for Asia's "Zelensky" (35 min)
As the US proxy war against Russia in Ukraine destroys a nation and destabilizes a region, similar meddling that preceded the 2014 coup in Kiev is unfolding across Southeast Asia and in particular, in Thailand. Who is the "Zelensky" of Thailand? Documented evidence exposes the Thai opposition as a product of years of US interference all in a bid to pivot Thailand away from its largest economic and trade partner - China - and transform it into a belligerent proxy against Beijing on Washington's behalf.
As we discussed a few weeks ago the balance of power has shifted away from the US and toward the BRICS+ Alliance. Pepe Escobar and Danny Haiphong explain...
Goodbye G20, hello BRICS+ - The increasingly irrelevant G20 Summit concluded with sure signs that BRICS+ will be the way forward for Global South cooperation.
Pepe refers to US/collective west as NATOstan. Cross Talk debates NATO vs world. (25 min)
The World Order is Changing | The USA are losing control (14 min) "I meet up with my friend Tony and we discuss the upcoming meeting between Xi Jinping and MBS (Mohammed bin Salman) of Saudi Arabia and what it will mean for the changing world order."
Michael Hudson suggests a new bi-polar world is emerging...
Michael Hudson: A New Bipolar World. US finance capitalism vs. China's mixed public/ private economy
Others see the world evolving along more controlled guidelines. I find this vision frightening...
Klaus Schwab: Eye on global governance
The #APEC Economic Leaders' Meeting and the APEC CEO Summit are taking place this week in Bangkok. As the region is one of the most dynamic regions of the world today, the annual APEC events have also become hubs for movers and shakers around the world. Among them is Klaus Schwab, the founder of the World Economic Forum. He sat down with CGTN's Tian Wei and shared his observations about whether major economies of the region and the world can shore up global governance.
Russell Brand does a great Dr. Evil imitation of Klauss.
Why are unelected leaders speaking at the G20 conference? The G20 is a summit for global elected leaders, yet Bill Gates and Klaus Schwab are both there. As one person put it on Twitter: It is no longer a conspiracy theory to ask why those unelected leaders are there talking about a new world order!
Klaus Schwab announces NEW plan to rule the world | Redacted with Clayton Morris
What a power grab that's underway.
I posted several longer videos today so I'm going to wrap it up here.
I guess the holiday season celebrates homecoming, and today feels that way to me...
I hope you all had a happy Thanksgiving Holiday. We went to Birmingham and celebrated with both our families. Met a new 3 month old niece. I can't help but wonder what sort of world we'll leave for her. We live in interesting times! I look forward to your thoughts and insights below...