Open Thread - 05-20-22 - Assorted Ramblings
Submitted by JtC on Fri, 05/20/2022 - 8:17am
Chugga chugga, what's that sound? It's the American Dream leaving your house headed for DC. See that steam rising from the smokestack? That's your dollars burning, rolled up into logs, working for the man. See that caboose? That's you running like the dickens behind the train, but you'll never catch up. The dollar train left the switchyard long ago, when moneystreet decoupled from mainstreet. With abundant dollar logs to burn, hot off of the printing press, the train chugs onward. Until it derails. But maybe that IS the point.
Don't let them kid you folks, this economic disaster was caused by decades of can-kicking. Remember all the mewlings about balancing the federal budget? That was big back in the '90s if I remember correctly. We don't hear much about that anymore. It's print, print, print. Print for endless wars, print for endless programs, print big piles for Wall Street, print, print, print, on and on.
Now it looks like this could be the last bender. No wonder there's a call for a Great Reset. The moneychangers want to wipe the slate clean and start over. To save their asses while they maintain control. To save their necks from the proverbial gallows.
As every excuse in the book is unleashed, let us not forget where the truth of this disaster lies, directly in their laps.
------------------------------
Isn't it odd?
Billionaires and baby milk.
$7 billion in weapons are left in Afghanistan. Enough to supply an army, just in time for WWIII.
Zuckerberg creates a virtual world, the metaverse, just months before the energy crises. It's almost like Zuck knew a huge downturn was afoot and wanted to frontrun it by building a fake world for fake people to have fake relationships. Can't travel, sit back in your sofa, you can fake it in the metaverse! Put on your VR goggles and interface with the soul destroying software.
Isn't it odd? It's a frontrunner's world, I guess.
------------------------------
Meet my favorite Nazi: Sgt. Schultz.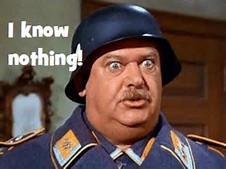 Since discussion of all things Nazi has escaped from Godwin's closet and has become en vogue from all corners of the mediasphere and has become mainstream in the nation's discourse, I feel it only fitting that I share with you all my favorite Nazi, Sgt. Schultz.
He's a lovable, simple, cuddly Nazi, don't you think? Nazi's aren't all that bad now are they?
But, if you want to make an associative assumption as to whether a large segment of boobus americanus politicus exhibit Nazi tendencies then look no further than the Ol' Sarge himself. His ability to act totally unaware and totally innocent is so down home that he could doppelgang for any number of the hand-shakers and baby-kissers in our tripartite monkey house, no? If he wasn't German he'd be the President, don't you think?
"I see nothing! I hear nothing! I know nothing!" should be the national motto.
------------------------------------
Disclaimer: This was written early this morning, if any inaccuracies are found it is not the fault of this author. Look to Russia for that.