The Inflation Blame Game
Submitted by gjohnsit on Thu, 01/13/2022 - 11:13am
If you want to know who is responsible for all of the price inflation in this country, just look in the mirror...or so economists, politicians, and the media have been falsely telling us for decades.

In this view, large firms and unions conspire to push up wages excessively; the firms then pass the increased labor costs along to final consumers and other purchasers in the form of higher product prices, thereby creating inflation. In response to this inflation, which reduces real wages, the unions subsequently return to the bargaining tables with even more outrageous demands.
This is of course, complete and total garbage, which I will explain in detail shortly.
However, it's been doctrine for so long that many people actually believe it.
The truth of who is to blame for all of the price inflation in this country is that it is coming directly from the wealthiest and most powerful. Which explains why so many are bending over backwards to openly lie to your face about it.

On Tuesday Senator Elizabeth Warren offered Federal Reserve Chair Jerome Powell an impromptu lesson in what she termed "Econ 101." Through a series of leading questions, she argued that lack of competition was a major factor behind the rise in prices that Americans have experienced over the last year.
...
In economic terms, this misses the mark. In any real-world market, a temporary surge in demand will tend lead to a temporary rise in profits.
...Economics also suggests that those higher profits would induce businesses to try to hire more workers, stock more inventory and, eventually, open more stores.
For starters, the price rise isn't temporary, and there hasn't been a nationwide surge in demand.
Secondly, higher profits don't cause businesses to hire workers. Greater demand causes businesses to hire workers. That's Econ 101, and it's where the Republicans failed with the 2017 Corporate tax cut.
The emerging claim that antitrust can combat inflation reflects "science denial". There are many areas like transitory inflation where serious economists differ. Antitrust as an anti-inflation strategy is not one of them.

— Lawrence H. Summers (@LHSummers) December 26, 2021
We can always count on Larry Summers to get basic economics wrong. His gift is being so arrogant while being wrong in the defense of the ruling elites.
Even a casual examination of the numbers will show you that the primary driver of this inflation is Corporate Greed.
Just wrapped a price-fixing case in which an executive admitted to issuing fake news stories about inflation to throw journalists off the scent. No change in concentration needed. Larry has zero understanding of antitrust. Just read his piece on worker power vs. monopsony power.

— Hal Singer (@HalSinger) December 27, 2021
Let's start with actual numbers.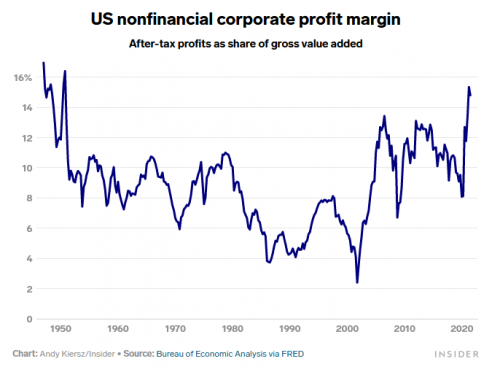 More than half of the companies surveyed by the small business services reviews website Digital.com reported raising prices beyond what was required to offset rising input costs.
"In other words, businesses are inflating already inflated prices in order to turn a bigger profit amid people's fears over uncertain times," the sites small business expert, Dennis Consorte, said in a statement.
...Still, gains in US corporate profits over the past year (37%) has vastly outstripped both inflation (6.2%) and compensation increases (12%), leading Morgan Stanley to recommend a return to a more equitable arrangement.
It's amazing how Summers and the financial media will lie with confidence for the corporations they defend even while those same corporations will openly admit it to their shareholders.
And when I say openly admit, it's not just one source.

Wall Street is explicit that margin expansion is the big story of the pandemic. "What we really want to find are companies with pricing power," said Giorgio Caputo, senior portfolio manager at J O Hambro Capital Management told Bloomberg. "In an inflationary environment, that's the gift that keeps on giving because companies can pass along their pricing on the way up, and don't necessarily need to get it back on the way down."
Matt Stoller does some back-of-the-envelope calculations and comes up with a pretty good idea of how much of the blame for inflation can be put on corporate board rooms.

Just before the pandemic, in 2019, American non-financial corporations made about a trillion dollars a year in profit, give or take. This amount had remained constant since 2012. Today, these same firms are making about $1.73 trillion a year. That means that for every American man, woman and child in the U.S., corporate America used to make about $3,081, and today corporate America makes about $5,207. That's an increase of $2,126 per person.
...
Taking all of this together, it means that increased profits from corporate America comprise 44.7% of the inflationary increase in costs. That means corporate profits alone are absorbing a 3% inflation rate on all goods and services in America (44.7% of 6.8% annual inflation), with all other factors causing the remaining 3.8%, for a total inflation rate of 6.8%. In other words, had corporate America kept the same average annual level of profits in 2021 as it did from 2012-2019 and passed on today's excess to consumers, the inflation rate would be 3.8%, not 6.8%. And that's a big difference, indeed it is the difference between Americans getting a raise, and seeing real wages decline.
It gets worse, once you factor in the roughly 2% inflation that the Federal Reserve intentionally pushes into the economy through asset buying and money printing.
In all, about 60% of the price inflation problem can be attributed directly to corporate gouging.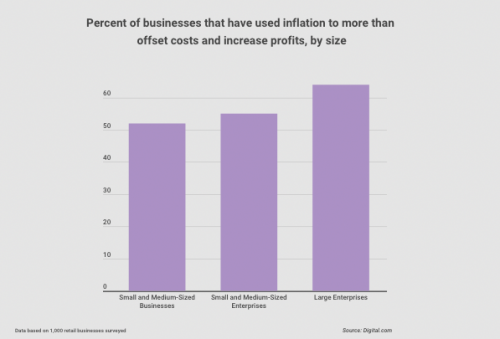 Now some of the inflation problem also comes from the well-publicized supply-chain problems. But who's to blame for that? If there's a huge backlog of cargo ships waiting to unload goods at the Port of Los Angeles, shouldn't the blame for that also go to the corporate leaders who intentionally shipped all of those jobs and factories from the U.S. to Asia?
If anything, the American worker is actively keeping the inflation rate down at his/her own expense. The American workers are the heroes in this story.
Now I'm going to dump a bunch more charts on you, just in case this wasn't already clear.