The latest Russia Scare and our foreign policy being determined by private companies
Submitted by gjohnsit on Mon, 12/06/2021 - 7:31pm
The rhetoric regarding Russia and Ukraine has gotten extremely heated in recent days.
President Biden said he "would send reinforcements to Nato's eastern flank in the wake of a Russian invasion of Ukraine". On top of that, Washington is considering imposing the economic "nuclear option" - completely cutting off the Russian banking system from the world.

Sanctions against Russia by the U.S. are being weighed to deter Russian President Vladimir Putin from launching an invasion into Ukraine, including severing the country from the SWIFT international payment system used by banks worldwide, CNN reported on Monday (Dec. 6), citing sources.

Final decisions regarding the direction are still in the works, with the Biden administration in discussions with European partners to coordinate any action.
This would be the equivalent of economic war against Russia. It would not be good.
On top of that, President Putin had the domestic equivalent of the SWIFT system created about five years ago (the SPFS) because he expected Washington to eventually pull this. He's also tested it with the Chinese and Iranian SWIFT-type systems, so they could continue some amount of international trade.
Cutting Russia off of SWIFT would hurt them, but it would not bring them to their knees. What you would have instead is a wounded bear.
Unlike Russiagate, Republicans are fully onboard with the anti-Russia belligerence this time. Like all things bipartisan these days, it's effing awful. Such as our meddling in Russia's elections.
Of course Washington would never bang the drums of war unless there is undeniable proof that the Russian are about to invade Ukraine, amirite?
Yes, indeed. We have satellite photos. We all know that Washington has never, ever used bogus satellite photos to start a war, amirite?
We got those incriminating satellite photos from a Pentagon spy sate...No, wait.
We are looking to start a large scale war against a nuclear power based on photos taken from a private corporation.

The photos, collected by Maxar Technologies and provided to Fox News, show troop buildup and the deployment of ground forces equipment in western Russia and Crimea.
That seems weird. It sort of reminds me how all of the evidence that "Russia hacked the DNC server" came from Crowdstrike, not from the FBI. Crowdstrike also happened to be founded by an expat Russian named Dmitri Alperovitch.
Plus, Crowdstrike was the ONLY company that discovered that the Sony hack was done by North Korea, and another major hack was done by China. Funny how only Crowdstrike was able to discover that all of the major hacks in recent years just happened to be done by the people that our military conveniently wanted to fight.
And what do you know, after discovering exactly what the PTB wanted to hear, Crowdstrike got huge government contracts and went from a money-losing operation to being a billion dollar company.
But I'm getting off track. We're talking about Maxar Technologies.
How are they doing?

Its balance sheet is underwhelming with only $10 million in cash, compared with $13 million in short-term debt. From a growth standpoint, its EBITDA has grown an average of 53.5% per year over the past three years, but fell 27.1% over the past year.
The stock also looks overvalued with a trailing P/E of 42.72 and a forward P/E of 39.84. MAXR has mainly shown bearish momentum since late June.
Wow. Not good. They are hemorrhaging cash. That was from about 5 weeks ago. About 10 days later, just after they started taking those Russia photos, this is the news.

Maxar Technologies (NYSE:MAXR) surges 21% this week
Something tells me that Maxar is about to sign some big Pentagon contracts. Who wants to take that bet?
For those who don't remember Ukraine didn't know anything about this so-called Russian troop build-up when it started.

Ukraine's defence ministry on Monday denied a media report of a Russian military buildup near its border, saying it had not observed an increase in forces or weaponry.

The Washington Post said at the weekend a renewed buildup of Russian troops near the Ukrainian border had raised concern among some officials in the United States and Europe who are tracking what they consider irregular movements of equipment and personnel on Russia's western flank.
That is indeed curious. Well, maybe Ukraine's military simply didn't have all the information. Right?
Then why did this happen the very next day?

Ukraine defence minister Andrii Taran has submitted a letter of resignation, the government representative to parliament Taras Melnychuk said on his Telegram channel on Tuesday.
Reuters was not able to reach Taran for comment. Melnychuk gave no reason for the resignation.
Hmm. I wonder why the defense minister would feel it necessary to resign the day after he contradicted the official story for starting a war?
The question is why is Russia looking to invade Ukraine? Why are they massing their troops along the border?
Well, here's the thing - Russia isn't doing that.
Satellite pictures supplied by U.S. space company Maxar Technologies showed around 1,000 military vehicles near the Russian town of Yelnya, about 250 km north of the Ukrainian border.
Uh, 250km is a long-ass way. This is what it looks like on Google maps.
Unless you think the Russians feel that they need a "running start" to invade Ukraine, this is comically ridiculous.
There's been other troop build-ups. Surely these must be on the Ukrainian border, right? No.

Russia sent troops to a site in Crimea called Cape Opuk and moved a larger number to a former warehouse complex near the Russian town of Pavlovsk.
Where is Cape Opuk? on the exact opposite side of the Crimean peninsula from Ukraine, roughly 120 km away from the border.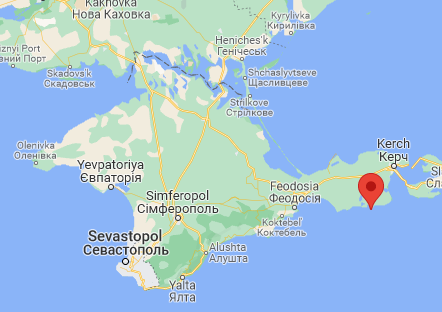 You simply can't get further away from Ukraine and still be in Crimea.