The Weekly Watch
Submitted by Lookout on Sun, 11/21/2021 - 6:24am
Cooking and Eating Edition

The summer and fall crops are harvested and with the holidays looming we've been planning meals. We ate the first of this years sweet potatoes this week. We have some butternut squash waiting to become soup. A turkey and a variety of local meats from the mountain are stored in the freezer. Fresh lettuce and parsley in the garden, with cabbage, broccoli, and greens coming on strong. This is a good time of year to celebrate the Earth's bounty.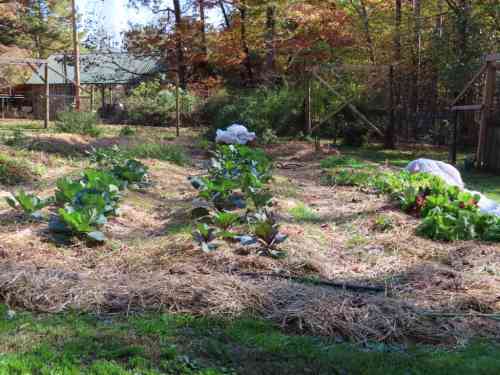 Take a little, give a little. There's a return to the Earth as well as a harvest.
And then cover the manured bed and put it to sleep for the winter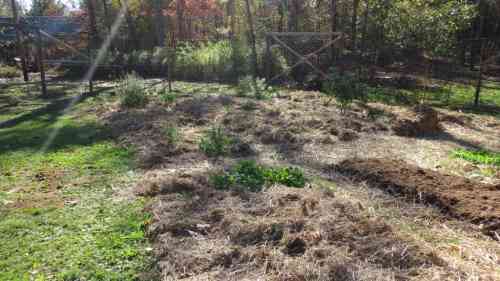 Just like we've been shown. Nature's fall mulch.
So the Thanksgiving holiday has plenty of issues, but the idea of the horn of plenty and the giving back to the soil and others has some merit. I hope your holiday is a good one, and you manage to eat well, appreciate one another, and enjoy the fruits of the season.
My Mom was not much of a cook. Like me she spent most of her working life in the classroom. She's always been an open a can or box type of cook. I began learning to cook when camping as a teen, and progressed more during college where it was easy to realize cooking for yourself is much cheaper than eating out.
For most of my life I've eaten what I thought was healthy foods. Only in the last few years have I learned what I now consider to be a healthy diet. I now choose to eat low carb high fat meals once or twice a day. I learned a great deal from the UK's public health collaboration presentations over the years. Additionally, I gained a good understanding from the Low Carb Down Under conferences.
Of course during the holidays I'm not very strict about it. After all we're going to Birmingham to visit my Mom and will eat what her facility serves. However, I now have the tool of fasting, so I can cheat and then take a day or two away from food to re-establish my low insulin and hunger level. Jason Fung taught me about the value and techniques of fasting. None the less I do stay away from sugary things like desserts or sweet potato casseroles with added sugar and marshmallows (if they only had well cured organic sweet potatoes they wouldn't dare ruin them with sugar nor marshmallows).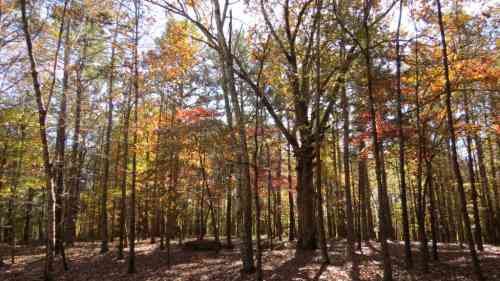 My most recent cooking discovery has been the instant pot, which is a pressure cooker combined with other applications from slow cooking (like a crock pot) to making yogurt, to a saute mode. This week I used it to cooked a pack of local pasture raised beef short ribs. It is easy. Add enough water to reach the wire rack. Use chili power or your favorite rub on the ribs. Stand them up around the side, and pressure cook for 30 minutes a pound (at least at my elevation). They will be so tender and fall off the bone. I make my own sauce cause almost all store bought sauces are full of sugar. Did you know ketchup contains more sugar than ice cream? I use straight organic tomato sauce, a bit of Bragg's amino acid, some mustard, a little Balsamic vinegar, and hot sriracha sauce. Easy peasy and delicious.
The bonus of cooking ribs is the drippings left in the pot. I pull out the wire rack, add a pound of dried pintos (or white beans), and some water or stock to cover, and pressure cook them for 30+ minutes.
We ate the ribs with a baked sweet potato, and cooked cabbage the first night. Then had the left overs last night with fresh garden salad and the beans. Now this isn't exactly low carb. Sweet potatoes and beans are mostly carbs, but your gut critters love them both and I think they are good for us in moderation. All carbs are not equal. The carbs in sweet potatoes and beans are so called "resistant starches" meaning they get deeper into our gut and feed our gut biome.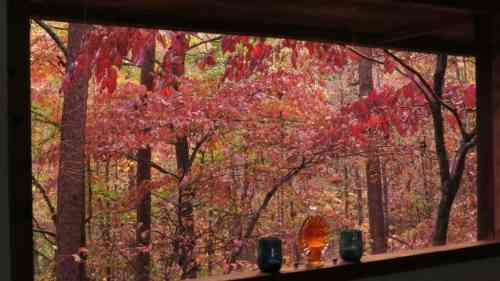 Cooking
Over the years, my cooking mentor has been Jacques Pepin who I first discovered on Julia Child's cooking show. Here he is cooking traditional Thanksgiving dishes...(17 min)
For those preparing Thanksgiving dinner for themselves for the first time this year, here is step number one: don't panic. Let the soothing voice of Jacques Pépin guide you through a stressful holiday season as he demonstrates how to make a deliciously moist roast turkey, stuffing, and gravy.
Of course as you become a more accomplished cook you stray from your mentor's lessons. I like to cook my turkey in a smoker, with a pork roast on the shelf above the turkey so the pork drips fat and bastes the turkey as they both cook.
Many rely on our favorite insider trader and home keeper, Martha Stewart. (1.2 hours)
Martha Stewart's 15-Recipe Thanksgiving Special | How to Cook Turkey, Potatoes, and Pie
Join Martha Stewart as she teaches you how to cook for Thanksgiving! In this YouTube Premiere, learn how to make everything you'll need for your Thanksgiving table, from the perfect roast turkey, to the creamiest pureed potatoes, to the most delicious pumpkin pie
She is quite experienced, but give me Jacques any day.
I enjoy OTC's A and B cooking stories. I was reminded of them when I recently came across a couple from Azerbaijan who cook outside in a fun, beautiful, and artistic way. Their pets roam around with the livestock and entertain as the meal is prepared. Here's their channel. To get you started here's a stuffed turkey they roasted last week and it already has 1.4M views (15 min)
I also like their style of cooking a turkey on a campfire
Campfire Roasted and Smoked Turkey (34 min)

As a Country Life Vlog, we love to share what we do at countryside, engage with nature and make the most out of village life. Come and see the colorful videos of nature, unique cooking recipes and just the beautiful life at a countryside. Sit back and relax!
The first of their videos I watched was drying persimmons and I was hooked on these peaceful cooking episodes.
I was sad to hear this week that Azerbaijan used Turkish drones to defeat Armenia. We are in the age of drone wars I guess. Thanks Obomber.
https://www.cfr.org/blog/obamas-final-drone-strike-data
The 542 drone strikes that Obama authorized killed an estimated 3,797 people, including 324 civilians. As he reportedly told senior aides in 2011: "Turns out I'm really good at killing people. Didn't know that was gonna be a strong suit of mine."
On a better note, these folk almost always make a fresh tea using their samovar. What a low tech way to make tea and hot water. They make a beautiful blue basil tea among many others.
Here's a short demonstration... (2 min)
In this video our friends are brewing Tea Russian style with a 150 year old SAMOVAR - Тульские самовар. It is old Russian tradition to prepare tea in samovar. Cамовар originated in Russia, but samovar is well known outside of Russia and has spread through the Russian culture to Eastern Europe, South-Eastern Europe, Iran, Afghanistan, the Kashmir region of India, the Middle East, Azerbaijan and is also known in some parts of Central Europe. Since the heated water is typically used to make tea, many samovars have a ring-shaped attachment around the chimney to hold and heat a teapot filled with tea concentrate. Though traditionally heated with coal or kindling, many newer samovars use electricity to heat water in a manner similar to an electric water boiler. Antique samovars are often prized for their beautiful workmanship
A samovar contains a vertical pipe filled with solid fuel which heats the water and keeps it hot for hours at a time. To make tea, a teapot with a strong tea brew called заварка (zaVARka) is placed on top and heated by the rising hot air.

When not in use for tea making, the samovar remained hot and was convenient as an immediate source of freshly boiled water.

There are three main reasons why the samovar became so popular both in Russia and abroad in the 18-19th centuries:

Samovars were economical. A samovar has a complex structure and usually consists of 17-20 parts. Altogether, the structure of samovars was an amalgamation of all the knowledge that existed at the time on preserving energy. The heating pipe was fully surrounded by the water that was being heated and therefore created the largest possible amount of energy without much energy loss.
Water softener. Additionally, a samovar softened the water during the heating process, with the limescale dropping to the floor of the container. This meant that the boiled water coming out of the samovar's tap was pure, soft, and had no limescale.
Easily monitoring of water heating. Due to the sounds that samovars make when the water begins to heat, it is possible to monitor the stage of water heating throughout the process. First, the samovar is said to sing (самовар поёт - samaVAR paYOT), then to make a particular noise called белый ключ (BYEly KLYUCH)—the white spring, before boiling (самовар бурлит - samaVAR boorLEET). The tea is made once the white spring noise appears.
Well there's lots more to discuss about cooking , foods, and eating. Perhaps you'll share your cooking background, favorite recipes, or eating experiences below. However, this is an open thread and all comments on all topics are welcomed and appreciated!


The Road Not Taken
Robert Frost
Two roads diverged in a yellow wood,
And sorry I could not travel both
And be one traveler, long I stood
And looked down one as far as I could
To where it bent in the undergrowth;
Then took the other, as just as fair,
And having perhaps the better claim,
Because it was grassy and wanted wear;
Though as for that the passing there
Had worn them really about the same,
And both that morning equally lay
In leaves no step had trodden black.
Oh, I kept the first for another day!
Yet knowing how way leads on to way,
I doubted if I should ever come back.
I shall be telling this with a sigh
Somewhere ages and ages hence:
Two roads diverged in a wood, and I—
I took the one less traveled by,
And that has made all the difference.
It is a beautiful time to enjoy the woods in this corner of Earth, and many others.
Wishing you all a wonderful holiday!