Some bird talk
Submitted by janis b on Tue, 10/12/2021 - 10:09pm
For me the Tui is the most entertaining of the birds I see almost daily, with slight seasonal changes.
They are expert acrobats and jet-like flyers. They have the most resonant voices and like to talk and sing. They are honeyeaters with a beautiful iridescent coat of feathers. Mostly I see them in silhouette, when their body appears black with a fluffy white tuft under its neck. What looks like one round piece of white tuft divides into two halves that move in unison when they talk.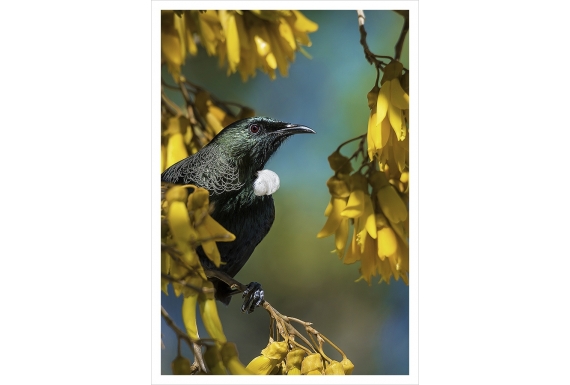 http://www.wayfarerimages.co.nz/shop/en/love-our-birds/512-tui-duet-card...
You can listen here to the Tui (and another familiar bird).
While writing this reverence to the Tui I found this poetic description, and more …
Tui
Iridescent shadows that zoom, bustle and warble through the canopy—tui have adapted and thrived while others have perished ...

For many of us, tui song is embedded in our psyche, functioning as a sort of aural anchor to home and tugging at our sense of what is peaceful and good. Somehow, the song is like a sonic portrait of Aotearoa, capturing something of the shattering clarity of light, of the wetness and cyclic mutterings of the New Zealand bush, a forest of bounty and grandeur before humans came to dominate ...

These glimpses of midnight blue, sometimes emerald, occasionally olive-gold feathers and those frivolous neck tufts further our feelings of intrigue towards them. Lending comic value to an otherwise dignified bird, the mutton-chop filaments that curve around the sides and back of the neck give tui a slightly harried look close up, to counter the impression of impeccable smoothness they have from a greater distance. Usually hidden singers, the moments when we see a tui in its gloss and paua iridescence are special enough to make us stop and stand still, conscious that we are witnesses to a kind of natural grace, undeserved and uncontrollable.
https://www.nzgeo.com/stories/tui/