Daily Kos continues to drift towards irrelevance
Submitted by gjohnsit on Mon, 06/14/2021 - 1:41pm
You probably haven't thought about DKos for a long time. I know that I haven't in over a year.
But for some reason it popped into my mind today and I decided to check on it's web traffic.
I found this.
To put this into perspective, this was from five years ago.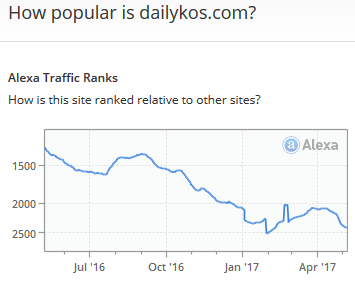 Just so no one is confused: DKos was ranked as the 1,000th most popular web site in the world five years ago.
They're now ranked 7,522 and falling fast.
It's ranking had declined from 1,000 to 5,000 even before Trump had left office, but now it's really collapsing because Orange Man Bad is gone, and like TYT, DKos had gone all-in on Orange Man Bad and Russiagate.