The Weekly Watch
Submitted by Lookout on Sun, 02/21/2021 - 7:14am
Out with the Old, and In with the New?

I started this piece early last week as a gardening reference, but as the week has progressed I've begun to think about the odd juxtaposition of the collapse of the Texas power grid (Houston we have a problem) with achievement of landing a rover on Mars....old and new indeed. Like much of the country we had some cold weather (teens) this week. None the less, we kept a few crops growing mostly under covers. Many folks (even locals) are amazed that we keep a garden going most of the year. This year of COVID has particularly focused our attention on the garden and homestead. It has been nice to have a productive project during these odd times. Thought I would include some photos of the old (soon to be harvested) and new (soon to be planted) crops. We'll also look at the weeks news and see what we can find of interest. Jump in below the fold and add anything on your mind in the comments.
I must admit to being intrigued with the Mars landing and the complexity of the rover. It really is an example of outstanding engineering and a wonderful planetary science event. To my mind it confirms human ability to solve difficult problems. At the same time, the failure of the unregulated (by choice) Texas grid makes me think of our misplaced priorities. We can achieve incredible things, but choose instead to focus on profit. The ills of US run away capitalism are blatant and obvious....from the homeless crisis to the lack of health care in a pandemic to the utter failure to help our citizens prevent COVID to endless wars to slave wages for the working class compared to billions in profit for the elite.
The Perseverance landing is a powerful demonstration of human cognition, science and reason. It is a powerful rebuke to the incessant contemporary glorification of irrationalism and a mighty vindication of the materialist understanding of the world. There are, in fact, objective laws of nature that humans can comprehend and act upon.

The significance of the achievement stands in stark contrast to the social disaster in the US and throughout the world. Two days before the rover touched down, an 11-year-old boy froze to death in Texas during a snowstorm that has collapsed the heating and electrical infrastructure of virtually the entire state.
https://www.wsws.org/en/articles/2021/02/20/pers-f20.html
Rick Wolff discusses the Texas power grid situation...(8 min)
Prof. Wolff talks about the failure of the electrical industry in Texas to respond to the extreme weather that has led to the suffering of so many Texans. Wolff argues that key social institutions and protections like energy and public health should not be left in the hands of private interests who are only motivated by profits.
The Electric Reliability Council of Texas, which operates the grid, said Thursday the state was "seconds and minutes" away from a catastrophic failure that could have led to a months-long blackout. This week's power outages also led to big delays in COVID-19 vaccine distribution and soaring fuel prices.

During an earnings call Wednesday, executive Roland Burns of the natural gas producer Comstock Resources celebrated the winter weather disaster.

Roland Burns: "This week is like hitting the jackpot, you know, with some of these incredible prices. I mean, you know, frankly, we were able to sell at super premium prices for a material amount of production."

On Thursday, Mexico's President Andrés Manuel López Obrador called on Mexicans to ration electricity, after Texas shut off exports of natural gas amid the crisis.
https://www.democracynow.org/2021/2/19/headlines/power_cuts_freezing_tem...
Ted Cruz got caught headed to warm sunny Cancun...
Sen. Ted Cruz: "Yesterday, my daughters asked if they could take a trip with some friends, and Heidi and I agreed, so I flew down with them last night, dropped them off here, and now I'm headed back to Texas and back continuing to work to try to get the power on."

Senator Cruz was initially booked to stay in Mexico until Saturday. He was met by protesters calling for his resignation at Houston's airport — and in the bitter cold outside his home
To add insult to injury, many Texans are getting outrageous electric bills...
The combination of insufficient capacity and the temperature-induced crippling of power stations led to a complete collapse of the power grid. As power plants and natural gas pipelines froze, the market price of electrical power in Texas soared from a seasonal average of $50 to $9,000 per Megawatt.

Texans on variable rate electricity plans have seen electricity bills for tens of thousands of dollars. According to KHOU 11, Dallas resident Ty Williams owes more than $17,000 for his house, guest home and office.
https://www.wsws.org/en/articles/2021/02/20/trhe-f20.html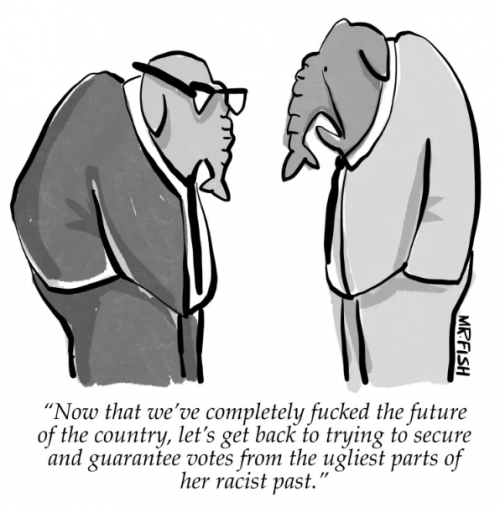 The "hyper-individualist" mindset runs rampant in capitalist nations, especially the US, where it's praised as "hard work" and "common sense." In this episode, we take a look at why the individualist mindset is counterproductive and an utterly absurd way to view the world. https://www.youtube.com/watch?v=9TjOX9clhwM&t=13s
Chris and code pink discuss US aggression toward China (34 min)
The U.S. is increasing pressure on Iran by surrounding it with NATO troops.
https://www.moonofalabama.org/2021/02/nato-deployments-to-iraq-are-suppo...

Jimmy also spoke with Chris this week...
The entire interview 45 min https://www.youtube.com/watch?v=olBU619Dlsc&t=0s
America Has The Tinder To IGNITE Social Uprising - Chris Hedges
And shorter edits if you don't have the time for the whole enchilada.
Biden Will Shut Down Left Voices w/Chris Hedges
https://www.youtube.com/watch?v=Ax7dCXsaQSw (19 min)
Will Americans RISE UP? w/Chris Hedges
https://www.youtube.com/watch?v=FEtIYziP27A (4.5 min)
Rick Wolff discusses third parties with Jimmy
America Needs Third Parties w/Professor Richard Wolff
https://www.youtube.com/watch?v=BMormX0DqIs (13 min)
Change is difficult when there is a non-stop propaganda machine shouting lies...
As usual Caity nails it...
https://caitlinjohnstone.com/2021/02/18/its-not-a-political-problem-its-...
If the majority of a troubled population believes their political system is operating in a way that is demonstrably very different from the way it actually operates, then that population doesn't have a political problem, it has a propaganda problem.

Berners watched the mass media actively sabotage the Sanders campaign day after day in two consecutive elections, and went "The problem is not enough progressives in government!" No, the problem is the billionaire media are constantly lying to everyone. Create a truth-based information ecosystem and politics will move toward health by itself.
She continues the theme in her next article...
https://caitlinjohnstone.com/2021/02/20/they-dont-work-to-kill-all-disse...
The managers of empire do not work to crush and silence all dissent like a conventional totalitarian regime would do. They are much more clever than that.

In a society that maintains the illusion of freedom in order to prevent outrage and revolution, it does not serve rulers to stifle all dissent. Just the opposite in fact: their interests are served by having a small number of dissidents hanging around the fringes of society creating the illusion of freedom. If Johnny Hempshirt over there is allowed to stand on a soapbox and criticize the US war machine, then the US must be a free country.

So they don't work to silence all dissent. What they do is work to make sure that dissent never hits a critical mass and goes mainstream.
Jimmy and Graham discuss the ways we are kept divided...
https://www.youtube.com/watch?v=mrnPcRGluuE (6 min)
Jimmy talks with Matt Stoller about big tech's media censorship
https://www.youtube.com/watch?v=Dw6N8IbvjkE (36 min)
Jimmy has been editing and re-posting earlier interviews. I liked this one when Jimmy tells the story of how he learned racism is a way to manipulate us as a kid.
https://www.youtube.com/watch?v=Z8ZYm1re6fM (7 min)
Any of your friends (like some of mine) refuse to let go of russiagate? Here's a great interview to send them...Aaron Mate' on Matt and Katie's show debunks russiagate and the Syrian gas attacks. It is about an hour long.
https://www.youtube.com/watch?v=yGy6c3SHWf0&t=27m30s
Glenn takes an honest look at the Capitol riot...
https://scheerpost.com/2021/02/18/the-false-and-exaggerated-claims-still...
... none of that justifies lying about what happened that day, especially by the news media. Condemning that riot does not allow, let alone require, echoing false claims in order to render the event more menacing and serious than it actually was. There is no circumstance or motive that justifies the dissemination of false claims by journalists. The more consequential the event, the less justified, and more harmful, serial journalistic falsehoods are.

Yet this is exactly what has happened, and continues to happen, since that riot almost seven weeks ago. And anyone who tries to correct these falsehoods is instantly attacked with the cynical accusation that if you want only truthful reporting about what happened, then you're trying to "minimize" what happened and are likely an apologist for if not a full-fledged supporter of the protesters themselves.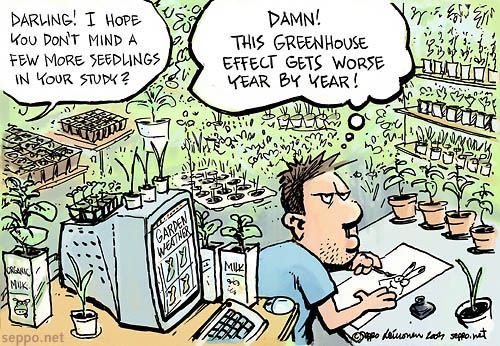 What about the garden?
Here's a clip I described earlier (but couldn't find again till now) about using polycarbonate coldframes.
https://www.youtube.com/watch?v=vLYJRcmkijY (8 min in)
Well, our garden is still producing...It is an under cover operation.
Mustard greens

Collards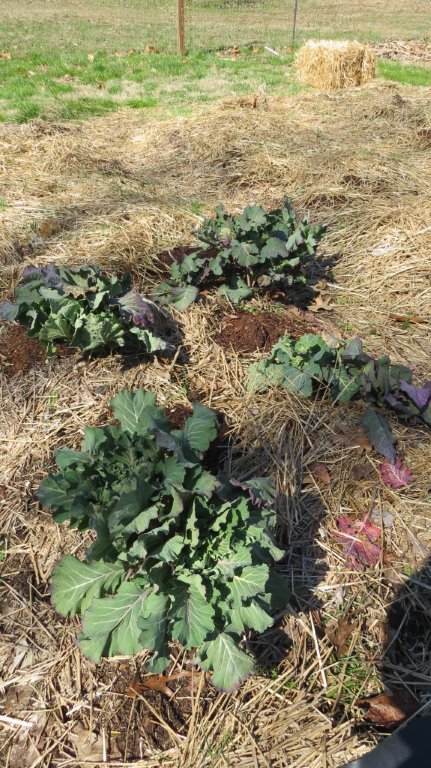 Cabbage and Kale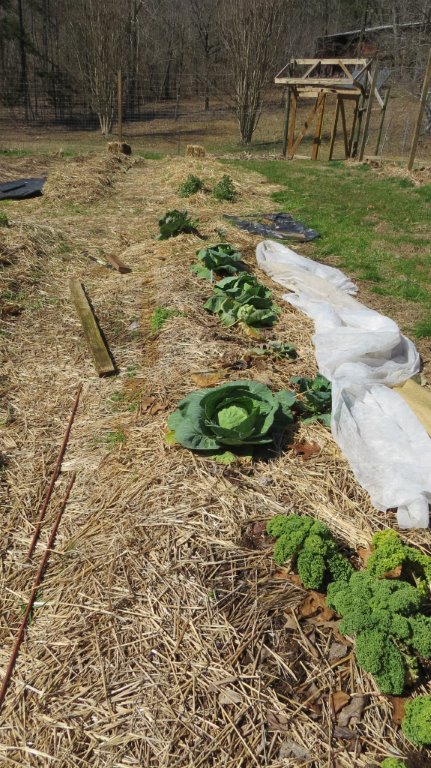 Off with its head!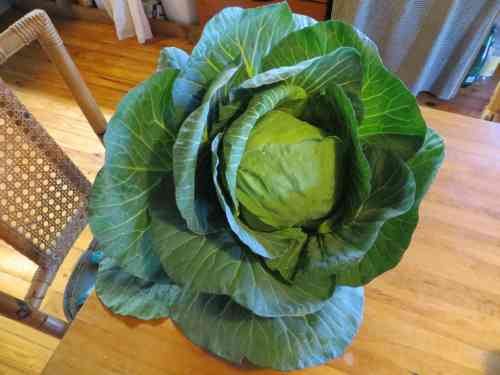 And outer leaves into a pan...

So much for the old, what about the new?
We use an old shelf re-purposed as a seed growing station.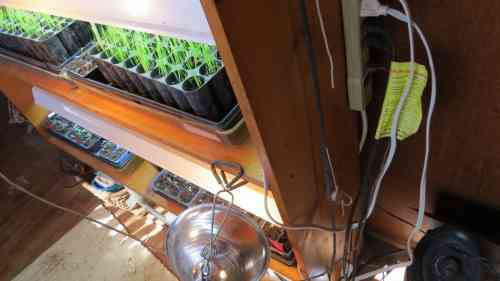 I take them out when weather allows, and next week I'll harden them off under cover in the garden...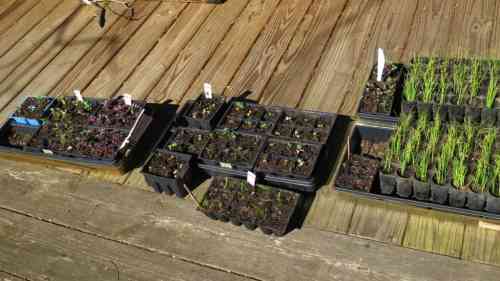 Gardening is a constant circle of old and new...a strong reminder of the cycle of life.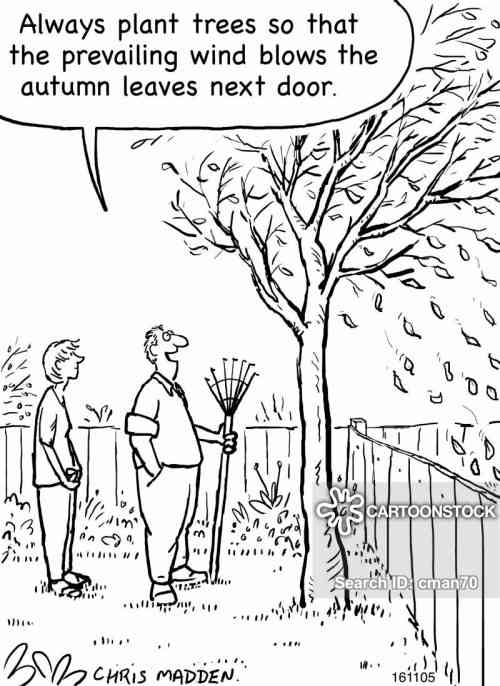 Last week I planted two more American Chestnut trees. From here on out I'll take cuttings from the few trees I have and continue to spread what was once the dominant tree in our forests. The world keeps spinning and climate chaos continues its bizarre variations. And still the garden grows. Somehow it is satisfying despite the challenges. You don't have to garden to get in touch with nature, but it grounds me in the natural patterns and flows. Here's hoping you are able to get out and enjoy natural world. I look forward to your stories and ideas below!