Election Fraud Lies: ChiComs Under the Dominion Bed
Submitted by edg on Thu, 12/03/2020 - 4:53pm

The Lime
Chinese Ownership of Dominion Voting Systems Exposed

An uncovered filing from the Securities and Exchange Commission (SEC) exposes Dominion Voting Systems' troubling financial entanglements with Chinese Investors. The SEC Filing is signed in October of this year by Hootan Yaghoobzadeh who represents the Issuer Staple Street Capital. This private equity firm has been the owner of Dominion Voting Systems since 2018 meaning the 2020 acquisition puts US election systems under Chinese ownership. The SEC filing details the sale of Staple Street Capital to UBS Securities LLC, which is a Chinese Investment Bank.

This $400 million dollar deal is a devastating blow to political factions relying on public trust in Dominion Voting Systems and its results. After four years of hounding on Russian meddling in the 2016 election interference, this exposure of factual Chinese engagement with US voting systems breaks credibility of an entire political party. Financial records are factual evidence that cannot easily be explained away. The filing serves as validation to those questioning the 2020 US Presidential results which have already been under widespread suspicion.

An executive order was signed by President Trump on November 12th that addresses the threat of Chinese Communist Party malicious cyber-enabled actions against the United States and its people. The order focuses on financial investments made by the Chinese military to make inroads against US interests.

Source: Repub.Li, Dec 1, 2020
The Rebuttal
The filing serves as validation to those questioning the 2020 US Presidential results which have already been under widespread suspicion.
Ah, not exactly. The entire article is based on a faulty premise.
The claim is that Dominion Voting Systems was bought by a Chinese firm. The evidence is an SEC filing from October 2020. (Full filing here.)
The claim is false. Dominion is owned by a private equity fund, and the filing is a notice of a restricted securities offering. In other words, they're raising money, not selling the company. And the money is likely to raise capital to invest in other companies, with nothing to do directly with Dominion.
[EdG note: Whether or not private equity firms should own voting software companies is another matter. See this letter for the opinion of Senators Warren, Klobuchar, Wyden, and Pocan last December.]
Specifics of Debunkment
Item 10 of the SEC filing shows that no company is being sold. The answer to the merger, acquisition or exchange question is No.
More damning for the overhyped ChiCom claim is that UBS Securities is the broker, not a purchaser. They are merely getting paid a commission (Sales Compensation) for handling the fund raising.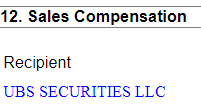 Granted, UBS Securities is a Chinese firm and likely shouldn't have been chosen in today's anti-China environment. But they are NOT buying Dominion or the equity firm that owns it.
Background Info
What Are Restricted Securities?
Restricted securities are securities acquired in unregistered, private sales from the issuing company or from an affiliate of the issuer. Investors typically receive restricted securities through private placement offerings, Regulation D offerings, employee stock benefit plans, as compensation for professional services, or in exchange for providing "seed money" or start-up capital to the company. Rule 144(a)(3) identifies what sales produce restricted securities.

Source: SEC.gov - Rule 144: Selling Restricted and Control Securities
About Staple Street Capital.
Staple Street Capital is a private equity firm that invests in middle market businesses where we can partner with motivated and proven management teams to create value.

We invest in companies that are seeking to pursue untapped market opportunities, enter or exit markets, make acquisitions, reposition certain business lines and/or implement other strategic or operational changes that will lead to greater profitability and long-term growth.

Typical transaction types include: management-led buyouts, corporate divestitures, acquisitions of family-owned businesses, public-to-privates, operational or financial restructurings and recapitalizations. We typically target companies with $50-$500 million of revenues, where we can invest up to $55 million per deal from our fund ($75+ million with our active L.P. co-investment program).
Companies owned by or invested in by Staple Street Capital:
Aaroma Holdings
ABC Group
Cyberlink
Dominion Voting Systems
Eastern Dental Management
Ironline Compression
Ivy Technology
Larkspur Storage
Mid-States Supply Company
Precise Metal Products
Six Flags Entertainment Corporation
Other Election Fraud Lies Essays