Welcome to Saturday ...
Submitted by smiley7 on Sat, 07/04/2020 - 6:08am

"Now something that will interest you – we've made some excursions in the brothels, and it's likely that we'll eventually go there often to work," said Van Gogh in the only letter he ever co-wrote with a fellow artist. "At the moment Gauguin has a canvas in progress of the same night cafe that I also painted, but with figures seen in the brothels. It promises to become a beautiful thing.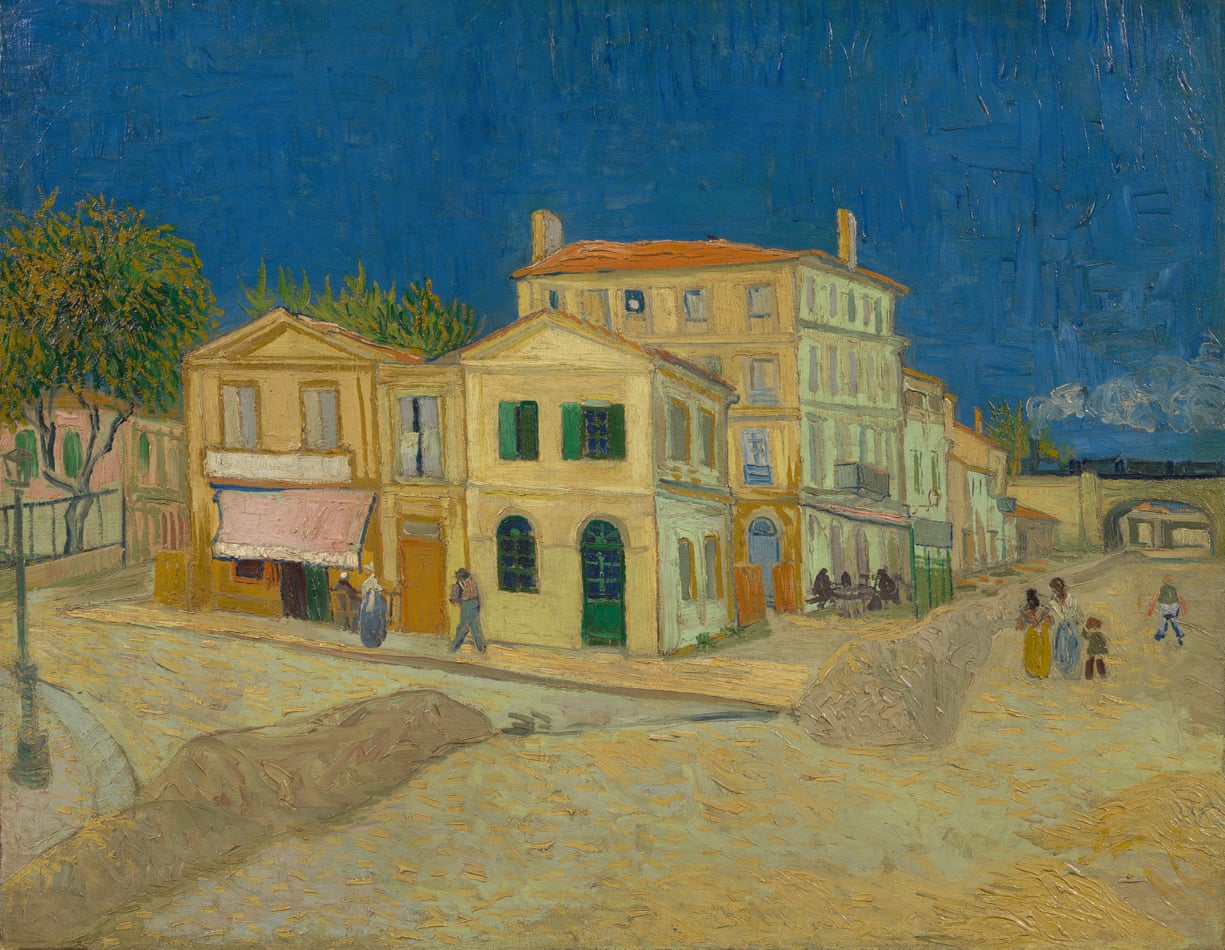 The Yellow House (The Street), 1888 by Vincent van Gogh. Photograph: Van Gogh Museum
A Night Cafe in Arles (Madame Ginoux) ~ Paul Gauguin
~~~
Vienna, city of paradox
How did the city of elegant classicism give birth to an explosive modernism, threatening to destroy its very traditions?
Vienna, 1912. It is autumn, and the city's fin-de-siècle extravagance is approaching its peak. On the stage of the city's pre-eminent concert house, the Musikverein, the mute and melancholy clown Pierrot, the star of Arnold Schoenberg's atonal melodrama Pierrot Lunaire, is drinking moonlight – the stuff of intoxicating artistic inspiration – with his eyes. The moon-drunk aesthete soon becomes disillusioned: stigmatised and abused by an intolerant society (a part played unwittingly by the audience at the Musikverien), Pierrot retreats from the world, floating home in a boat, following the trail of an ancient scent back to his dreamy, distant home in Bergamo. Featuring a small chamber ensemble and a spoken-sung part for a reciter, Pierrot Lunaire is a grotesque parody of the cabaret style. It is also allegorical and autobiographical: Pierrot, moon-drunk and doomed from the start to be misunderstood and unappreciated, is the epitome of the modern artist at the turn of the century.

In this incarnation, Schoenberg's Pierrot – as the artist desperately seeking new means of expression in the modern world, while at the same time vilified by that world – neatly encapsulates the feverish and often contradictory spirit of Vienna in the early decades of the 20th century. A much-romanticised era for the city, these years are commonly celebrated as a period of explosive artistic, literary, intellectual and especially musical modernisation in which resolutely iconoclastic geniuses such as Schoenberg, Sigmund Freud, Gustav Klimt and Alfred Schnitzler broke with the past in order to lay the groundwork for the future. In this narrative, Vienna's musical revolution was especially radical: Schoenberg's Pierrot was later characterised by Igor Stravinsky as 'the solar-plexus of modern music' – the culmination of a shift away from tonality and hundreds of years of classical music, in favour of a new music for a new century. But how did this happen? How did Europe's 'city of music' – the home of Haydn, Mozart, Beethoven, Schubert and Brahms – become the birthplace of an explosive musical modernism that threatened to destroy the very tradition to which it belonged? https://aeon.co/essays/vienna-schoenberg-and-the-advent-of-musical-moder...
~