Tuesday Open Thread ~ Mon Petit Pierre
Submitted by Anja Geitz on Tue, 05/26/2020 - 4:16am
~
"And when great souls die, after a period peace blooms, slowly and always irregularly. Spaces fill with a kind of soothing electric vibration. Our senses, restored, never to be the same, whisper to us. They existed. They existed. We can be. Be and be better.
For they existed."
~
Maya Angelou
~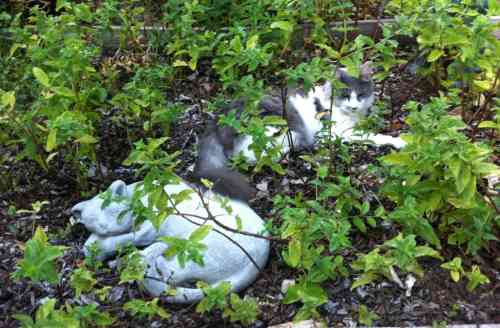 ~
Whoever said that loss gets easier with time was a liar. Truth is, you end up missing them in a different way. Life may go on and you may think about other things, but inevitably, something will remind you of them and the grief comes rushing back, along with a feeling of guilt that you forgot to miss them for a little while. In either case, you're still grieving. Elizabeth Kubler Ross describes the feeling best when she says that we will grieve forever. That we do not just 'get over' our loss, we will simply learn to live with it. That yes, we will heal and rebuild our life around that loss, but a part of us will never be the same. Nor would we want to be. There are people, I imagine, who don't think this applies to grieving the loss of an animal. But they'd be wrong. And I suppose those same people might not think an animal has the power to leave their mark on us in a very significant way. But they'd be wrong about that too.
~
"A kitten is, in the animal world, what a rosebud is in the garden."
~ Robert Sowthey
~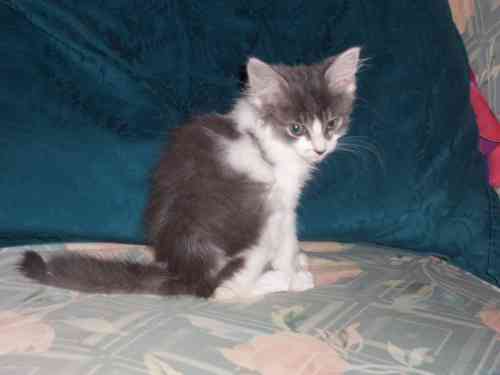 ~
A Promise to Pierre
The question was always the same. Why did I name my female cat Pierre? The simple answer is I thought she was male at the time. Where things got interesting was in the details. Such as naming Pierre after a young French guy I was dating who came out of the closet about the same time mon chat did. Seriously. Just as flirty French guy told me he was gay, Pierre went into heat. The latter being more of a surprise then the former.
"You're going to have to change her name now" my Sister said.
"Why?" I asked.
"Because she's female."
A fair point perhaps, but in the end, I decided to keep her name as it was. She had been called Pierre for almost a year, why confuse things now? Besides there was something about her that had already defied expectations, I figured the two of us could defy convention and say to the rest of the world we were doing this our own way.
~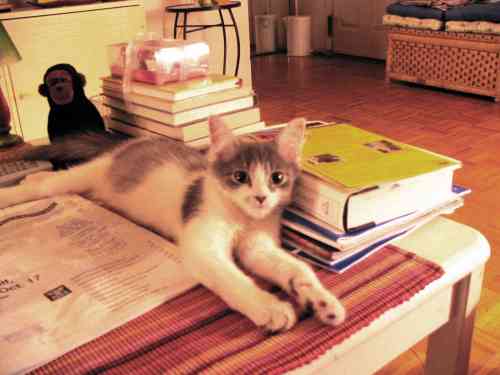 ~
Born near a construction site where she spent the first six weeks of her life, Pierre found refuge where she could. Lucky for her, one of those places was Nick Papadapoulous' flower shop. Owner and neighborhood cat whisperer, Nick's store functioned as a rescue mission for New York City's hungry strays. Word must've got around in the feline community because anytime I did stop inside Nick's store there was always another new cat curled up behind one of the planters, secretly hidden from view taking their afternoon catnap. Some of them merely visited, while others stayed on a more permanent basis, but either way, if they hung around long enough, they were bequeathed Shakespearean names.
Greeting me that morning with a toothy grin and an offer of one of his wife's homemade muffins, Nick was his usual chatty self. It was September and the both of us were tennis fans, so we talked about the US Open as if the both of us had all the time in the world. Suddenly, out of nowhere, a tiny kitten jumped onto the counter where Nick had his breakfast and hungrily attacked a piece of his bacon.
"No! No! No!" Nick yelled as he scooped Pierre up off the table. "That's human food", he said. "You have your own food."
Setting her down in front of a big bowl of kibbles, he then turned to me shaking his head.
"That's the second bowl he's eaten this morning."
~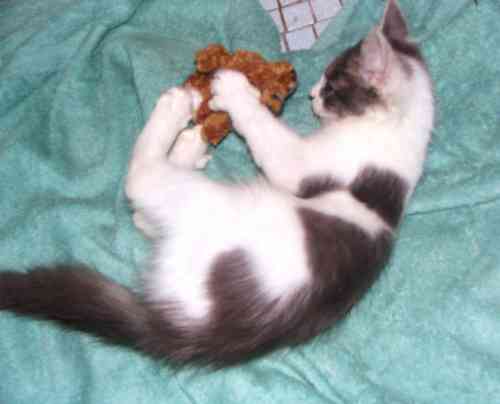 ~
As I listened to Nick tell me how a very hungry Pierre had been yowling so loudly outside of his store that morning, he thought it was a baby crying, I gently picked up the feather-light kitten to take a closer look. She was a fluffy white and gray tabby, severely underweight, whose fur was speckled with white paint. When I peeked at her backside, I noticed her anus was bleeding from god knows what she had been eating.
"This kitten needs to see a vet," I told him.
"You wanna take him?" He asked.
The abruptness of his question took me aback and I shook my head explaining that I was on my way to work. But just as I tried placing Pierre back on the ground, she latched on to me and began climbing up my pant leg, shaking and struggling all the way up.
"I think he likes you!" Nick said laughing.
I gingerly pried Pierre off of my clothing and settled her onto my shoulder where she immediately found my ear and decided to start nursing by sucking on my earlobe. My resolve quickly melting away, I ended up walking out of Nick's store with a tiny kitten in my arms and a plan to get her medical help and find her a place to live. Which I did. With me. A decision I made that very first night when Pierre quietly communicated everything she had been through with a look in her eyes.
~
I am packing for a short trip to New York to discuss the cat book with Brion. In the front room where the kittens are kept, Calico Jane is nursing one black kitten. I pick up my Tourister. It seems heavy. I look inside and there are her other four kittens.

"Take care of my babies. Take them with you wherever you go."
~
William S. Burroughs, The Cat Inside
~
~
Soft Paws and Purred Applause
Few things are as endearing and hilarious to watch as a small kitten doing what small kittens do. Darting from one end of the room to another, pouncing on anything that moves, it's like enjoying an all day comedy show being played out by a furry version of Buster Keaton. Yet, when I brought Pierre home, she was none of those things. Lethargic and weak, she spent most of her time nuzzled up close to me, purring and sleeping. At six weeks old, she should've weighed well over twenty-two ounces, but when put on the scale she barely registered at fourteen. Skin and bones, full of ear mites, fleas, and worms, when I took her to the vet they had to give her a bath and then snip out all of the white paint stuck to her fur. Disheveled and forlorn looking, she was sent home with medicine, a high protein kitten food, and supplemental vitamins which I added to baby food. While the vet didn't suggest bottle feeding her, I did it anyway, wrapping her up in a towel and placing her on my lap she drank from the bottle I gave her as if her life depended on it. At night she'd crawl up the side of my bed, make her way towards me, curl up around my neck, take my earlobe in her mouth and suckle her self to sleep. It was both very strange and very poignant. She was so light I barely felt her weight, in fact, if it wasn't for the confluences of breathing, purring, and sucking noises in my ear, I would've barely noticed she was there.
~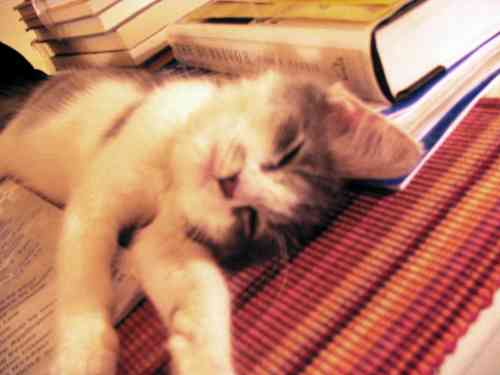 ~
I knew we were finally out of the woods two weeks later when I found the contents of one of my drawers all over the floor and Pierre dashing through the house with one of those curly-cue ribbons in her mouth bouncing up and down like a little Pom Pom. Her mischievous streak on full display along with her delight filled me with such joy that the memory of that moment still has the power to move me. Soon after her remarkable recovery, I realized that Pierre was very clever with verbal cues. If I asked her "where's your teddy bear?" she would stand by her bed and wait for me to toss over her favorite toy. Same thing applied to a peek-a-boo game we liked to play where I'd sit on the couch with a blanket over my head and ask "Where's Pierre?" and she would start sneaking up to me in slow stalking movements until she got close enough to touch me. Then I'd rip the blanket off and say "There she is!" and Pierre would run and hide behind the corner, where we'd start the game all over again.
~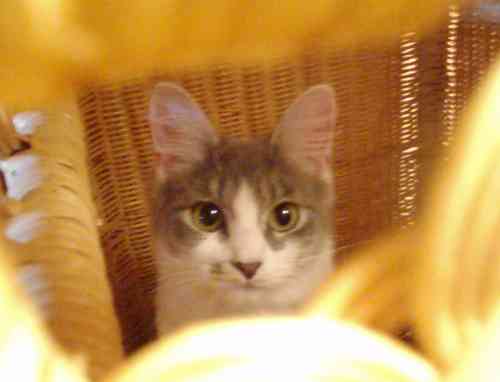 ~
Whether it was the tone of my voice, or a musical melody, Pierre was very sensitive to sound. When I chanted in the mornings, she would frequently sit with me, either in my lap, or next to me making "biscuits" with her paws to the rhythm of my voice. When I'd pause, she'd give a little meow to get me going again. Sunday mornings I'd turn on some Frank Sinatra and Pierre would get all excited and sprint around the room like she was doing the jitterbug. Sometimes I'd put her on my shoulder and we'd sway to the music while I sang along. Other times, I'd play Glenn Miller or Count Basie and toss one of her cat toys in the air and watch her leap up trying to catch it. Like a flying acrobat, the height this small animal could get made me laugh so hard, it would only encourage her to jump even higher.
~
~
The days passed into weeks, and the weeks passed into months, and Pierre was growing up quickly. Long-haired and silky, she had outgrown her awkward long legs and small body stage and was now quite beautiful. With Winter setting in and my work hours growing longer, I decided to get Pierre a playmate to keep her company. Enter Zoe. An eight week old kitten without a Mother who was being fostered by a family of nudists from Queens.
~
"Where you used to be, there is a hole in the world, which I find myself constantly walking around in the daytime, and falling in at night. I miss you like hell."
~
Edna St. Vincent Millay
~
~
Zoe Makes Three
At first, I wasn't sure if the loud chirping noises coming out of Zoe when Pierre chased her around the room were sounds of distress, or just Zoe being, well, Zoe. It was clear from the beginning that Pierre was thrilled with her new playmate. Her eyes growing big whenever Zoe initiated interest. The dynamics between the two of them was established early on. Zoe ate Pierre's food, stole her toys, and demanded all the attention in the room. Watching Zoe get into things soon became a pastime for both Pierre and myself. Rambunctious and curious, Zoe climbed up book shelves, shower curtains and Christmas trees. But when the shower curtain rod fell, and when the Christmas tree tipped over, it was Pierre who ran under the bed as if she had done something wrong.
~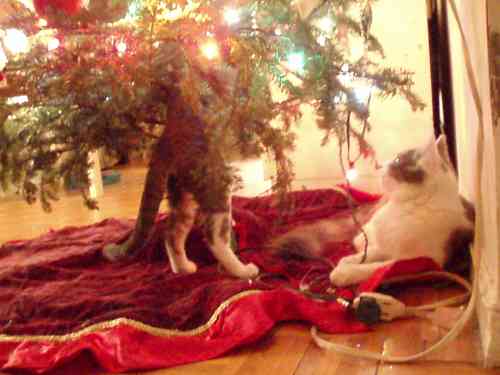 ~
At night, I would lie in bed listening to them crash around in the apartment chasing each other. Thinking that maybe I should play with them more during the day to tire them out, I went out and bought what I thought would be the most entertaining cat toys the store had. The one they actually preferred? A simple golf sized red rubber ball that I would bounce across the floor while Pierre and Zoe would zip around the room trying to catch it. One day Pierre took the ball and began whacking it around the bathtub. Zoe quickly joined in and the game now became a feline version of roller derby where the both of them took their turns chasing a red rubber ball inside a bathtub. Delightfully entertaining to watch, I'd be the goalie, catching the ball when it careened out of bounds, and putting it back into play. This became their favorite game, and as it turned out, we would all sleep well after that.
~
~
Living with two cats inside a New York City apartment requires some concessions. Namely letting go of growing things. At the mercy of the small taloned creature living in my home, when Pierre was very small, I'd catch her hanging by her claws on a large ficus tree I had by the window. By the time Zoe arrived, there were bite marks and chewed off leaves on all the houseplants around the apartment. This fascination with destroying anything botanical also extended to cut flowers, which were efficiently decapitated, leaving only the stems left standing in the vase. Sympathetic to their natural instincts, I tried introducing them to things that would keep them stimulated. When I attended formal fundraisers for the work I did, I would bring home the elaborate floral centerpieces that were up for grabs at the end of the evening. So, while other people took these centerpieces home to decorate their tables, I took them home so I could watch my cats go crazy. Their eyes wide as ping-pong balls the moment I walked into the apartment, they couldn't wait to inspect, smell, roll around in, and eventually destroy the curious thing I had set down on the floor for them.
~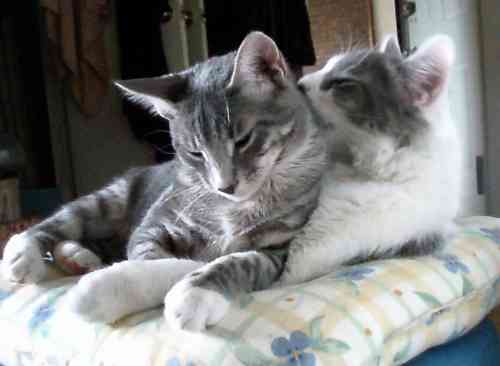 ~
Because city cats experience the world around them from the confines of a window sill, when I finally decided to move to California, I worried about how Pierre and Zoe were going to adjust. Taken from the only home either of them knew and placed in their kitty carriers on a plane for seven hours, they were so freaked out, I had to give them sedatives. When we finally arrived at my Sister's place they huddled together inside a modified storage cabinet my Sister had arranged for them in the back house where I was temporarily staying. All I could do for them at that point was to give them time to figure it out and make them as comfortable as I could. After a few days they eventually transitioned themselves from inside the cabinet to underneath the bed where they stayed for the first month, coming out only at night where Zoe slept at the foot of my bed, while Pierre slept right on top of me. Then one gorgeous sunny day, while I was working at my desk, I turned around and the both of them had come out from underneath the bed, stretched themselves out on the couch, the sunlight bathing their bodies, as if to say all was okay. We were in California now and things weren't bad. In fact, they were pretty good.
~
"Look out there, my little princess," he called down to her. "These plants are only the very tip of the earth's treasures, almost like hairs on her head. She hides so many other secrets deep within her, and one day, if you're lucky, you may find some of them."
~
Craig Froman, Of Secrets, Spiders & and the End of the World
~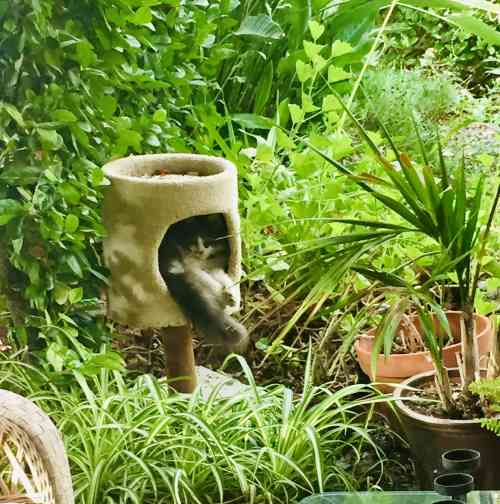 ~
A Place Where Lovely Things Grow
Although they didn't know it yet, Pierre and Zoe were going to enjoy their new home. Situated on a piece of property that used to be a citrus orchard, we were surrounded by trees, shrubs, and a botanical collection of plants and flowers. The first few months, they both seemed content watching the birds and visiting squirrels from their perch by the window, but when Pierre dashed out the door one day catching me by surprise, there was no putting that genie back in the bottle. She simply thrived being outside on her own. For a cat who had never seen anything but the inside of a New York City apartment, she adapted remarkably well. Climbing trees, jumping fences, and marking her territory on the neighbor's doors, it was almost as if Pierre had become an entirely different cat.
~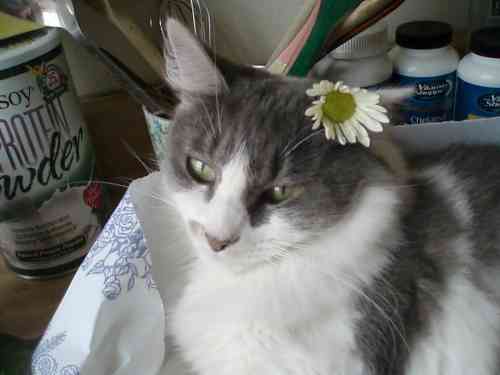 ~
My pride for Pierre's plucky independence was also tempered by my concern for her safety. Living in the foothills we had a lot of critters. Coyotes being my main concern. Each morning when I let Pierre out the door, I was never sure when she was coming back. Sometimes I'd see her strolling up the drive-way before I had to leave for work. Sometimes I wouldn't. On those occasions, I'd text my neighbor to let her know, and when she heard Pierre bang on my screen door, she would come over and let Pierre in. On the days when Pierre didn't bang on the screen door, the sight of her waiting for me in the driveway when I came home filled me with relief and joy.
~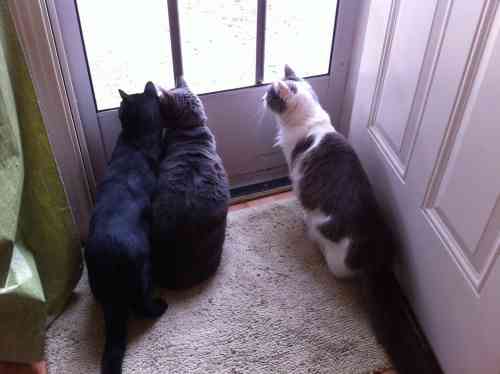 ~
As Pierre made her mark on the neighborhood, she also managed to endear herself with some of my neighbors. A topic of conversation at informal gatherings, I would hear stories about Pierre's visits to their houses. Whether it was drinking from their bird baths, stretching out on their outdoor furniture, taking naps in their cat's kitty condo, or lounging in the garden next to their sleeping cat statues, Pierre seemed to be making herself at home wherever she went. Much as Pierre's outdoor antics may have amused my neighbors, I began to suspect this was less the case with my neighbor's cats. A conclusion I came to one day when I saw Pierre rolling around in front of my neighbor's window while her three cats watched from inside. Having flaunted her willful presence on their property, Pierre then began tapping on the glass with her paw, either taunting my neighbor's cats, or just saying hello. I never knew which.
~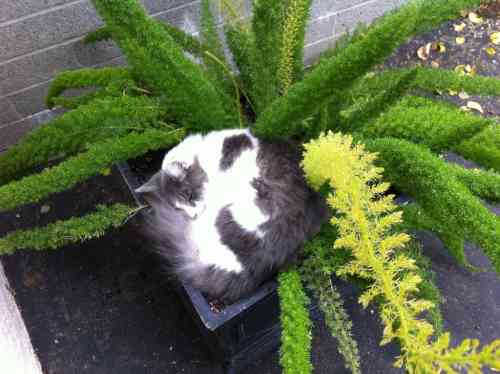 ~
Unlike Zoe and Ziggy, who stayed close to home, Pierre's adventures not only brought her in contact with my neighbor's cats but the feral ones as well. Being the territorial creatures they are, one of them decided to teach Pierre's roaming spirit a lesson with a confrontation that caused Pierre to defecate all over herself during a cat fight where she took a sharp swipe on the back leg. Scurrying home bleeding, the cut was deep enough it required a trip to the emergency room where she was stitched up and bandaged. Between the two of us, it seemed I was more rattled by the experience then she was, because while Pierre bided her time quietly inside the house while she healed, once the bandage and plastic collar came off, she darted out the door so quickly all I saw was a furry gray tail rounding the corner of the driveway. Even as I worried about her, I admired her spirit. Now that the rite of passage was behind her, I figured she understood where she was in the pecking order among the feral cats who ruled the neighborhood and would adjust her behavior accordingly.
~
~
When the rains finally came to Southern California after a long drought they were so mild, I could leave the door open and listen to the sound while I sat at my desk writing. Zoe and Ziggy would sit by the door and watch while Pierre meowed to go out. You're not going to like it, I told her. But when I opened the screen door and watched her step out, her coat covered in droplets, she just wandered off in the rain. Sometimes, I'd see her sitting on my neighbor's back porch, under the overhang, watching and listening to the raindrops fall down around her as if she was memorizing every sound so she could compose a poem about it later on. In the summers when the weather would hit triple digits, she'd hide under the shade of my neighbor's rosemary bush and sleep for hours. Eventually she'd come home and take her place beside me, or rest her head on my chest at night, but her lifestyle in California had changed her. The bond between us was still there and I was happy she was living such a fulfilling life, but in someways it felt like she had gone off to college and I was left behind dealing with empty nest syndrome. I guess in a bittersweet way, she was all grown up and didn't need me as much as she used to. Which in the bigger picture, is how I always meant for her to live.
~
When someone you love dies, and you're not expecting it, you don't lose her all at once; you lose her in pieces over a long time — the way the mail stops coming, and her scent fades from the pillows and even from the clothes in her closet and drawers. Gradually, you accumulate the parts of her that are gone. Just when the day comes — when there's a particular missing part that overwhelms you with the feeling that she's gone, forever — there comes another day, and another specifically missing part."~ John Irving
~
~
Piece by Piece
By the time Pierre was three years old, she was diagnosed with acute asthma and was put on medication. I suspected her lungs had been compromised when she was living on a construction site as a kitten, which was then aggravated later on by New York City apartment living. Managing her condition required keeping on top of the dust with thorough and frequent cleanings. I was a smoker back then and while I didn't seem committed enough to safeguard my own health, the thought of Pierre's lips turning blue and having to rush her to the Emergency Room in a taxi cab did the trick and I stopped cold turkey. Fortunately, her condition greatly improved once we moved to California. So much so, I was able to take her off the daily medication she had been taking.
~
~
The hyperthyrodism hit her when she was almost ten and we managed that condition through medication and monitoring her blood levels every few months. At this point, I put Pierre on an HMO version of a health care plan to give me better options in her care. Following the hyperthyrodism diagnoses by a couple of years was her first seizure. It happened so quickly, I almost wasn't sure I saw it correctly. She just jumped on the table and for a few splits seconds lost the use of her back legs. When the doctor told me that neurological seizures were in most cases progressive, my mind went numb. Expecting the worst, I took Pierre home and calculated in my mind how much time I might have left with her. Pierre had other plans and didn't have another seizure for nearly a year. This hiatus allowed me to come to terms with the fact that I was going to eventually have to make a judgment call when it was Pierre's time to go, while also secretly nurturing a false sense of hope that this might all go away.
~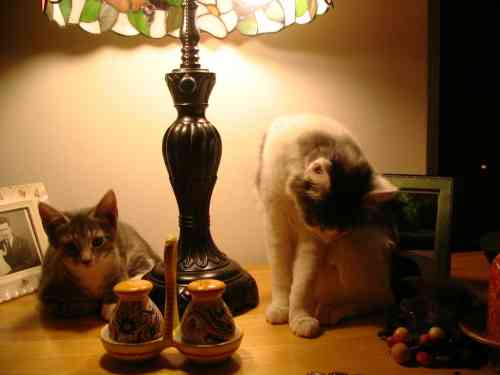 ~
The cliff I fell off after months of hope came with the loss of her hearing. The realization that there would be no more music for Pierre, no sound of the rain, the birds, or life in her beloved garden, broke my heart and left me with an ache in my soul that never went away. I can pinpoint exactly when she lost her hearing, although I didn't know it at the time. It was Spring and Pierre was out enjoying the scattered showers we had that morning from somewhere in the neighborhood. I tried calling her but when she didn't respond I left for work. Three hours later I got a text from my neighbor that Pierre was yowling madly in front of the screen door. When I came home to see if Pierre had been injured, I couldn't find anything wrong with her physically. I thought maybe something had spooked her. A run in with a wild animal, or a dog? For the next few days she stayed inside. When she ventured out, it was always somewhere close by where I could see her. I would call for the cats to come in but only Zoe and Ziggy would respond. This went on for another week and then one day, I saw Pierre sleeping on one of the chairs in the front garden and I called out to her. No response. No twitch of the ear, no swish of her tail. Nothing. I walked right up to her, talking as I did, and still nothing. She didn't know I was there until I had actually made contact. I was dumbstruck and devastated. Pierre had gone deaf.
~
~
Our lives changed after that. No longer able to go outside unsupervised, I bought a harness and began training her to go out on a leash. In typical Pierre fashion, she understood what I was doing and took to the leash immediately. Walking Pierre around the neighborhood was more Pierre walking where she wanted to go and me following. My neighbors were very sympathetic, letting me walk around their front lawns when they understood why. Even though my heart was heavy knowing that Pierre could no longer explore the world on her own, it was still a special time for me as Pierre began to show me some of her favorite hiding places in the neighborhood. Sometimes, she'd just want to sit in the sun, or under a tree. So I sat with her until she wanted to go home. I listened to the wind in the trees for her. The mockingbirds that used to sweep down and peck Zoe and Ziggy on the heads. Every sound I heard was filtered through a new appreciation and a longing and grief for what Pierre lost.
~
~
I wish we would've had more time together for our neighborhood walks, but just as Summer arrived Pierre began to suffer horrendous allergies where she was licking and biting herself bloody. To stop her from gnawing at her skin, I had to put one of those plastic collars around her neck. Feeling either awkward, pissed off, or vulnerable, she had no interest in going outside. I'd make the attempt by putting her harness and leash on and taking her outside but she'd head right back home. When she found ways around that collar to bite herself, I had to put on even larger one. She was so upset with the larger collar that she took to sitting in her litter-box. Alarmed by her distress, I immediately took the collar off and bought her a baby onesie hoping that would work better for her. While it got her out of the litter box and prevented her from biting herself, she was still miserable. Sitting in the same spot for the entire day, it was truly the lowest point for both of us. What was even worse was not being able to soothe her the way I always had. Which meant I couldn't chant with her and I couldn't sing to her. All I could do was hold her. After almost two interminable months, I finally got her allergies under control. The first day Pierre was out of the onesie, she came to visit me in the morning like she used to when she was a kitten, crawling up on top of me and communicating what she'd been through. Except this time, I'd been through it with her.
~
~
The erratic nature of her seizures made predicting anything next to impossible. A few months could go by and she'd have one seizure. Then the following week she'd have three. Another month would go by, and nothing. Then a dozen in matter of days. Then nothing again for a few months. The last week of her life, she began having seizures every day. By the last night, they were coming in clusters every couple of hours, and finally every fifteen minutes. I was in hell that night, wondering if I should've gone to the emergency room and put her down earlier in the day rather than waiting, hoping, and wishing she had a little more time. We didn't get any sleep that last night. I tried to comfort her. To hold her, to stroke her with her favorite brush, but just when the both of us were beginning to relax, she'd have another seizure. When she was first diagnosed, the doctor told me she wasn't in any pain, but when the seizures would hit her, she'd fall off tables, get agitated and confused, and it was gut-wrenching to watch.
~
~
Mercifully, morning came and I called the doctor's office and told them it was Pierre's time. All I could think of on the drive over there, Pierre by my side in her kitty carrier, was to just stop the agony. That was my goal. I didn't think beyond that. Once I arrived, they ushered me in immediately into one of the rooms they had prepared especially for us. After settling the payment arrangements, they brought in a tray with the injection and asked me if I wanted time alone before they proceeded. Pierre was lying down quietly for the moment on a blanket they had put on the table. I looked over at her and the reality of what was about to happen finally hit me in its entirety. Her eyes were completely dilated from the craziness going on in her brain and I wasn't sure she knew who I was or what was even happening. I called my Sister and the only thing I could manage to say through my sobbing was "But she can't hear me say goodbye". It doesn't matter my Sister said. You can say goodbye by touching her and loving her. She'll understand that. So I picked her up from the blanket and I put her on my shoulder and swayed around the room like we were dancing while I quietly sang Fly Me to the Moon.
~
"Grief I've learned is just love. It's all the love you want to give but cannot. All of that unspent love gathers up in the corners of your eyes, the lump in your throat, and in that hollow part of your chest. Grief is just love with no place to go." ~ Anonymous
~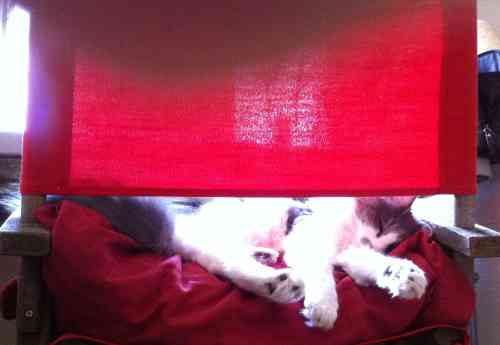 ~
Among The Fields of Gold
A few days after Pierre passed, I had a dream that I went back to my apartment in New York. In the dream, the building was undergoing renovations and I remember having to walk around drop cloths, ladders, paint cans, and partially painted walls to get to my apartment. Inside it was empty except for my writing table by the windows. On the table was my laptop which had a live feed filming the front of my house back in California. Inside the frame, I could see Pierre. She was in the front of the house, outside the gates, wearing her red harness and her leash. I was very upset that no one was there holding onto the other end of her leash. Suppose she ran away? But she didn't. Instead, she turned toward the house and wandered down the driveway with the red leash dragging behind her. I had a lot of mixed feelings about that dream. Wondering if it meant she was looking for me and couldn't find me at home. It wasn't until I started writing about Pierre's life that I realized the dream wasn't about Pierre being alone. Or not being able to find me. The dream was about saying good-bye and going home. Her new home. Where she could hear again. Where she could explore again. Play again. Dance again. Un-tethered to her illnesses and free again. I'm not sure where that new home is for Pierre, but where ever it is, I hope they have music.
~
~
Au Revoir Pierre
July 2005 - February 12, 2020
~
Je pense souvent à toi et je ne t'oublierai jamais
~
~