My Brother Trace Searls's Response to Comments From Yesterday's Covid19 Post
Submitted by Steven D on Tue, 04/07/2020 - 12:21pm
Yesterday I posted Why Not an Aggressive Strategy to Covid-19? by my brother Trace Searls. I passed some of your comments on to him. Here are a some of his responses.
On the issue of the effectiveness and safety of Chloroquine and Hydroxychloroquine, and in particular Pluto's Republic's comment:
You're right, Steven, about Hydroxychloroquine.

These are the stats I've got. This is a global survey:

The three most commonly prescribed treatments by doctors dealing with the COVID-19

Epidemic, worldwide are:

56% analgesics,
41% Azithromycin,
33% Hydroxychloroquine

Hydroxychloroquine was overall chosen as the most effective therapy amongst COVID-19 doctors, from a list of 15 options.

The two most common treatment regimens for Hydroxychloroquine were:

(38%) 400mg twice daily on day one; 400 mg daily for five days
(26%) 400mg twice daily on day one; 200mg twice daily for four days

Prophylactic use is right on target. It is the most promising thing we could do for prevention. I read the details on how it works. It introduces genetic material into the the virus that causes it to fall apart in a unique way. Together with the Z-pac antibiotic, they teach the body's immune system how to recognize the virus and clean up the debris.

Globally, 19% of physicians prescribed or have seen Hydroxychloroquine prophylactically used to prevent infection in high risk patients, who tested negative. And 8% for low risk patients who were not yet infected.

When used to treat people who have the virus, the Drug is effective only on patients with mild to moderate symptoms. If the infection is serious and there are complications emerging or other active illnesses in the body, Hydroxychloroquine does not seem to be effective.

Doctors in the US are prescribing Hydroxychloroquine. However they are doing it wrong, according to what I read.

Hydroxychloroquine, which is sold under the brand name Plaquenil, was prescribed mainly in the United States for the most severe cases. "Outside the U.S., hydroxychloroquine was equally used for diagnosed patients with mild to severe symptoms whereas in the U.S. it was most commonly used for high risk diagnosed patients."

I recognize the sabotaging effect of the FDA in the above stupidity. Doctors are reluctant to use "Trump's Drug" unless the patient is going to die anyway. It could be political, or professional.

::

This drug could change the game. However in my opinion, until the US can provide masks and extensive testing for everyone — the virus cannot be contained.
: Yes exactly, earlier is better as with most therapies. Unless the treatment might kill you as well, then last resort.
Regarding the likely curve of the pandemic under the current protocols and regimen advocated by the CDC with social distancing, lock down (or shelter in place), etc.:
:
I took this data from CDC official site.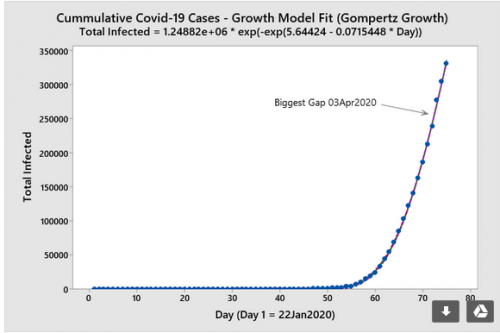 I am able to fit a curve to Infection Behavior from January 22 (1st case) to April 5th. This is just people exposed, show symptoms, and got tested as reported by CDC across the US. We are on day 77 now and the data goes through day 75. I am not sure we are seeing a flattening of the curve yet (perhaps slight model direction shift after on April 4th).
Now look at how the model expands across time. This maybe how the CDC is looking at it. I don't know how to factor into the Stay-at-Home Orders which may change the curve for starving the virus. Question is would there be a change in Death Rate if we acted like Sweden [Link from Steve Searls for benefit of those who were not aware of what Sweden was doing], and will we risk a residual later without Herd Immunity?
Remember the reported Death cases lag behind reported infected but appears similar to the Flu (i.e., this year Oct-Mar CDC estimates 24.000 to 63,000 deaths). Also, if I use a logistic model I get a total of only 505,000 infected. As I said the devil is in how the Model may behave, and they are managing by model (downside by end of month).
The daily reported cases is somewhat strange below, see April 3rd. This is why some are touting the peak has arrived or stating the Stay-at-Home orders are taking effect. April 3rd is a strange reporting day.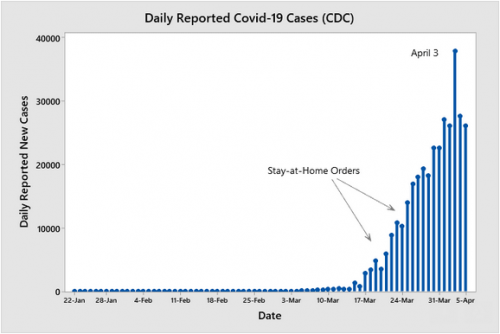 Without a vaccine or building up the immunity, who knows how flat the curve will become. We may be beginning the flattening of the curve now, but then how long will it last. My model above will not quite fit that changing curve. See link below for Spain's profile (this is a site that states it used WHO data): https://epidemic-stats.com/coronavirus/spain
.
# # #
: My brother's three points as I understand them are:
1. US must move forward with using existing drug treatments in the way other nations are doing. We should also be working on new drug treatments (such as this one: Promising Drug On The Horizon For COVID-19 - A new antiviral that may be taken orally rather than requiring IV such as remdesivir) and fast tracking those new drug treatments through the FDA process.
2. We need much more testing, both antigen and antibody tests. Testing will allow us to better understand the demographics of who is getting infected and how severely, and also who has developed antibodies to the virus and may safely return to normal activities.
3. Without any significant herd immunity, it's very likely the curve of new infections and deaths may plateau, but it will either stay at that high point for many months until we have a vaccine, or the curve will decrease, but we'll see new increases in the curve if state governments relax stay at home orders/social distancing restrictions, etc.
I would also add (), that Trace believes the current issues with not using Chloroquine as a prophylactic treatment for vulnerable populations, and for more moderate cases of the illness in the US, is more a function of how the FDA and CDC bureaucracies operate. He has had extensive experience with medical professionals that work at the FDA, and as a rule, he feels they err on the side of being very conservative. He also says that while many have some training in statistics as it applies to experimental work regarding new drug approvals, their training is not as advanced as individuals such as himself, who use higher level statistical methods that medical experts usually do not understand or trust.
He also doubts (rightly or wrongly) that the Trump administration's approach to not using drug treatments other countries have adopted is unlikely to be political in nature. His view is that this is more a function of the entrenched mindset of the FDA and CDC and the advice they are providing the administration. Under normal circumstances (development of new drugs, new lab tests, secondary uses for older drugs, etc.), he accepts that their institutionalized conservatism works well, but may not be the best way to deal with a fast moving crisis such as the COVID pandemic, and that we should be more willing to learn from the experience of other countries such as China, South Korea, etc.
# # #
. I'm not a statistician nor a medical professional. I am curious to see what happens in Sweden, which has yet to impose a full lock down as other European countries have. It appears to me they are the one country, for better or worse, that is trying to build up herd immunity in the population while still attempting to protect their more vulnerable populations. Whether they stay with that approach, or move to a full lock down as has been done in other European countries is still up in the air. It is possible the political leaders in Sweden, which to date have been following the advice of their medical experts, may impose a full lock down if deaths increase there.
. As both I and my wife are high risk, vulnerable individuals due to her diabetes and my autoimmune disorder, I am frightened. I'd like to see us use the same drug treatments as other countries as using them and not just as a last resort when all other hope is gone. It's my opinion that the CDC is being overly cautious in this area, especially in light of all the data we have from other countries as to which drug treatments are effective and when they should be employed.
On the other hand, I am not as convinced that Trace's herd immunity argument is the correct one, though I have no expertise to evaluate it.
In any case, the US is a different animal, with so many states making decisions independently of others. Further, the hands off approach that the Trump administration has taken in allowing States to decide for themselves how best to handle the pandemic means we have no central authority and no one policy for dealing with this crisis. Our states are essentially similar to the countries in the EU. Unlike the European countries, no state as yet has felt the need impose a travel ban to and from other states, nor has the federal government (though that may be coming - who knows?).
I suspect we will find ourselves in the end with many continuous spikes in the overall curve for the nation. Backflow cases (such as China has experienced) in states where the apex of the curve has been reached seem inevitable to me. These new cases will arise because of individuals who travel from states where the pandemic has not yet reached its peak to states where the peak has already passed. That is, as the pandemic advances at different rates across the nation, relaxation in lock down orders in states who have declining cases will see a new spike in their curve caused by infected people who travel from other states where the curve has not flattened.
And our election is another complicating factor for reasons I don't believe requires much elucidation from me at this point.
My personal, very pessimistic assessment is that, until we have a workable vaccine, the death rate in the US will remain at higher levels than in some other countries for many, many months, in large part because our national response is so chaotic and unorganized, and our political system so dysfunctional. I hope to be proven wrong.
# # #
, if anyone has any specific questions or comments about the position my brother, Trace Searls advocates, feel free to put them in the comments and I will pass them along to him for his answers and/or reactions.
Thanks to all at C99 for reading.