Open Thread Friday 2-28-2020
Submitted by studentofearth on Fri, 02/28/2020 - 5:31am

Our conversations are not simply abstract words, they result in changes in other peoples lives. When writing a gardening subject a couple years ago a few C99 members in warmer climatic zones kept mentioning their fig harvest. I bought a plant for the greenhouse last April. If all goes well I will taste my first fresh picked fig this season.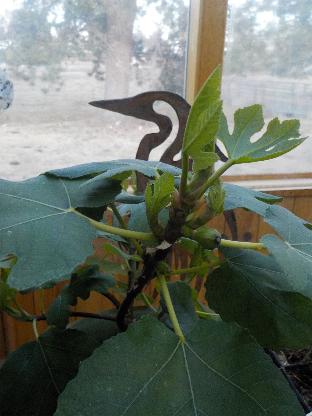 Three primary concerns with the corona virus.
1) Minimize risk for of becoming infected. I live in an area that has become a bedroom community for silicon valley workers, tourism is our primary industry and have a very active airport. If it is not here locally already, expect it soon. Not wearing a mask, but taking all the precautions I use during peak flu outbreaks. Limited trips for required shopping, not attending large gatherings, having a set of clothes for trips to town, extra aware of hygiene and surroundings.
2) Minimize the risk of infecting others. Have a plan and supplies for a period of self quarantine. Will need to eat, do laundry, take care of the pets and still pay the bills. Monitor temperature and other signs of infection. Maybe provide comfort and supportive care if become ill with the virus. Stressful times of quarantine is not the time to make drastic dietary changes. Buy foods you normally eat or at least the ingredients and experiment with new cooking skills. I cook mostly from basic ingredients and avoid ultra unprocessed foods discussed in last weeks diary.
3) Minimize risk of current medical conditions creating a health emergency. If the healthcare system is flooded with coronavirus patients there is less capacity to treat other medical conditions.
Understand your chronic medical conditions. Hopefully you have worked with your provider to develop a plan to know how to monitor for a change in condition. Identified when to implement self treatment, when to notify your provider of a change in condition or go to the emergency room. May need to contact insurance company to ensure payment of care with some insurance plans.
Diabetes: Sudden poor blood sugar control can be an early sign of infection. Not eating meals on your regular schedule can cause low blood sugar events with some diabetic drugs.
Heart conditions: Heart and lung function are closely related. When the lungs are compromised the heart tries to pick up the slack and begins working harder. Congestive heart failure is often monitored with checking daily weights for a quick multi pound weight gain indicating fluid retention. Most home blood pressure cuffs measure both pressure and heart rate.
Lung conditions: Has your doctor provided you a plan on monitoring your oxygenation or changes in lung capacity, steps to improve and when to seek help? The costs for a home monitor pulse oximeter and
peak flow meter have become significantly less expensive over the past few years.
Medications in general: Do you know what condition each of your medications are treating? Which of your meds are critical to your health? If any of your meds are stopped abruptly are they known to cause withdrawal symptoms? This information is easier to find since Prescription Package Inserts (PPI) are now required to include information on withdrawal potential. There can be a lag in time between research and publishing in the FDA (Food and Drug Administration) required PPI. If a medication is not available are there lifestyle changes that can be made temporarily or an over-the-counter med substitution?
Keeping up with the News
CDC
We may have an issue with various government's national policy does not mean individuals are not trying to do their best. Simply keeping up with the workload can be exhausting.
Doctor recovering from COVID-19 reveals HIV drugs treatment, willing to donate plasma
Less than half a month after recovering from novel coronavirus pneumonia, Wang Guangfa, a leading Chinese respiratory expert at Peking University First Hospital in Beijing, was back in the fight against the epidemic.

His name became widely searched since the initial outbreak of the epidemic as he has been the first coronavirus-infected and cured expert, as well as the fifth cured patient in China. He was among the first batch of national medical experts dispatched to Wuhan in early January.

After being discharged from the hospital on January 30, Wang soon devoted himself back to work, shuttling between his hospital and National Health Commission meetings. He keeps busy with answering calls from those who are concerned about the virus in this national campaign.
....
He remembers the gloomy atmosphere in the empty halls of hospitals during the SARS epidemic in 2003, and the images of rapidly deteriorating lungs on CT scans that he recalls gave him chills.

"Although I was mentally prepared for every battle, it was a little frustrating me to learned that I tested positive for coronavirus. This is the first time I've been infected on the frontline, despite previous exposure to the more contagious H1N1 swine flu and the more deadly plague," Wang said, recalling the day he was confirmed with the novel coronavirus.

He speculated he contracted the illness from checking patients in a crowded fever clinic where the coronavirus was highly concentrated.
Saga of the 911 first responders here in the US is a cautionary tale of totally relying in the government to keep one safe.
Despite the toxic particles in the air, rescue workers and cleanup crews were permitted to work at Ground Zero without respirators. A week after the attack, EPA head Christine Todd Whitman informed residents of lower Manhattan that the air was "safe to breathe and [the] water is safe to drink." Mayor Rudy Giuliani expressed similar claims of limited toxicity, encouraging New Yorkers to return to their normal routines.
Allegations of Mismanagement

Several years on, first responders began falling sick en masse. As of 2007, around seven out of 10 faced respiratory issues as a result of contamination from Ground Zero.
Following is repeated information from a diary yesterday.
An option to running the water continuously is use fresh towel for each action: turn off the water throw towel away, soap use new towel to turn on water throw towel, rinse, dry hand and use towel to turn water off. Other options are have a second person turn the water on and off or only use a facility sink handles in the surgical prep area that may be turned off with a forearm.
One verse of Happy Birthday is the recommended time to wash hands thoroughly.
Think of the advice or rules as a small child when in public.
Don't touch anything in a store you do not plan to buy.
Don't touch your face.
If you can not keep your hands to yourself keep them in your pocket.
Don't stand so close to that person.
You can eat when we get home.
Stop licking your lips