No Polls for You!
Submitted by konondrum on Mon, 02/17/2020 - 1:32pm
Hat Tip, to Not Henry Kissinger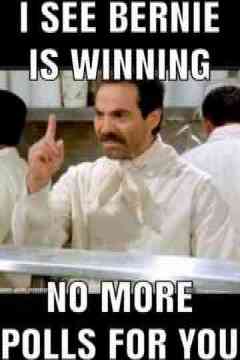 There has been a stark decrease in the amount of polling recently. Let's take a look at RCP for example.
They typically don't try to bake in the "special sauce", like Nate Silver, and his imperfectly, perfect model over at 538. What National polling data, has been published there since New Hampshire?
Right away, it's a little harder than one would expect at this point in the Primary Season.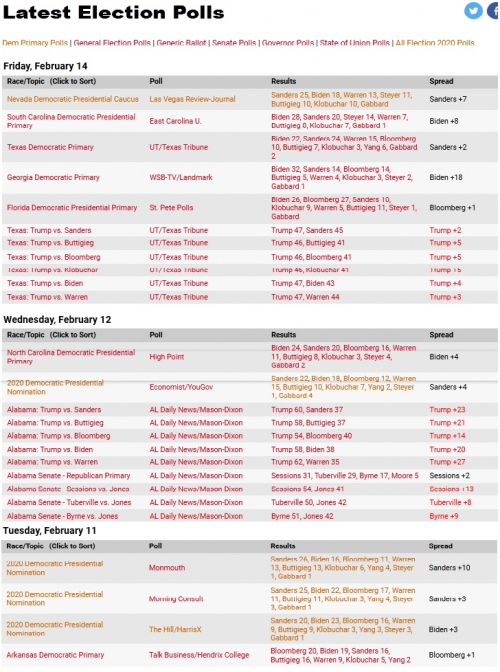 Suddenly there hasn't been a National Tracking poll for a week? Let's take a look here....
Bernie +10, Bernie +3 and Biden (lulz) +3
...
...Bernie +8
.... hmmm. This isn't working.
I know! What do you notice as a trend in the polling data released since then.... Alabama, Arkansas, North Carolina, Georgia, Texas...
And yet, they don't seem to be selling us these numbers very hard, do they? Numbers like: Buttigieg 5, Klobuchar 3 are littered throughout. It's hard for the Centrists, Right Wing Corporate Hacks, to be touting that, when Biden's numbers are collapsing at the same time.
Oh, but don't worry! Black and Brown and Muslim Democrats around the country are going the be Thrilled (!) to back Mike F'Ing Bloomberg! I kid you not! This is what passes for intellectual discourse among Washington insiders.