The Weekly Watch
Submitted by Lookout on Sun, 01/19/2020 - 7:28am
MLK and the FBI
The mafia branches of the US government target people who threaten their power. The FBI began its persecution of Dr. King back in the fifties when he was involved with the Montgomery bus boycott. Hoover wanted to silence him calling MLK "the most notorious liar in the country."

Hoover, who headed the FBI for decades, obsessively despised King on a deeply personal level. He kept files on the civil rights leader in which he'd scribble hateful comments on memos he received about King, apparently for no purpose other than his own gratification and catharsis. On a memo about King receiving the St. Francis peace medal from the Catholic Church, he wrote "This is disgusting." On the news of King's meeting with the pope, he scribbled, "I am amazed that the Pope gave an audience to such a degenerate."
https://www.opednews.com/articles/MLK-and-the-FBI-by-Caitlin-Johnstone-A...
Not only did the FBI encourage him to commit suicide, but were also probably behind his assassination. Let's investigate the sordid story this week. (51 min)
(transcript at embedded link above)
Dr. King spent the last year of his life working to unite the anti-war movement with the civil rights movement into a true "Poor People's Campaign". This scared the hell out of TPTB. An FBI scholar argues that recently unearthed surveillance documents aren't proof of anything about Martin Luther King. They do, however, show how the bureau tried to destroy the Poor People's Movement.
https://www.jacobinmag.com/2019/08/mlk-martin-luther-king-fbi-disclosure...
In August 1967, the FBI created a COINTELPRO against "Black Nationalist–Hate Groups," which targeted SCLC, King, and other civil rights leaders. King was identified as a target because the FBI believed that he could become a "messiah" who could unify black nationalists "should he abandon his supposed 'obedience' to 'white liberal doctrines' (nonviolence) and embrace black nationalism" (Senate Select Committee, 180). In the last few months of King's life, the FBI intensified its efforts to discredit him and to "neutralize" SCLC (Senate Select Committee, 180).
https://kinginstitute.stanford.edu/encyclopedia/federal-bureau-investiga...
Speech by Martin Luther King, Jr. against the "triple evils of racism, economic exploitation, and militarism." Audio. (23 min)
Sermon "Why I am opposed to the Vietnam war". (45 min)
https://www.youtube.com/watch?v=zyE4eo_leX8
One year before his death, Dr. King gave a speech criticizing the involvement of the U.S. in Vietnam. Great consequences would follow. His criticism made him very unpopular towards the end of his life.
Beyond Vietnam: A Time to Break Silence, Rev. Martin Luther King April 4, 1967,
Riverside Church, New York City
https://www.crmvet.org/info/mlk_viet.pdf
Since revealing its illegal COINTELPRO harassment of Dr. King and the existence of at least 5 paid informants who reported to their Memphis Field Office, the FBI also disclosed that Dr. King's trusted friend and renowned photographer, Ernest Withers, had been secretly working as an FBI informant. In addition to the FBI informants, a black undercover Memphis PD officer named Marrell McCollough had infiltrated the Invaders in 1968. McCollough stood in the parking lot of the Lorraine Motel on the night Dr. King died. He claimed to have been the first person to reach the body.
https://thefreethoughtproject.com/fbi-memphis-pd-assassination-mlk/
On October 10, 1963, U.S. Attorney General Robert F. Kennedy committed what is widely viewed as one of the most ignominious acts in modern American history: he authorized the Federal Bureau of Investigation to begin wiretapping the telephones of the Reverend Martin Luther King Jr. Kennedy believed that one of King's closest advisers was a top-level member of the American Communist Party, and that King had repeatedly misled Administration officials about his ongoing close ties with the man.
https://www.theatlantic.com/magazine/archive/2002/07/the-fbi-and-martin-...
...to this day more than 17,000 pages of FBI files dealing directly with Dr. King remain classified...The King files are part of the vast, still classified FBI "Domestic Security" cases, spanning 1939 to 1984. The "Domestic Security" label was used by the bureau to conceal the true political or racial nature of the surveillance and investigations conducted against targets such as King, labor leaders such as Walter Reuther, or folk singers such as Pete Seeger, among others.
https://thehill.com/opinion/civil-rights/436437-mlk-and-the-fbi-50-years...
King was only 39 when he was killed on April 4, 1968, having spent 12 years—almost a third of his life—under the FBI's watch. In all that time, the bureau—and Director J. Edgar Hoover specifically—never uncovered Communist Party ties or any nefarious behavior that warranted the years of wiretaps and eavesdropping. Instead, they discovered a man devoted to serving others, unafraid of self-examination and unconcerned with fame or notoriety,
https://www.newsweek.com/fbi-martin-luther-king-jr-surveillence-wiretap-...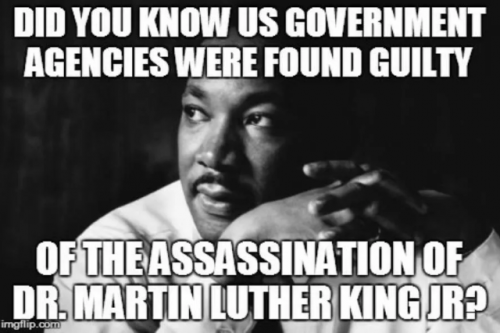 In 1999, civil trial King v. Jowers determined former Memphis PD officer Loyd Jowers had been complicit in a conspiracy to assassinate Dr. King. In December 1993, Jowers appeared on ABC's Prime Time Live confessing to his participation in Dr. King's assassination. Jowers admitted he believed MPD Lt. Earl Clark fired the shot that killed Dr. King, not James Earl Ray. Although the U.S. government claims that Jowers fabricated his allegations, they have also admitted responsibility in attempting to ruin Dr. King's marriage and persuading him to commit suicide.
https://thefreethoughtproject.com/fbi-memphis-pd-assassination-mlk/
After four weeks of testimony and over 70 witnesses in a civil trial in Memphis, Tennessee, twelve jurors reached a unanimous verdict on December 8, 1999 after about an hour of deliberations that Dr. Martin Luther King, Jr. was assassinated as a result of a conspiracy. In a press statement held the following day in Atlanta, Mrs. Coretta Scott King welcomed the verdict, saying , "There is abundant evidence of a major high level conspiracy in the assassination of my husband, Martin Luther King, Jr. And the civil court's unanimous verdict has validated our belief. I wholeheartedly applaud the verdict of the jury and I feel that justice has been well served in their deliberations. This verdict is not only a great victory for my family, but also a great victory for America. It is a great victory for truth itself. It is important to know that this was a SWIFT verdict, delivered after about an hour of jury deliberation. The jury was clearly convinced by the extensive evidence that was presented during the trial that, in addition to Mr. Jowers, the conspiracy of the Mafia, local, state and federal government agencies, were deeply involved in the assassination of my husband. The jury also affirmed overwhelming evidence that identified someone else, not James Earl Ray, as the shooter, and that Mr. Ray was set up to take the blame."
https://www.zerohedge.com/news/2017-04-06/why-so-many-people-believe-fbi...
The 1999 trail was in civil not criminal court, and was not covered by the media. I find the verdict credible....others not so much.
...the jury who heard the case of King vs. Jowers (in which the King family was represented by James Earl Ray's former lawyer, William Pepper) returned a verdict in favor of the plaintiff, holding that Loyd Jowers had participated in a conspiracy to kill King, and that "governmental agencies" were party to the conspiracy:

THE COURT: In answer to the question did Loyd Jowers participate in a conspiracy to do harm to Dr. Martin Luther King, your answer is yes. Do you also find that others, including governmental agencies, were parties to this conspiracy as alleged by the defendant? Your answer to that one is also yes. And the total amount of damages you find for the plaintiffs entitled to is one hundred dollars. Is that your verdict?

THE JURY: Yes (In unison).
https://www.snopes.com/fact-check/government-mlk-assassination/
And the beat goes on...
Deputy Assistant Director Terry Turchie on Fox's Tucker Carlson Tonight. In a passing tangent largely unrelated to the rest of the interview, Turchie made the following shocking statement in relation to the ongoing Russiagate saga:
"And I think we can expect more of this, because quite honestly the electorate in some places is putting more and more progressives and self-described socialists in positions. And ironically, years ago, when I first got into the FBI, Why? Because we would end up with massive dysfunction and massive disinformation and massive misinformation, and it seems to me that's where we're at today."
So there you have it. A sad story of a rogue branch of our government. Wonder why no one suggests reforming or abolishing the FBI? In some ways the story of Paul Robeson is even sadder...https://www.counterpunch.org/1999/04/01/did-the-cia-poison-paul-robeson/
more from Robeson's son...
https://www.democracynow.org/1999/7/1/did_the_cia_drug_paul_robeson
It is quite the situation when your own government is an enemy of the people, and that seems to be the long time situation for US government.
State of the Union: Another Take
By Randy Newman
Jan. 24, 2007
Randy Newman, the singer, songwriter and composer, performed this song at Carnegie Hall in 2006. This is an abridged version.
I'd like to say a few words
In defense of our country
Whose people aren't bad nor are they mean
Now the leaders we have
While they're the worst that we've had
Are hardly the worst this poor world has seen
Let's turn history's pages, shall we?
Take the Caesars for example
Why within the first few of them
They had split Gaul into three parts
Fed the Christians to the lions
And burned down the City
And one of 'em
Appointed his own horse Consul of the Empire
That's like vice president or something
That's not a very good example, is it?
But wait, here's one, the Spanish Inquisition
They put people in a terrible position
I don't even like to think about it
Well, sometimes I like to think about it
Just a few words in defense of our country
Whose time at the top
Could be coming to an end
Now we don't want their love
And respect at this point is pretty much out of the question
But in times like these
We sure could use a friend
Hitler. Stalin.
Men who need no introduction
King Leopold of Belgium. That's right.
Everyone thinks he's so great
Well he owned The Congo
He tore it up too
He took the diamonds, he took the gold
He took the silver
Know what he left them with?
Malaria
A president once said,
"The only thing we have to fear is fear itself"
Now it seems like we're supposed to be afraid
It's patriotic in fact and color coded
And what are we supposed to be afraid of?
Why, of being afraid
That's what terror means, doesn't it?
That's what it used to mean
The end of an empire is messy at best
And this empire is ending
Like all the rest
Like the Spanish Armada adrift on the sea
We're adrift in the land of the brave
And the home of the free
Goodbye. Goodbye. Goodbye.
------------------------------------------------------------------------------------------
What a different world we might have if MLK was still with us.
I'm playing a dance this morning and won't be around till late this afternoon. In the meantime please contribute your own stories, thoughts, and opinions. I'll look forward to catching up with you later.